Kick off barbecue season with these great gadgets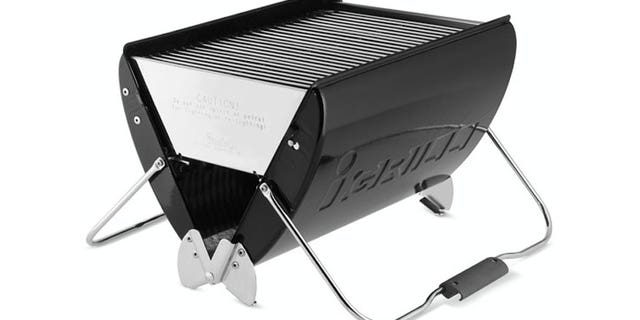 Memorial Day weekend is upon us, marking the traditional start of the barbecue season. Before you fire up the grill this year, check out some of these great new gadgets.
iGrill Mini
An essential part of any serious barbecuers toolkit, a probe thermometer allows you to keep an eye on your meat without ever having to lift the lid. The iGrill Mini takes that idea a step further by using long-range bluetooth to beam temperature updates straight to your iPhone or iPad, so you'll know the minute your meat is done no matter where you are in the house. With a magnetic back, it snaps onto any metal surface and its color-coded lights give you quick updates on your meal's progress at a glance.
GrillBot
Spend more time grilling and less time cleaning this summer with the GrillBot. Like a Roomba for your grill, the GrillBot is a fully automated cleaning robot that features strong metal brushes and three powerful motors. Simply place the little robot on your grill, press a button and let it do its thing. You'll have a freshly polished grill in about five minutes.
I-Grill Portable Grill
Take the cookout on the road this summer with a portable grill. If you're looking to carter a beachside barbecue or picnic in the park, the I-Grill Portable Charcoal Grill is the perfect summer accessory. The grill packs down to the size of a briefcase, but still features 175 square inches of grill space when unfolded, giving you plenty of room to whip up a meal no matter where you are.
Handrail Grill
If you love to grill, but don't have much space, the BBQ Bruce Handrail Grill is the perfect addition to a patio or balcony. Resembling a box planter, the svelte Handrail Grill clamps on to a railing or it can be mounted to a wall, allowing you to maximize what little space you have.
The Smoking Gun
The smokey smell of barbecue is one of summer's hallmark aromas, but the weather doesn't always cooperate with your plans to grill. With PolyScience's Smoking Gun, you can inject any meal with a bit of smokey barbecue flavor without leaving the house. The handheld mini-smoker uses traditional wood chips and other combustibles to emit a stream of cold smoke, which means you can even use it on raw ingredients like vegetables or fish.
Bear Paws
Tear into your pulled pork like an animal this summer with Bear Paws. Resembling the claws of a grizzly, these nylon forks feature beefy handles that allow to to quickly shred a slow-cooked pork butt or beef roast. The heat resistant claws are also great for pulling large, heavy cuts of meat off the grill, making them a favorite of serious barbecue chefs.
Grill Clips
While the meat is the star of the show, a healthy side of grilled greens can really round out a meal. Keep unwieldy vegetables from sprawling all over the grill with Grill Clips. The oversized metal clips hold your veggies in a nice, tight bunch, allowing you to get the perfect sear without losing a single one through the grill grates.
BioLite BaseCamp Stove
The BioLite BaseCamp stove is the perfect camping companion. At first glance, it looks like nothing more than a wood-fire stove. But the BioLite features an innovative thermoelectric generator, which uses some of the heat from the fire to power a small fan. When the fan kicks in, it whips up the flames, giving you a roaring fire in no time. The stove also features a powered USB port so you can keep your phone charged or use it to power a light allowing you to keep grilling after dark.