If You're Going to Buy Real Books, Show Them Off in Your Home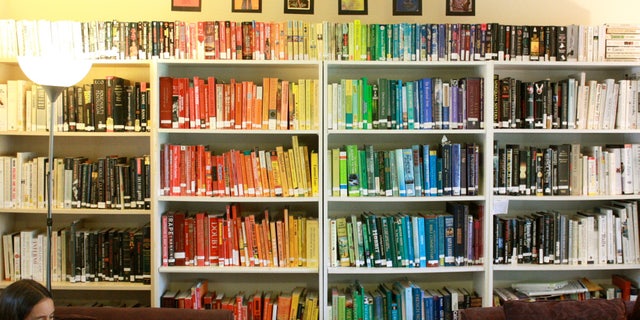 Books. Who reads 'em? Well, plenty of people, but now that you can cram the 40-plus volumes of Terry Pratchett's Discworld fantasy series onto your e-reader, there's no reason to clutter your shelves with cheap paperbacks.
A 2014 Pew Research Center survey found that half of Americans have a dedicated handheld device (such as an iPad or a Kindle) for reading digital content. But even those e-reader owners still read physical books. So when they buy one, they want more than just a text to read.
"Books are becoming more of a rare art, so when people are selecting books they are looking for ones of substance, character, and visual impact," said Jennifer Farrell, an interior designer who has hosted several TV shows on home design.
And book publishers have taken notice, using cover art to entice design-savvy customers.
Milan Bozic, who designed the bold, colorful covers and striped spines for HarperCollins' Olive Edition series of modern classics, said that he thought about how they would appear grouped as a series.
"That's why the spines are so attention-grabbing," he said. "They're by default decorative when people put them on the shelf -- they make a nice rainbow."
Recent Olive Edition releases include Michael Chabon's " Telegraph Avenue," Ann Patchett's " State of Wonder," and Jess Walter's " The Financial Lives of the Poets." (HarperCollins is owned by News Corp, this site's parent company.) Bozic says that after reading a book, he sketches out a concept, chooses a corresponding color, and then pares down the imagery as much as possible for a simple final design with major visual impact.
In using colored books, Farrell likes to group them for a color-blocked effect. "Gather the books with similarly colored covers and stack them horizontally side by side," she says.
"To give a collection of colorful books more impact, I like to tie the spine color in with another decorative element in a room," she adds. "For example, if I assemble a cluster of red books, it's fun to have a red lampshade or red serving tray in the space to connect with the book collection."
Even if your books aren't quite art objects in themselves, you can still make use of them in your decor, Farrell says.
"A fun idea to display books and make them functional at the same time is to stack 20 or so extra-large similarly sized books on top of one another, then bind the stack together with two leather belts," she says. "Makes for a cool, funky side table!"
Just keep in mind the classic advice: Less is more.
"Don't cover an entire bookshelf with books; instead, leave some free space on a shelf for a vase or photo," Farrell says. "Then the books can take on character instead of looking like library leftovers."
But even Bozic, who enjoys thinking of other people making artistic use of his creations, concedes that streamlining a collection can be a challenge for the book lover.
"I have 3,000 books at home," he said.
The post If You're Going to Buy Real Books, Show Them Off in Your Home appeared first on Real Estate News and Advice - realtor.com.