How to Write a Killer Pet Resume (Because Now Landlords Want to See Pet Resumes)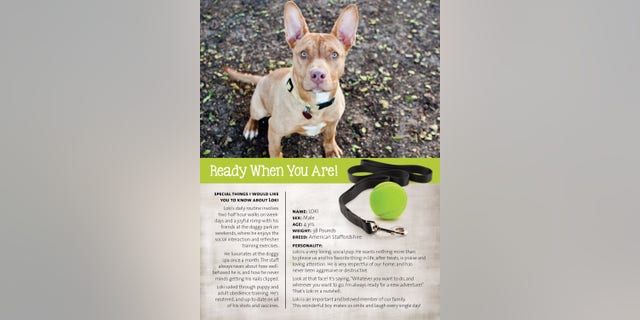 It turns out, finding a pet-friendly rental is a hassle for just about everyone these days -- no matter who you are.
According to SFGate, Oakland A's pitcher Sean Doolittle and his girlfriend, Eireann Dolan, were on the hunt for their dream apartment. They found a great spot, but there was just one snag: The property manager wanted a pet resume for the couple's Rhodesian ridgeback, Stella.
Dolan wrote the resume, but with a humorous twist. She noted that Stella had attended "DePaw University" and her skills included "donning a trenchcoat and climbing atop another dog in order to walk in upright to a bank and apply for loans."
Unfortunately, the property manager did not appear to find the resume humorous. The couple didn't get the apartment.
The moral of the story? Pet resumes might be the next big trend in renting. And even if a potential landlord doesn't ask for a CV for your canine, you might want to have one ready.
Think of it as four-legged networking
Not all landlords are asking for pet resumes, but more renters are getting them. Cathy Klein, a professional designer who creates professional pet resumes through the aptly named PetResumes.net, has received requests from all over the country, particularly in California, Texas, Pennsylvania, and Maryland.
And they aren't just for large dogs. "I create resumes for all animals, though cats and dogs seem to be the bulk of what I do. I recently did a resume for a couple who had three snakes," said Klein.
Even if the landlord doesn't request it, being prepped could set you apart from the pack.
"If an applicant provided me with this information without being prompted, it would speed up the screening process and make me feel more comfortable with the applicant -- thereby increasing their chances of getting accepted," said Lucas Hall, chief community manager at Cozy.co and an experienced landlord himself.
To start your pet's resume, get the basics in order. Hall recommends all resumes start with this information:
Pet's name
Age
Breed
Weight
Proof of vaccinations
Disclosure of any incidents
Current photo
References are also important, but asking for reference letters may be a waste of time.
"Generally speaking, the new landlord will want to verify the information for themselves," Hall said.
Instead, add your vet's contact information and any former landlords who can verify what an awesome pet you have.
Let your pup's personality shine
Many landlords are skittish when it comes to large dogs or breeds deemed aggressive. Adding a bit of your pet's unique flair to the resume can help your potential landlord get past those breed or size concerns.
"The key is fun and lively copy and happy or silly photographs of your pet," said Klein. "I can't stress enough how important good photos of your pet can be. If you have a breed such as a pit bull, you want to show the happier, more playful side of your dog. The copy should reflect what a goof your dog is, too."
Note your pet's funniest quirk or a funny anecdote from the dog park. Whatever you decide to include, "you want your potential landlord to smile when he looks at the resume," Klein said.
Virtually introduce your pet
While we don't think your landlord and your pup need to FaceTime each other (although that would be cool), a short video can add a fun touch. And you don't have to go over the top.
"If other pet owners are like me, you probably already have a hundred videos of your furry friend on Facebook -- so use one of those," Hall said. "Be sure to include one of your pet interacting with other people and other animals."
Bring in the pros
If you aren't blessed with a gift for the written word or you want a resume that really pops, it's time to bring in the pros. Unlike human resumes, pet resumes are fairly inexpensive. Klein charges $32 for a one-page resume featuring one to two pets. For that price, you'll get some prose, her Photoshop skills, and a unique layout for each resume.
If you want to use a pro, ask for samples of their work so you have an idea of what he or she can do.
Whichever way you decide to go, make sure your potential landlord gets Fido's resume at the right time. "Generally speaking, a renter should try to get the pet's info in the landlord's hands when they are starting the evaluation process," Hall said. Ideally, you should bring a copy of the resume with you while you view apartments. If you find a great spot, you'll be ready to get a leg up on the competition.
The post How to Write a Killer Pet Resume (Because Now Landlords Want to See Pet Resumes) appeared first on Real Estate News and Advice - realtor.com.