How to use smart technology to upgrade your backyard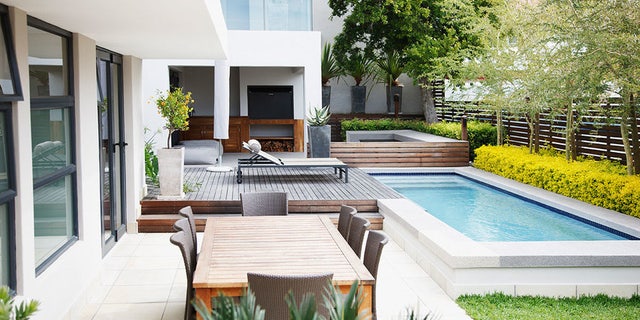 As spring continues its steady march towards summer, homeowners' thoughts once again return to their outdoor spaces—those external areas of respite which have languished these many winter months.
Below we showcase a number of intelligent outdoor products that will help you make the most of the home around your home, regardless of its size.
A Connected Cook Out
Perhaps no activity is more closely associated with summertime than the backyard barbecue. And while the role of "Grill Master" is an integral one for the affair, it can be a solitary position.
Or rather, it was a solitary position. There is no longer any reason to isolate yourself in the activity of inflaming hot dogs while your friends and neighbors enjoy lovely weather and engaging conversation, thanks to the Lynx Smart Grill.
Available in 30-inch, 36-inch and 42-inch varieties, the Lynx Freestanding Smart Grill is a stainless steel barbecue of the highest quality with one technological twist—it is Wi-Fi-capable.
These connected capabilities allow users to control the cooker from accompanying iOS and Android apps—from igniting the grill to altering the flame strength to setting reminders to flip the meat. No longer are hosts chained to the grill, hovering over hamburgers as their guests enjoy the afternoon.
The Lynx Smart Grill series can also be controlled by voice command, but you may want to mute this feature during social gatherings as crosstalk may result in an undercooked chicken.
The Lynx Smart Grill series runs $6,999 to $9,499, depending on size.
A Relaxation Revolution
When planning the accoutrement for an outdoor space, homeowners must at some point confront the "Hot Tub Quandary"—namely, should they get a hot tub? And what affect would the potential hot tub have on other backyard amenities (like a hammock, for example) in terms of space or budget?
What if you didn't have to choose?
The Hydro Hammock offers multiple refreshing functionalities in one space-sensitive device.
Built from heavy-duty, high-tensile-strength material, the Hydro Hammock offers the classic suspended sitting experience and can quickly and easily be transformed into a hot tub that supports 50 gallons of water and two adults.
Compatable with fresh water, salt water and anything in between, the soak-and-swing structure is likely to make you the envy of the neighborhood, especially in urban environments, where limited outdoor areas may not be able to support the more traditional hot tubs.
The Hydro Hammock is available for $2,048. Delivery for wait list subscribers begins this month.
Tossing Tunes
One of the benefits of a backyard is the recreational opportunities unavailable in an interior space—linging a frisbee between friends, for example. And while it seems impossible to somehow improve on this simple and satisfying experience, Disc Jock-e has done just that.
This water-proof wind cutter comes equipped with a speaker and bluetooth capabilities, allowing frisbee fans to stream their favorite tunes as the toss the disc through the air.
And if the existence of such a product wasn't enjoyable enough, the Disc Jock-e marketing team has given us one of the world's most wonderful commercials.
Now all that is left to do is build an endless playlist of Dead or Alive's "You Spin Me Round."
The Disc Jock-e comes in two colors and is available for $24.99.
A Backyard with a View(ing)
For the homeowner that loves to host, nothing leans into the summer potential of an outdoor space like a backyard screening series.
And Backyard Theater Systems makes this an activity that is easy to accomplish.
Their SilverScreen Showcase Series provides everything you'd need to build a movie theater in your backyard, including a high-quality multimedia projector (Optoma W316), a 15-foot or 20-footscreen, a pair of 10-inch Optoma speakers that coordinate with the projector for ideal sound design and a Samsung Wi-Fi-enabled blu-ray player.
For patrons that are pixel junkies, the Showcase Series offers a couple projector upgrades—the Optoma HD27 Projector ($600 more) or the Optoma 4700 Lumens EH500 ($1200 more).
And the Blu-ray player's Wi-Fi capabilities mean you needn't limit yourself to just movies. Your backyard could become appointment viewing for the screening the latest episode of "Game of Thrones."
Best of all, the easy-to-asemble/collapse system fits entirely in two cases, making set up and storage a simple process—which won't make you hesitate to host HBO fans every Sunday night.
The SilverScreen Showcase Series is available from $3,799 to $5,799, depending on upgrades.