How to turn your bedroom into a breezy summer oasis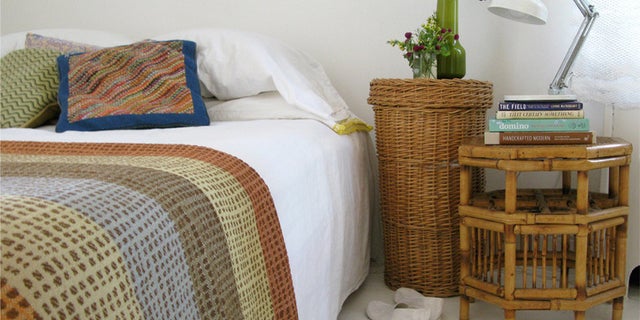 NEWYou can now listen to Fox News articles!
Celebrate summer and enjoy those delicious weekend morning sleep-ins even more by giving your bedroom a fresh, seasonal update. Whether you are looking to tweak a few small details or embark on a major bedroom overhaul, we hope these eight ideas will spark the change you want.
1. Use just-so details to make the room. A rope-knot doorstop, vase of freshly cut flowers, soft fringed throw and tray for coffee add the right finishing touches to make your bedroom feel wonderfully coddling.
Styling tip: Two big Euro-size pillows with proper shams makes a bed look more finished — and can be useful for propping you up in bed to read. Those plus your regular pillows are all you really need. Much more than that, and you risk veering into overdecorated pillow land.
2. Add natural appeal with bamboo and rattan. Lightweight textured materials, like rattan, wicker and bamboo, work great for summer furniture.
Styling tip: Pick up the natural hues with an earthy coverlet or light quilt. Keep the rest of the decor clean and simple for a breezy look.
3. Go subtly nautical with a porthole mirror. A round nautically inspired mirror hung above the bed and a beautiful summery coffee table book will bring a touch of summer to your bedroom. Keep the book open to encourage flipping through.
Styling tip: Pale sea-foam-green bedding looks sophisticated against a dark wood bed frame. Clear glass lamps keep the space feeling light.
4. Paint the floors. If your floors have gotten a lot of wear and tear, why not paint them for a new look? White is airy and fresh, while a darker hue looks cool and inviting in summer.
Styling tip: Keep layered patterns in line by making sure a common color runs through all of them.
RELATED: Review Pro Painters in Your Area
5. Style a summery dresser-top display. Updating for the season can be as simple as setting up a few pretty vintage bottles and a jar of shells atop your dresser. Change up the display by placing new fresh or dried flowers, fragrant herbs or seedpods in the bottles each week.
Styling tip: Hunt down old seaside-theme books with pretty covers at yard sales and flea markets. These vintage treasures not only look lovely stacked up on your shelves, but they can provide a refreshing change of pace from current bookstore fare.
6. Choose a clean and classic blue and white palette. Men and women seem equally drawn to this color scheme, so it's perfect for shared spaces. A rich navy paint on the walls is the perfect foil for lighter blue and white striped bedding.
Styling tip: Do mix your stripes! As long as they share the same color palette, mixing wide and narrow striped fabrics looks richer and more interesting than having a single set of stripes.
7. Layer rustic woods and cream linens. Transport yourself to a romantic country inn with a mix of rough-hewn wood, soft and fluffy sheets, and nubby blankets. A hint of ruffle on the edge of a pillowcase or around the bed skirt brings the raw wood into feminine territory.
Styling tip: This look is all about texture. Use your hands as well as your eyes when you are choosing what to add to your space.
8. Think "little cabin in the woods." Whitewashed wood-paneled walls, an iron bed frame and rustic linen bedding add up to a fresh cottage look that would be a pleasure to come home to.
Styling tip: When wall space is in short supply, forgo typical bedside lamps in favor of a wall-mounted sconce. Renters need not feel left out — just get a cord cover and run the cord down the wall instead of having it built in.