How to Sell Your House When You're Surrounded by Zombies (Foreclosures, That Is)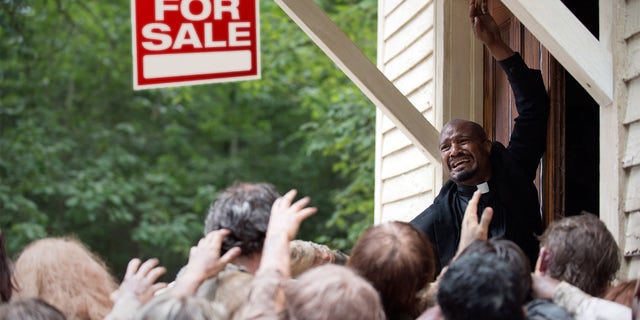 NEWYou can now listen to Fox News articles!
So you want to put your house up for sale. But you're surrounded by empty, lifeless creatures -- those owner-abandoned but not-yet-repossessed-by-the-bank homes known as zombie foreclosures.
While foreclosures (and their zombie cousins) are on the decline since the housing crash, they're increasing in some large metro areas such as New York, Los Angeles, Boston, and Houston. Of the more than 500,000 foreclosures across the nation, 1 in 5 is a vacant home, according to RealtyTrac, a foreclosure listing and analytics company.
And beware: Those zombies sure can take a bite out of your property value ( almost 2% for each nearby zombie).
So how do you defend your listing price from the reach of the unwalking undead? Well, when it comes to selling your house in a neighborhood full of zombie foreclosures, it takes some brains. Mmm, brains!
Here are some expert tips to make sure your home looks lively and vibrant to potential buyers -- even if the nail's in the coffin for others on the block.
Put some makeup on your home
One of the problems with zombie foreclosures is their appearance. The grass gets too long, the home goes uncared for, and the whole place can look like it belongs in a cemetery. An unattractive cemetery. While you can file a complaint with the local housing enforcement agency, it might not do any good. Even if the fine reaches the owners, they might just ignore it. And the bank won't perform maintenance until it has possession.
Short of creating a nonprofit zombie lawn care company, you'll just have to step up your own curb appeal.
"Motivated buyers often drive by homes before they even call their agent to set up a showing, so give them a reason to want to come back," says Jennifer De Vivo, Realtor and owner of De Vivo Realty in Orlando, FL.
That means taking a step back to view your property from the road. The more you can do to make your property look fresh, the better. A new coat of paint will set your property apart, as will a lush and manicured lawn. If your front door is looking worse for wear, replace it -- it's one of the most cost-efficient home improvements you can do.
Clean up those little signs of decay
Now that you're confident the outside of your home will attract the living, start looking closer at the details.
"While the agent is fiddling with the lockbox, the buyers are looking at the doorknob, the light fixtures, the door frame -- all that stuff," says Jan Niebauer of Niebauer Realty in Milford, MI.
Sellers in an area with many foreclosures are already likely to take a price hit, so they're probably not keen on spending tons of cash on upgrades, Niebauer says. It helps to think cheap.
"Even the most mundane things -- like inexpensive little solar lights leading down the sidewalk, or little inexpensive picket fences -- help," Niebauer says.
Replace an old doorknob and put a brass kick plate on the door, she says. Check the light fixtures and make sure they're clean. A fresh coat of paint on the front door can also work wonders.
A combination of all the little touches can help.
"You want them to think that even if everything around is going into foreclosure, this property has been kept up," Niebauer says.
Bring some life to the inside
In an ideal world, you'd have the house professionally staged. But you might not have the budget for that. That's OK -- just make sure to keep the house uncluttered and clean. As with the outside, pick up some paint. Using the right color for the right room -- like yellow for the kitchen -- can warm up a buyer for a sale.
Hide the family photos, too -- buyers want to envision their family there, not yours. Get the carpets professionally cleaned. Use tall objects to accentuate the height of high ceilings. Think like a home stager to get your interior looking inviting and lively.
Offer up a sacrifice
Even if those zombies haven't yet turned into foreclosures, you should still consider them competition. They won't be zombies forever -- and when they do get resuscitated by the bank, they can look tempting to potential buyers.
"The banks are offering (to pay) closing costs and advertising it as well," De Vivo says. "Trust me -- buyers are taking notice."
She advises sellers to do the same.
"Offering to assist with closing costs will put your home at the top of their list and make you more competitive with competing foreclosures," De Vivo says.
So if your home is a diamond in a graveyard, give it some life -- and a good polish.
Source: The Zombie Foreclosure Infographic