How to Score a Deal on a Home After School Starts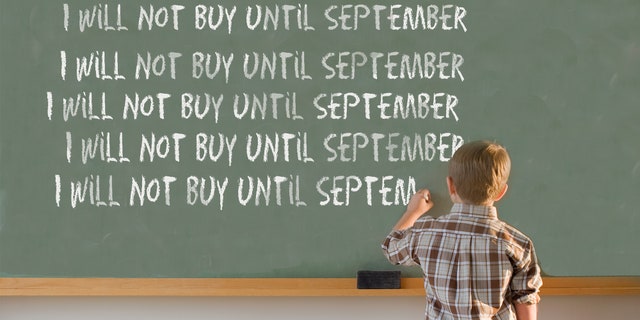 NEWYou can now listen to Fox News articles!
Wow, it it back to school time already? Not a moment too soon! Parents everywhere are high-fiving as their kids finally return to classes. (And can you really blame them?)
But with summer sputtering to a close, parents aren't the only ones who should be celebrating. Would-be home buyers, rejoice! If you're looking for a good deal on the right home, now is your time.
Maybe you thought spring and summer were the prime time for buying. Truth is, the end of summer has some distinct advantages for home buyers who aren't tied to the academic calendar.
So, with the kiddos back in school, you might be able to swoop in and score a deal. Here are four ways to make it happen.
1. Stop procrastinating and get started

Waiting until August or even September can pay off big time, says Mor Zucker, a Realtor with Kentwood Real Estate in Denver, CO.

"There are fewer buyers looking, so there's less competition," Zucker says. "No matter how hot a market is, you'll still see price reductions and more inventory staying on the market longer from September through December."
Plus, in most of the suburban neighborhoods where Zucker works, elementary schools -- and how well they're rated -- tend to drive the prices for single-family homes. The pressure on those property prices eases considerably after the spring/summer sales rush slows down in late July. With fewer buyers to compete with, you have a better chance to get your offer accepted -- and save some money in the process.
But that mostly applies to single-family homes in the burbs. If you're looking for a downtown condo or loft, for example, don't plan on getting a screaming deal in the fall (or ever, really), because prices for those property types tend to remain more consistent, Zucker says.
2. Ask for concessions, but stay flexible
After school starts, Kim Carpenter, a Realtor with Century 21 Scheetz in Indianapolis, IN, finds that sellers are more inclined to negotiate terms to seal the deal.
"I'm seeing more sellers contribute to closing costs, which appeals to buyers who might have a steady income and great credit but don't have a lot of cash saved up," Carpenter says. "With interest rates remaining low, buyers are feeling motivated and antsy to buy, because the rates won't stay there indefinitely."
A home buyer warranty, carpet allowance, and appliance upgrades are a few things you can ask for if sellers can't budge on price.
Sellers also have a bargaining chip in negotiations: They can ask for an extended closing date, or ask to rent back their home until they find their next property, Zucker says.
"People who are buying after school starts don't usually have the urgency of needing to close before then, so they're more likely to be lenient with sellers," Zucker says. "Price isn't the only motivating factor involved in a sale, and there's more time and flexibility in the fall to negotiate terms that make everyone happy."
3. Take your time
In recent years, home buyers have increasingly dealt with bidding wars, over-the-top cash offers, and low inventory. The result: If you don't jump on a home that you kind of like, it'll be gone.
But waiting until school's in session means you can take your time when searching for the perfect home -- and making an offer that makes sense for you. That ultimately means less chance for buyer's remorse, financial snafus, or other overlooked problems with that house you rushed to buy.
Just ask Trevor Moore, who works with a number of buyers who are waiting until school starts to begin their home search.
"When the kids are back in school, they can take their time to look at homes online, go to showings, and dedicate more time to the process so they find the right home," says Moore, a Realtor with Keller Williams in Falls Church, VA. "They're not as rushed."
4. Research comps -- and be ready with the right offer

In a high-demand, low-inventory market, buyers are ravenous -- and willing to shell out big bucks (sometimes over asking price) to get the home they want. But in the fall, Moore advises his clients to price their homes at or just below market value -- because getting it sold before the holidays is imperative.
That's good news for you -- if you know how to play the game.
Be on the lookout for price drops, and make sure you study up on comps (the prices paid for comparable homes in the neighborhood). You don't want to get stuck paying too much because a seller is still trying to capitalize on the summer buying fervor.
The bottom line: Contrary to popular belief, August and September are great times to buy and find sweet real estate deals. Go forth, you intrepid home buyers, grab a pumpkin latte, and let the house hunting begin!