How to Read Between the Lines of Real Estate Agent Reviews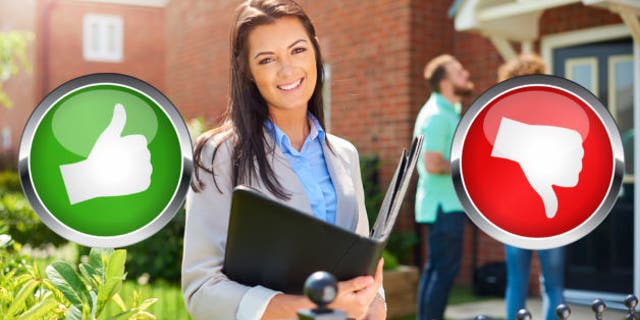 NEWYou can now listen to Fox News articles!
These days, you're likely to check online reviews for everything from your doctor to a wide-screen TV. After all, why shouldn't you tap the experience of others to make a wise choice? So you'd probably turn to real estate agent reviews for guidance on the right professional to help you buy or sell a home, as well. But just like with those other reviews, you'll get the most out of them if you can read between the lines.
Here's where to find real estate agent reviews, and what to look for that can clue you in to an agent's strengths and weaknesses—to help you find the right agent to guide you on your home journey.
Where to find real estate agent reviews
Your first inclination when trying to find an agent might be to Google agents in your area, but this will deliver an unfiltered mess of options. To take a more targeted approach, it's better to start at a real estate website (hmm, perhaps this one?), which will provide you with a list of local Realtors®, contact info, and other important stats like the following:
Years of experience:
Number of homes sold:
Area they specialize in:
not
Price range of homes sold:
Last but not least, each agent's profile includes the option for clients to leave a review. These critiques give you valuable insight into how the agent actually performs on the job. However, they need to be taken with a grain or two of salt, because many agents ask only their satisfied clients to post reviews.
Next, take these steps when evaluating a real estate agent's customer reviews.
Look for a good quantity
Like any fact-finding mission, you want to find as much information about an agent as possible.
"The more reviews, the better," says Kimberly Sands, a real estate broker at Coldwell Banker Sea Coast in Wilmington, NC. Ideally, the agent has at least five reviews.
Check the dates
Recent reviews give you a more accurate picture of how the agent is performing in today's market. New technology—specifically, social media—has reshaped the real estate industry, so you want an agent who stays current and knows how to navigate the fast-changing market.
Indeed, "a review from 2008 isn't going to be as strong as one from 2016," says Sands.
Don't focus solely on ratings
Don't make snap judgments based on how many stars an agent gets awarded. What one person considers five-star service, another might consider three stars, even though they were both fully satisfied with the agent's service. Moreover, research on Amazon's and Airbnb's rating systems shows that most customers default to giving a five-star review—meaning similar inflation sometimes happens with agent reviews.
Zero in on skills
You obviously don't have control over what topics customers choose to write about, but the best reviews go into specifics.
As Sands puts it: "A review where someone says 'Agent Joe was wonderful and we loved him' is great, but a review that says 'Agent Joe was knowledgeable about the market, a strong negotiator, great communicator, patient, and always available to show us homes' is more telling about the agent himself."
Follow up with clients to hear more
If you're impressed by an agent's reviews, contact the agent and ask to be connected with the clients who wrote them (or just ask your real estate agent for references).
Talking with these people gives you the opportunity to ask good follow-up questions (e.g., "You said John was very responsive when you had issues. Can you tell me more about how he resolved problems for you?").
"Home buyers should not be afraid to ask for references," says Linda Sanderfoot, a real estate agent at Coldwell Banker in Neenah, WI.
Evaluate the agent in person
If you're moving to an area from out of town, you might feel pressure to have a real estate agent lined up before you arrive to look at properties. Don't put yourself under those constraints. Carve out an extra day to meet with several agents in person before you sign a representation agreement.
After all, online reviews can only tell you so much, and this is a relationship that could make or break your odds of finding the perfect home for you. It's worth taking the time to choose right!
The post How to Read Between the Lines of Real Estate Agent Reviews appeared first on Real Estate News & Advice | realtor.com®.