How to Pretend Your Neighbors Are Far, Far Away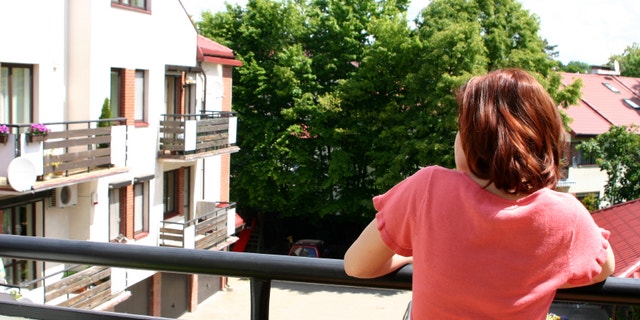 One of the reasons to buy a home of your own is increased privacy -- as Kim Kardashian can attest, having relentlessly traded up over the past few years in search of more land. Because even attention-craving reality TV stars (about whom we feel deeply ambivalent!) need their space.
The rest of us, though, may need to compromise. Many first-time home buyers find a single-family home to be out of reach, while others simply prefer condos in an urban setting.
In a recent survey by the Demand Institute, " The Housing Satisfaction Gap: What People Want, but Don't Have," 65% of those surveyed said it's important to have a home that offers a lot of privacy from their neighbors, while 21% said they weren't satisfied with their home's level of privacy.
More than half of households (54%) say they're spending more time at home than in the past, so reconciling the need for privacy with limited space indoors and out has become a priority for many home buyers and owners.
Jeremy Burbank, vice president of Nielsen, a part of the Demand Institute, says the need for privacy appears on the survey's list of top 10 unmet housing needs.
"The lack of privacy is more pronounced among younger households who live in cities and close-in suburbs," says Burbank. "Many of those people aspire to live in a single-family home and say that having more space is a priority when they move."
Affordability can be a problem, however, particularly for millennials and first-time buyers. A recent survey of millennials by the National Association of Home Builders found that many say they're willing to sacrifice extra finished space in order to afford to buy a home.
Make a smaller home feel more private
Millennials are more likely to buy a smaller home that needs a little work, because it's less costly than a new home, says Jill Waage, editorial director for home content at Better Homes and Gardens in Des Moines, IA.
"Millennials ranked high on our consumer sentiment survey for their ability to have the vision to see different purposes for different spaces," says Waage. "For instance, they have a higher propensity to take a small second bedroom and make it into a home office, a secondary space for watching TV, or a place to do crafts."
Consider rearranging your furniture or changing the way you use your rooms so that your private space is toward the interior of your home, away from the windows.
Also try these time-honored tricks to block out the outside world:
Use rugs to absorb the noise from neighboring apartments. Note: Rugs can be used as wall hangings, too!
Curtains, especially lined ones, provide visual privacy as well as additional sound insulation.
Planters or window boxes with tall grasses can shield your home from prying eyes while offering a more pleasant view than the apartment across the way.
An old-fashioned standing screen is another easy way to create privacy. Look for one with a vintage style or interesting art, or paint your own.
Enjoy the outdoors without sharing it
Indoor-outdoor living is one of the great home design trends of the 21st century. Waage says research on millennials shows that they emphasize the importance of an outdoor living space. For example, they will turn even a small porch or balcony into another functional living space with a bistro table and a small weatherproof sofa.
"They'll bring their devices outside so they can work or stream a movie while they're enjoying the outdoors," says Waage. "If they have the space, they want a fire pit or outdoor fireplace where they can hang out with their friends."
If you don't want to share social time with your neighbors, you can screen the view with an oversize umbrella or tall shrubs and trees. A water feature, such as a small fountain, can help you focus on your own relaxation rather than your neighbor's cellphone conversation. And while wireless speakers are nice, headphones can mask outdoor noise without imposing your music on others.
The post How to Pretend Your Neighbors Are Far, Far Away appeared first on Real Estate News and Advice - realtor.com.