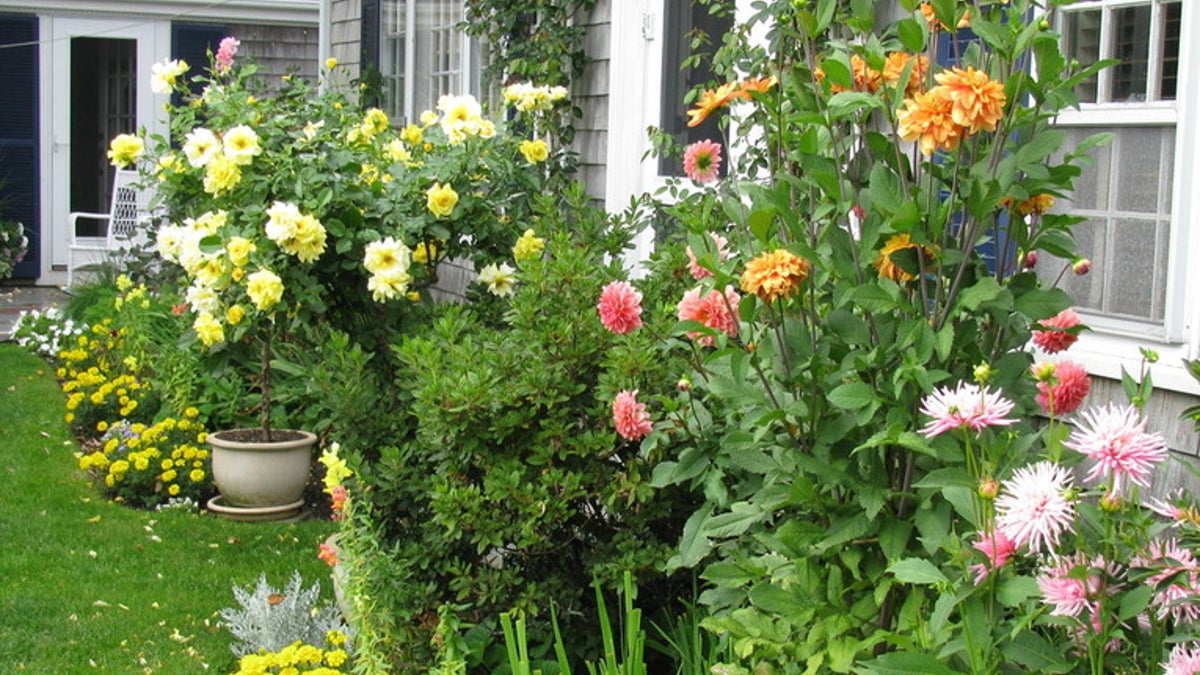 Imagine stepping out into your backyard — vase and clippers in hand — and snipping fragrant stems of sweet peas, delicate peonies and sprays of lilac. If you've dreamed of trying your hand as a backyard flower farmer, let this be the year you make it a reality.
Here's how to get started, including tips for a successful first year and recommended flower varieties by bloom season.
Project: Grow a cutting garden for bouquets
Why: To provide cut flowers for bouquets, add beauty and fragrance to garden beds, and help support native pollinators
It's a good project for you if: You have a sunny spot in your yard that isn't spoken for and a love of flowers. With a variety of blooms to choose from, cutting gardens have plenty to offer beginning gardeners and those who are more experienced.
Whom to hire: If it's in your budget, you may benefit from hiring a landscape professional to help with the design and plant choice for your cutting garden or the soil prep and installation.
For the former, consider hiring a landscape designer or garden coach on-site for a one- to two-hour consultation (expect to pay $75 to $150 per hour). He or she can help you choose a site in your garden where cut flowers will thrive, provide a back-of-the-napkin type of sketch for the bed layout and recommend flower varieties for your region that work well as cut flowers.
If you'd like help with installation, consider hiring an experienced maintenance gardener (expect to pay $15 to $35 per hour). He or she can help clear the site, prep the soil, set up irrigation and plant or seed the beds.
RELATED: Find the Best Landscape Companies in Your Area
DIY: Starting a cutting garden is a project you can easily do on your own without the help of a landscape designer or gardener. Depending on your plant knowledge, it can be helpful to do some research to learn which flowers grow well in your area, and their sun and light requirements.
When planning a cutting garden, you'll also want to consider flower attributes like a long bloom season and vase life, sturdy stems, lovely fragrance, diversity of bloom forms, and more.
Cost range: Cost varies depending on how much of the work you do yourself (DIY or hiring a professional), what supplies you need to purchase (you have a well-stocked tool shed versus you need to buy everything) and how you choose to grow your flowers (from seeds versus from plant starts).
If you're doing most of the work yourself, plan on spending something in the range of $60 (cost of seeds, organic amendments, plant stakes) to upward of $300 (cost of a shovel, plant starts, organic amendments, plant stakes). If you're planning to hire professionals, add the price of their services on top of this.
Typical project length: In general, budget a weekend of work for getting areas cleared and beds ready for planting, and an afternoon at the nursery gathering plants and supplies.
Materials if starting from seed:
Seeds
Seed starting trays
Potting mix
Materials if starting from seedlings:
Plant starts, purchased as six-packs or 4-inch containers from the nursery
Additional materials:
Shovel
Hand trowel
Rake
Organic amendments
Stakes
Garden twine
Sluggo or other organic pest control, if needed
Irrigation supplies, if needed
Best time to start: Spring. Most cut flowers bloom from spring to late fall, depending on variety. Get started early, as soon as the ground can be worked in spring (or start seeds earlier with the help of a greenhouse) to be able to grow spring-blooming varieties, like stock and snapdragons, the first year and take advantage of a long growing season for summer bloomers, like blanket flower, feverfew and coneflower.
How to Get Started
Make a plan. Before you begin, map out which area(s) of your yard you'd like to devote to a cutting garden and make a wish list of flower types you'd like to include. Most cut flowers thrive in a bed with four to six hours of sunlight, so it's best to optimize for sun when mapping out your site.
"If you have the room in your garden, you can opt to make a specific bed or area for a cutting garden," says garden designer Claudia De Yong. "Otherwise you may end up with bare patches in your normal beds once you have cut blooms down."
Don't have enough space to devote a section of the garden to cut flowers? Work them into existing beds. "Make it look more naturalistic by spreading them amongst the other plants," De Yong says, rather than planting in regimented rows.
Keep beds 3 to 4 feet wide to make it easy to reach in to pick blooms.
Choose your plants. Not all blooms work well as cut flowers. While you're choosing the varieties you'd like to grow, look for those that not only have beautiful blooms, but also have attributes like long bloom times (sometimes called "cut and come again" varieties), tall stems, fragrance and ample vase life. (Scroll to the end for a guide to cut flowers by bloom time.)
"Because cut flower gardens are by nature something that disappears, the key is to plant flowers that have, one, staggered bloom times; two, repeat blooms; or, three, are part of a garden that changes over time," says garden designer Kathy Molnar Simpson. For example, as spring-blooming tulips fade, the spent flowers could be hidden by emerging foliage from summer-blooming perennials.
A few strategies to choosing your plants:
Pick a color palette. Choose a color palette for blooms that work well together in the garden and the vase. Sticking to a loose color palette — such as pastels or hot colors mixed with dark purples for contrast — makes it easy to pick a mixed bouquet that looks florist-quality.
Select a favorite flower as an anchor. Pick one favorite flower and choose others that work well alongside it. "A favorite, such as a peony, should have at least a few other varieties growing alongside to complement [it] in the garden and in the vase," Simpson says.
Vary bloom forms. Choose a range of bloom forms — standout rosettes (peony or dahlia), trailing varieties (amaranthus) and fillers (baby's breath or aster) — to ensure that you have plenty of variety to work with when composing bouquets. Plus, it will make for a more interesting garden.
Look for other "mixers." "Don't forget foliage," Simpson says. "It's a key component in arrangements. Branches from trees, evergreens and shrubs can be incorporated [in bouquets] from other areas of the garden, along with veggies and grasses." Include some plants within the cutting garden that have attractive foliage as well as flowers, like lady's mantle and meadow rue.
Stagger bloom times. Ideally, your cut flowers won't bloom all at once, but rather over a whole season. To enjoy months of blooms, choose varieties with staggered peak bloom times (spring, early summer, midsummer, fall) or plan on tucking in seedlings midseason. "Replace annuals with seedlings where possible. This will extend the flowering for more cutting as the season progresses," De Yong says.
Prep your site. Once you've selected your planting bed, clear the area, removing weeds and transplanting existing plants if necessary. Using a shovel, turn over the soil and break up clods. Cover the bed with 2 to 4 inches of compost (and other organic amendments such as bone or kelp meal, if you wish) and turn over the soil. Rake the bed smooth.
Get planting. Map out a quick planting plan before seeding or planting seedlings. Pay attention to the mature heights of plants and sun exposure of your site. Plant any tall growers behind lower-growing varieties to prevent them from casting shade over smaller plants.
Simpson recommends spacing plants slightly tighter than normal for cutting gardens, especially if doing an area with succession planting, bulbs or both. "Space for new plants growing in will be made from the plants that are trimmed for cutting, and the bed will never look too sparse," Simpson says.
Water. Water needs vary by cut flower type, but most grow best in soil that is kept moist but not soggy. To keep moisture consistent, set up a soaker hose or drip irrigation to water plants throughout the season.
Midseason Care
Staking. Many tall, top-heavy flowers like dahlias and sunflowers will require staking as they grow for extra support and to keep stems straight for cutting. Keep garden stakes and twine or plant ties on hand.
Harvesting flowers. Cut flowers for bouquets frequently to encourage plants to continue producing blooms. "Annuals like cosmos, sweet peas and cornflowers do best when you keep cutting them, as it promotes new growth," De Yong says.
Harvest in the early morning, before daytime temperatures rise, and place cut stems immediately in a bucket of water. "When it comes to cropping your blooms, do it sympathetically so that it doesn't look like you have just come in and hacked down some blooms," she adds.
Pest control. Cut flower plants can be targets for the usual garden pests (snails, slugs and earwigs) as well as fungal diseases like powdery mildew. Snails and slugs often damage new plant shoots, while earwigs can burrow into buds, making holes in the petals. Control all three by sprinkling a pet-safe organic bait, like Sluggo Plus, around the base of plants. Fungal diseases like powdery mildew are more difficult to control. Help prevent plants from getting them in the first place by watering at the base of the plant, avoiding overhead spraying.
Deadheading. Cut off spent blooms before seeds form to encourage new flowers to keep forming on the plant. At the end of the season, skip deadheading and allow seed heads to form and mature on the plant. You can cut the seed heads to add interest to bouquets, save them for planting next spring or leave them as a food source for wild birds.
Fertilizing. If planted in well-amended garden beds, cut flower plants won't need fertilizer midseason but also won't complain if you give them an extra dose. If you do choose to fertilize, look for organic options like fish emulsion that have a well-balanced ratio of nitrogen, phosphorus and potassium (N, P and K, respectively) and apply according to directions on the bottle. Avoid any fertilizers that are high in nitrogen, which will promote vigorous green growth but fewer flowers.
End-of-Season Care
Clear beds. Once all blooms are gone and plants begin to look shabby, you can pull annuals (like sunflower and nicotiana), cut back perennials (like chrysanthemum and lavender), and lift tender perennials and dahlia tubers that will need to be overwintered in cold climates. Toss stems and leaves on the compost pile or in the bin for green waste.
RELATED: Bring Lavender Indoors Too - See How
Conversely, wait until spring to clear beds of annuals and trim perennials (but still lift tender plants for storage in cold climates). While the plants may not look their best in the garden over winter, the seed pods provide food for birds and fluff for spring nest building.
Mulch. Rake beds smooth and cover with mulch or straw. Another option: "Cover with fir, pine or other needled evergreen branches to protect late-season seeded flowers that need to overwinter," Simpson says. "It looks and smells nice."
Plant cover crops. Nitrogen-fixing plants like legumes and red clover can be seeded as cover crops over the winter to help replenish the soil with nutrients.
Cut Flower Guide by Bloom Time
Late winter: Forced flowering branches from blooming ornamental trees and shrubs like cherry, forsythia, quince and winter sweet
Early spring: Early tulip, hellebore, hyacinth, narcissus
Spring: Camas, hyacinth, Iceland poppy, narcissus, nemesia, ranunculus, snapdragon, stock, tulip, wallflower (Erysimum)
Summer: Achillea, aster, blanket flower, calendula, corn cockle, cosmos, dahlia, dianthus, eremurus, feverfew, four o'clock, hydrangea, larkspur, late peony, lavender, lily, masterwort (Astrantia), Minoan lace, nicotiana, Peruvian lily (Alstroemeria), phlox, Queen Anne's lace, rudbeckia, scabiosa, sunflower, tuberose, zinnia
Fall: Amaranth, chrysanthemum, late sunflower, ornamental grasses
Winter: Camelia, hellebore, winterberry
Top Picks From Landscape Designers
If she could grow only three cut flowers, Simpson would choose "dahlias for color, hydrangeas for longevity in the vase, and tuberose for scent."
For a beautiful, rich purple-and-blue color palette in the garden and the vase, De Yong recommends the following planting combination: Calendula officinalis 'Indian Prince', Cerinthe major 'Purpurascens', Helianthus annuus 'Claret', Salvia viridis 'Blue', Euphorbia oblongata (where invasive, such as California, plant E. characias ssp. wulfenii), 'Harlequin' sweet pea mix, Malope trifida 'Vulcan' and Scabiosa atropurpurea.