How to Live in a 480-Square-Foot House Without Killing Your Husband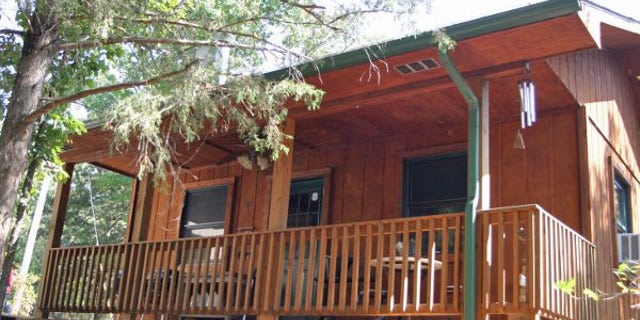 We were accidental tiny-house dwellers. In 2003, my husband and I built a 480-square-foot cabin with cedar-colored siding, a covered front porch, and a 10-by-24 "party deck" on our land on Bull Shoals Lake in the Ozark Mountains. The property is 300 miles from our hometown of Kansas City, and we used the cabin for weekend escapes and vacations.
We had planned to move to the land, some day, and add to the cabin or build a house next to it. But in 2007 the unexpected happened, twice: My husband's job of 23 years became undone due to a corporate buyout, and my mother passed away. Suddenly living near all our memories was too painful, and our land beckoned.
Then we did the math and realized we had underestimated our expenses for expansion, which included replacing our water tank with a more sustainable permanent well, which ran about $15,000.
And so me, my husband, and our four dogs joined the ever-growing number of tiny-house inhabitants and -- eventually -- enthusiasts.
The first hurdle was getting rid of our stuff, since we were coming from a jam-packed three-bedroom house; I had three closets full of clothes. We had four televisions, a formal living room and separate family room, and even wedding presents still packed in boxes from 29 years before.
The key was to go through it in waves. We donated items we'd never use and left most of the rest packed away in an outbuilding on our land -- sentimental items or heirlooms we couldn't yet part with (my mom's wedding china and some of her beloved antiques).
For people who don't have the luxury of storage, Jay Shafer, founder of Tumbleweed Tiny House Co., suggests primitive camping. Set out with a tent and only what's necessary.
"This allows people to see what they really need," Shafer told me. The idea is to have only the space you use and the stuff you can comfortably maintain.
That first winter was, to say the least, cramped. I felt like I was working from an airplane seat for 10 hours each day in our 10-by-10 bedroom; every time I moved, my notes fell to the floor in a heap. So when the snow melted, we built a separate 320-square-foot office space. (If you're a tiny-house dweller who works from home, I'd advise it.)
However, the financial benefits -- having a lower house payment and utilities, and no room for frivolous purchases -- were worth it. So were the environmental advantages: We heated the cabin with a wood stove, using trees felled on our own land. We had more disposable income and more time to enjoy hiking, boating, and fishing.
For most folks there's another hurdle: navigating codes that may not allow dwellings under a certain square footage.
Depending on your location, you might have to navigate some red tape, The town of Walnut Ridge, AR, for example, passed an ordinance at the beginning of 2015 not to allow homes under 600 square feet, for fear they would devalue other homes in the area. That means anyone who wants to join the tiny-house movement has to apply for a variance from the city or town's planning and zoning board. Before you embark on your tiny-house adventure, check with your local county, town, or city for building code restrictions. (Code restrictions weren't a problem for us, since our unincorporated area had no minimum square footage requirements.)
And lastly, there is the issue of co-habitation in a 480-square-foot house. My husband and I have been married, happily, for almost three decades, and getting along hasn't been much harder here than elsewhere. But there are those times when the TV's too loud and you can't just shut yourself off in another wing. No matter the climate -- and believe me it gets cold here -- outdoor living is very important in tiny-house life.
So there is this: I can sit outside, escaping the thunderous booms and crashes of one of the action-adventure movies my husband loves watching. As dusk approaches, I can listen to the "hoo-hoo" of our hollow's resident owl. Soon, the lightning bugs begin to twinkle in the dense woods just beyond the house and the coyotes begin their mournful howls.
You see, when my husband and I need a break from each other, the break can sometimes also turn into an experience. And that's what tiny-house living is all about.