How to hang a hammock that'll make your neighbors jealous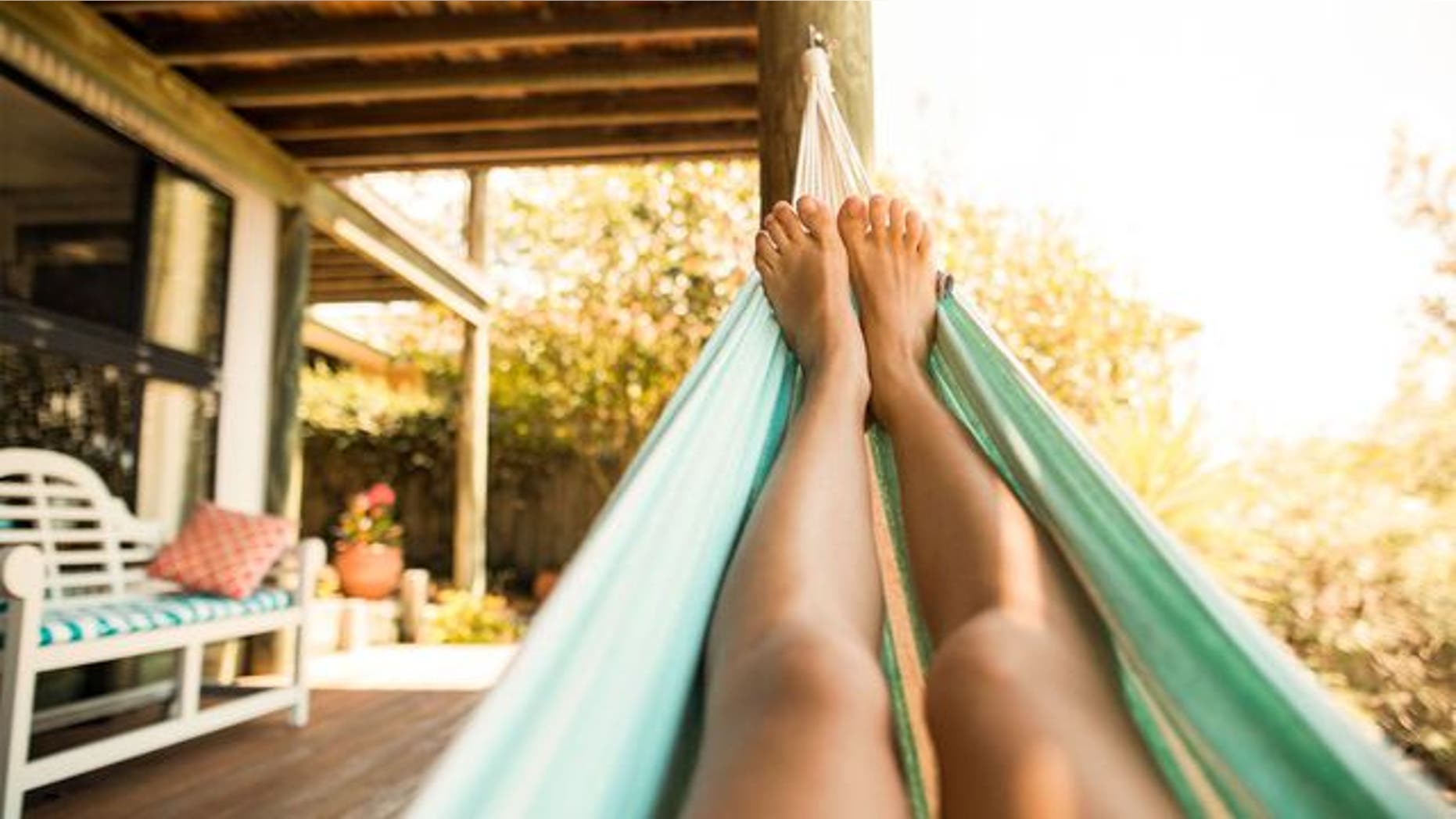 Learning how to hang a hammock could be your summer savior. It's not too late!  After all, not everyone can afford a pool, Jacuzzi, or lavish outdoor shower at their house, but a hammock can be hung anywhere — inside or out—and conjures an instant vacation vibe right at home.
So if the idea of hanging out in a hammock gets you drifting off to a nice mental space, here's what you need to know about where, and how, a hammock can be hung.
What's the best hammock material?
The classic cotton rope variety is probably the most popular hammock style, in part because it's comfortable and affordable. Some versions come with a wooden bar at each end to which the ropes are attached and held taut, making it easier to enter and exit without being upended.
Polyester blends are similarly constructed, either with the spreader bar or gathered at the ends. This material is more durable, drying quickly and resisting mold and mildew better than cotton. Canvas or full-weave fabric hammocks (cotton or acrylic, like Sunbrella) are another option and might be easier to handle, as there aren't any holes to tangle your limbs.
How much room do you need to hang a hammock?
In general, the ideal distance between trees (or a tree and your house) is about 12 to 15 feet, or approximately 2 feet longer than the length of the hammock. Most hammocks come with a suggested distance to measure so there's enough room for the product to hang freely without bottoming out in the dirt.
Still not sure you have enough space? Turn to tech and try a Hammock Hang Calculator app (yup, there's an app for that).
How to hang a hammock so it won't fall down
Canvass your yard for sturdy trees that are at least a foot in diameter and situated at the proper distance. But before you take up a hammer or drill, consider the trees.
"Preserving the tree canopy can raise your home's value, so don't risk its health by bolting or screwing in metal hammock parts," advises Cassy Aoyagi, president of FormLA Landscaping.
Instead, John Cook of FormLA Landscaping's installation team recommends tying a hammock with the type of nylon web strapping that rock climbers use (usually found at outdoor stores such as REI).
"Wrap this exceptionally strong material around the tree so you don't harm the bark," he notes. Just link that nylon web (using knots or metal loops called carabiners) to the hammock ends, and you're in business.
You can also use hammock tree straps, which are adjustable and removable, and allow you to transport your hammock to a vacation rental or campsite, adds J.B. Sassano, president of Mr. Handyman.
How to hang a hammock on a porch or indoors
No tree pairs? No problem. You can purchase a hammock stand for some varieties or hang a hammock on a covered or screened porch using the walls for support. There are also chair versions which typically hang from a single location, which might be a sturdy tree branch or a spot on the porch ceiling.
When placing a hammock inside, be sure the hardware you choose is rated for the combined weights of the future users, says Cook. Hammocks are kid magnets, so keep safety in mind in case more than a couple of them decide to pile into it.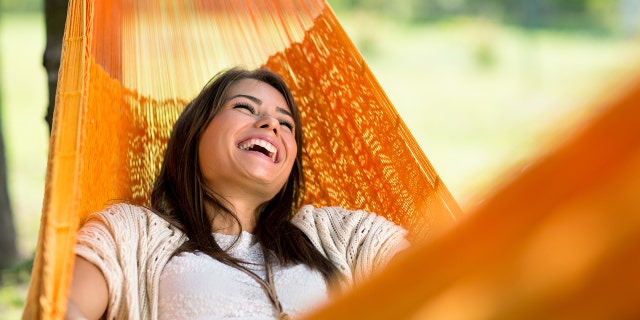 Hammock accessories
Complete your place of respite by stringing twinkle lights in the branches overhead and adding a small table to one side. You might also find a pillow under your head or knees offers good support. Add comfy pillows plus a squat table for a cold beverage, and you'll be relaxing (even snoozing!) in no time.
Caring for your hammock
At the end of the season, give your hammock a good shake to remove leaves and then spray it with a hose. Stains can be removed with a gentle scrub using a bit of mild detergent diluted in water. Hang your hammock in the sun until it's completely dry before storing it for winter (you don't want mildew to take hold). And always keep a hammock stand in a dry basement or garage to protect it from the elements.
This article, "How to Hang a Hammock and Bring That Vacation Vibe Home," appeared first on Realtor.com®.