How to decorate your home for the Fourth of July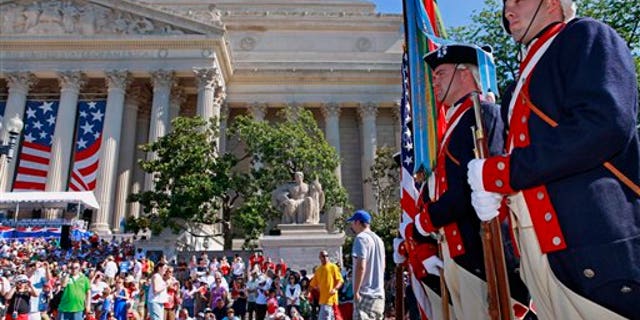 The Fourth of July commemorates the United States' declaration of independence in 1776, and stands as a testament to a nation's right to govern itself and the universal rights of all people. On this holiday, Americans enjoy the simple pleasures of fireworks, barbecues, baseball games and picnics. Here are some ways to celebrate and decorate your home:
Fly the American flag
Old Glory is the obvious first decoration for your front lawn. Its 50 stars (for all of the states) and 13 stripes (for the 13 original colonies) are especially appropriate for your front lawn on the Fourth of July.
Pamela H. Meyer, president of the American Society of Interior Designers' Los Angeles Chapter, says the flag needs to be given respect. "Do not hang the flag upside down. Do not use the flag for napkins or table cloth or on the floor," she says.
Use colonial era furniture, if possible
Use decorations that are reminiscent of 18th century America, when the young nation enacted the values that provided the foundation for our current constitutional republic. Andrea Correale, president of caterer and event planner Elegant Affairs, recommends using galvanized buckets to make it look like "old school 'New England' Americana."
Incorporate red, white and blue into your decorations
Meyer says use red, white and blue in everything that you do -- from flowers and tableware to linens, balloons, pillows and accessories.
Whether decorating your dining room or back porch table, red, white and blue tablecloth, napkins and cups will keep the scene appropriate for the holiday. You don't need to buy specialty, American flag-themed materials, although you can if you care to. The simple presence of the national colors will add a festive flair to your holiday barbeque. Correale suggests hanging red, white and blue paper lanterns from trees.
Lawn stars, sparklers and fireworks
Cut a star into a large piece of cardboard, creating a stencil. Place the stencil on your lawn and fill it in with white spray chalk.
Independence Day is synonymous with sparklers and fireworks. Feature these elements in a legal and safe way.
Celebrate American accomplishment with mini-displays
American accomplishment extends beyond the political sphere of presidents and senators, and unfortunately, not all of them have been celebrated on our currency or monuments. Celebrate the massive scope of American accomplishment in many different fields, not just politics.
Poets like Walt Whitman and Langston Hughes gave America a wonderful lyrical voice. Consider writing some of their patriotic and inspirational quotes on party-favors or papers.
Composers like Duke Ellington and George Gershwin gave the country its own soundtrack. This quintessentially American music creates a great vibe for the evening.
Adventurers like Amelia Earhart and Neil Armstrong, explored the wild expanses of the air, the new frontier; you can put out model airplanes or spaceships in patriotic displays. Perhaps display a book by Mark Twain or Toni Morrison or hang a picture of Sacagawea.