How to Build a 'Mad Men' Themed Bar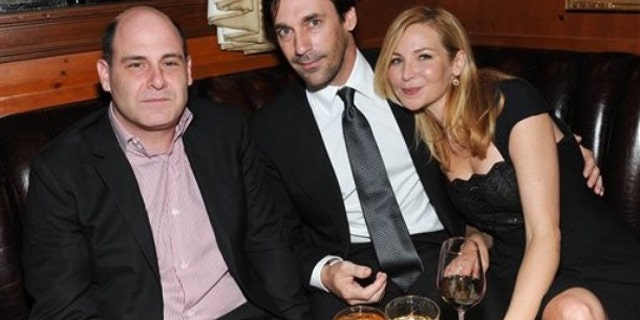 From skinny ties to liquid lunches, the popularity of "Mad Men" has brought back a '60s swagger to American life.
If you're looking to capture some of that magic at home, consider throwing a "Mad Men"-themed cocktail party. But before you can throw a swanky shindig, you'll need a place to drink. So, here are a few tips on how to create a retro bar that would make Don Draper himself proud.
What You'll Need:
The Bar: First things first, you'll need a bar. Luckily there are plenty of places online that stock vintage-looking bars, stools and cabinets. If you're looking for the real deal from the period, you're going to want to hit up flea markets, thrift stores and antique shops. You can also check Etsy or Ebay for vintage wares being sold online.
Whiskey Tumblers/Old Fashioned Glasses: Whether you're sipping your whiskey straight or drinking Don Draper's favorite cocktail, the Old Fashioned, these diminutive drinking vessels are key. A quality whiskey glass should have heft and a heavy bottom. It should feel substantial in your hand. Like a woman.
Martini Glasses: As a friend of mine once said, sipping from a martini glass is like trying to drink a plate of alcohol perched on a stick, all while trying to look like an adult. That said, it's also a key piece of stemware for martinis, gimlets and any number of other old-school cocktails. Get yourself a set and try to look sophisticated. Just don't spill your drink.
Collins Glass: For those cool cocktails built for hot days, like the inimitable Tom Collins, make sure you have a set of these tall, slender glasses at the ready for your guests to dance their fingers around.
Cocktail Shaker: Ah, the cocktail shaker, a truly divisive device among cocktail aficionados. A shaken drink shatters ice, which then melts into your liquor, reducing potent potables to watery wimps. However, the 1960s did give us James Bond, who famously insisted on drinking a neutered martini. Following in the great spy's footsteps, some of your guests are certain to order their drinks, "Shaken, not stirred." So get yourself one of these stainless steel mixers, but remind your guests that a real martini contains gin, the barest breath of vermouth and nothing else.
Ice Bucket: The executives of Sterling Cooper Draper Price never seem to be more than arm's length from a fresh fistful of ice. Along with making doe eyes at the boss, replenishing the ice must be part of the secretarial job description. If you don't have a secretary on hand to fetch you fresh ice, make sure to get a good, insulated ice bucket so that the drinks stay cold while your guests stay thirsty.
Ashtray: Unlike the days of "Mad Men," there aren't many places you can smoke indoors anymore, other than your own home. But if you're the smoking sort, be sure to pick yourself up a retro ashtray. Preferably something heavy and made of cut glass or sleek chromium.
Decanter: Why stow your whiskey in the bottle it came in when you can sheath it in a piece of cut crystal instead? Don't be uncouth. Get a decanter and pour the way the big boys do.
Bar cart: At some point, you, or your guests, might be a little too far into the drink to make it to the bar. Enter the bar cart, a mainstay of 1960s cocktail parties. This wheeled dolly is the perfect size to transport all your liquor, mixers and glasses, extending your bar's reach to couch-bound guests in the living room or tipsy tipplers in the backyard.
Stocking the Shelves: Many of today's cocktails are vodka-based because this tasteless stuff goes well with sugary-sweet mixers that allow us to swill cocktails like Kool-Aid. But in the 1960s, the drinks were hard, and gin, whisky and brandy were king. Stock your shelves with plenty of these, and keep a bottle of high-grade single malt stowed somewhere safe for big occasions.
For mixers, keep it simple. Stick with the classics: bitters, dry vermouth, maraschino cherries, Rose's lime, olives and soda water. After all, shaken or stirred, Don Draper wouldn't be caught dead drinking an appletini. Even Joan would likely take a pass.