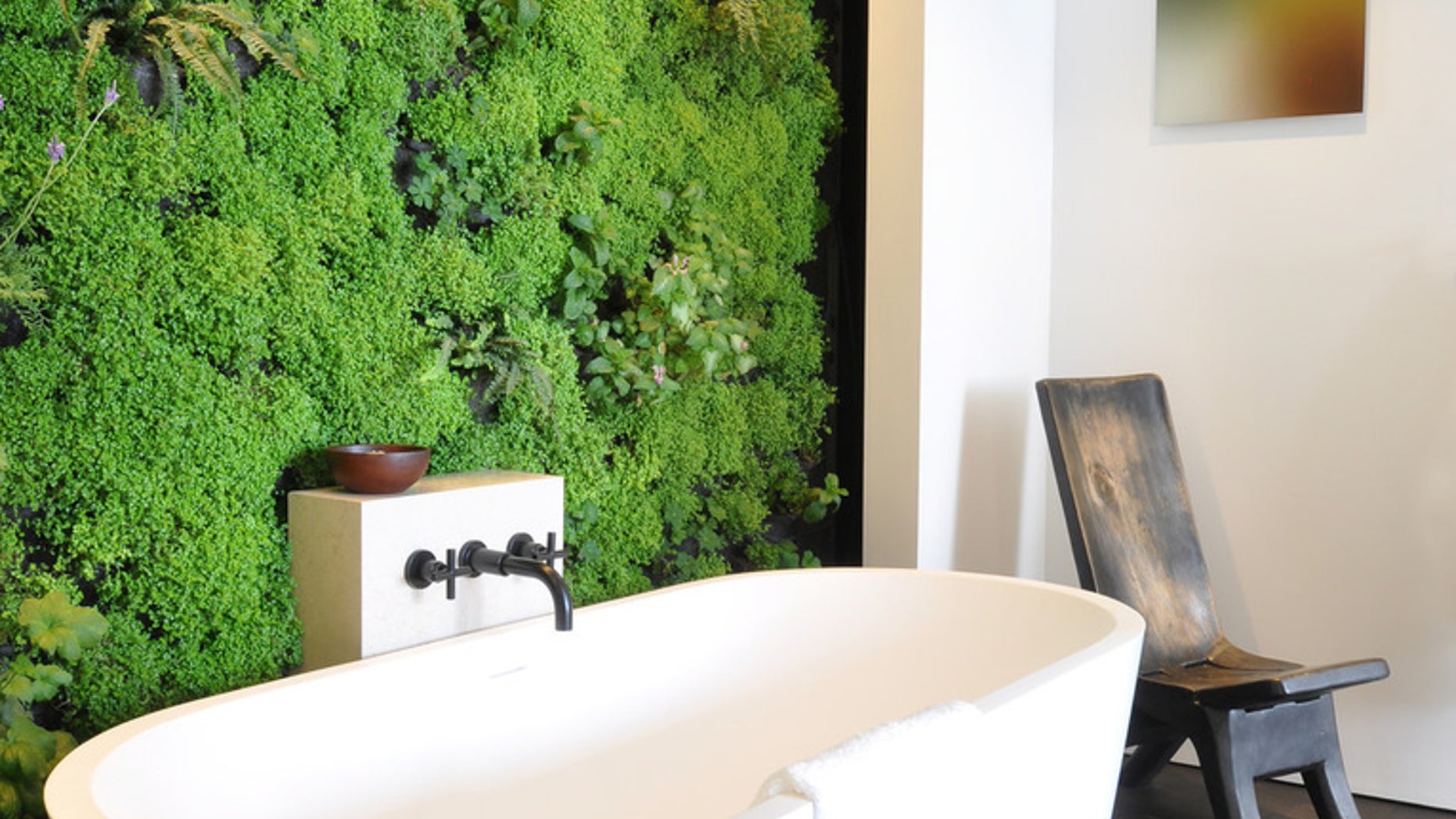 A vertical garden is truly a living wall. It generates oxygen while offering a visual focal point that's arguably as stunning as, and more affordable than, a piece of fine art. While a vertical garden requires more maintenance than most other wall coverings, it brings texture, energy and life to a room the way all houseplants do. As long as you replace and refresh the plants and care for the system, it will work for you. And chances are, you'll have the most talked-about wall in the neighborhood. Here's what you need to know to get started.
DIY or hire it out? If you're going for a showstopping look (bigger than poster size), consider hiring a good local garden professional. In Santa Barbara, California, designer Terra Basche (seen here) of Terra Malia Designs transformed a wall at Sonos' office with a large-scale living wall that shows creativity and generates oxygen.
Select your planting system. Most garden stores sell some type of vertical planter. Basche used an Architectural Supplements planter tray system made with eco fiberglass. "Planting is fast and easy, and replacing plants is fast and easy," she says. "If one plant is suffering" — from, say, pests, burning or disease — "it can easily be taken out and replaced." While a tray is super durable, it might be good to have a professional hang yours to complete the "construction." Then all you have to do is tend the plants.
Choose your plants. For a green wall, choose 6-inch plants that interest you, keeping in mind the effect or texture you want them to have and their light needs.
Succulents are the heartiest, needing little water and providing lots of visual interest. Sedum is also a good choice. It's OK to choose plants with different water needs and put them in the same tray, as they will wick up the amount of water that is needed; make sure to use the recommended type of soil or pebbles for the planter you've chosen. Another tip: Draping plants will enhance the look and cover more space, meaning more bang for your buck.
Wallpaper can be a disaster in a bathroom that gets a lot of moisture, but a living wall loves water, along with air and natural light. The owner of the San Francisco bathroom here looked to Habitat Horticulture — the team responsible for green roofs and walls for several California homes and companies, including Trulia — to accent a bathroom with a Zen-like bright green living wall. For plants they used nearly neon green mosses and baby's tears, which come in an array of green hues.
Pick a wall. It's key to remember that you are hanging a garden, not a piece of art. There will be nails (renters, check with your landlord), dirt, maybe even fertilizer.
Many planting systems require studs for support. Consider having a professional hang the system to accurately take into account its weight and size and to make sure your wall can accommodate the hanging. Also, choose a space that is easy to access (not too close to furniture or material) for watering and cleaning up any soil or fallen leaves.
Find the light. Make sure your wall is near a window or another natural light source, so your plants will have the best opportunity to thrive. Natural light is always best, so try to find a place that gets a lot of it, keeping accessibility for maintenance in mind.
Cost. Plan to spend about $60 to $80 per square foot with a tray system. Small DIY wall projects can run less than $1,000, while larger ones can cost $10,000 or even more, depending on the landscape and design fees.
It can be expensive to fill the planters. Look for draping plants and vines that you can turn out at the edges to cover the sides and corners of the planting system.
RELATED: See if Creeping Juniper Works for Your Garden
Watering. Although many systems are designed for indoor walls, the concept can be used outside if holes are drilled to let water out of the trays if it happens to rain. Use common sense about what your city's climate is like when selecting plants if you do an exterior project, and double check with a nursery on how frequently to water.
Some plants might need a daily check, while others, such as succulents, can go nearly a week between waterings. As with any container, you want to avoid standing water. If a plant dries out, swap it for a fresh one. With a good, durable planting system, the lifespan of your wall will really be up to the individual plants. The easiest route will be with a system that requires no pump or electricity, and with plants that can last a few weeks between water fillings.
Rana Creek worked with Polly Osbourne Architects to cover this garage in Three Rivers, California, with a series of connecting plants via an aluminum hanging basket system. Rainwater captured from the garage irrigates the wall most of the year.
Adorn and tend. You can accent or embellish a living wall with a custom natural-edged wooden frame or a modern piece of metal, depending on the look you are going for. Hire a local woodworker or metalsmith who can help you create something one of a kind and bring even more life to your living wall.