How a Neighborhood Rallied Around Family's Homemade Death Star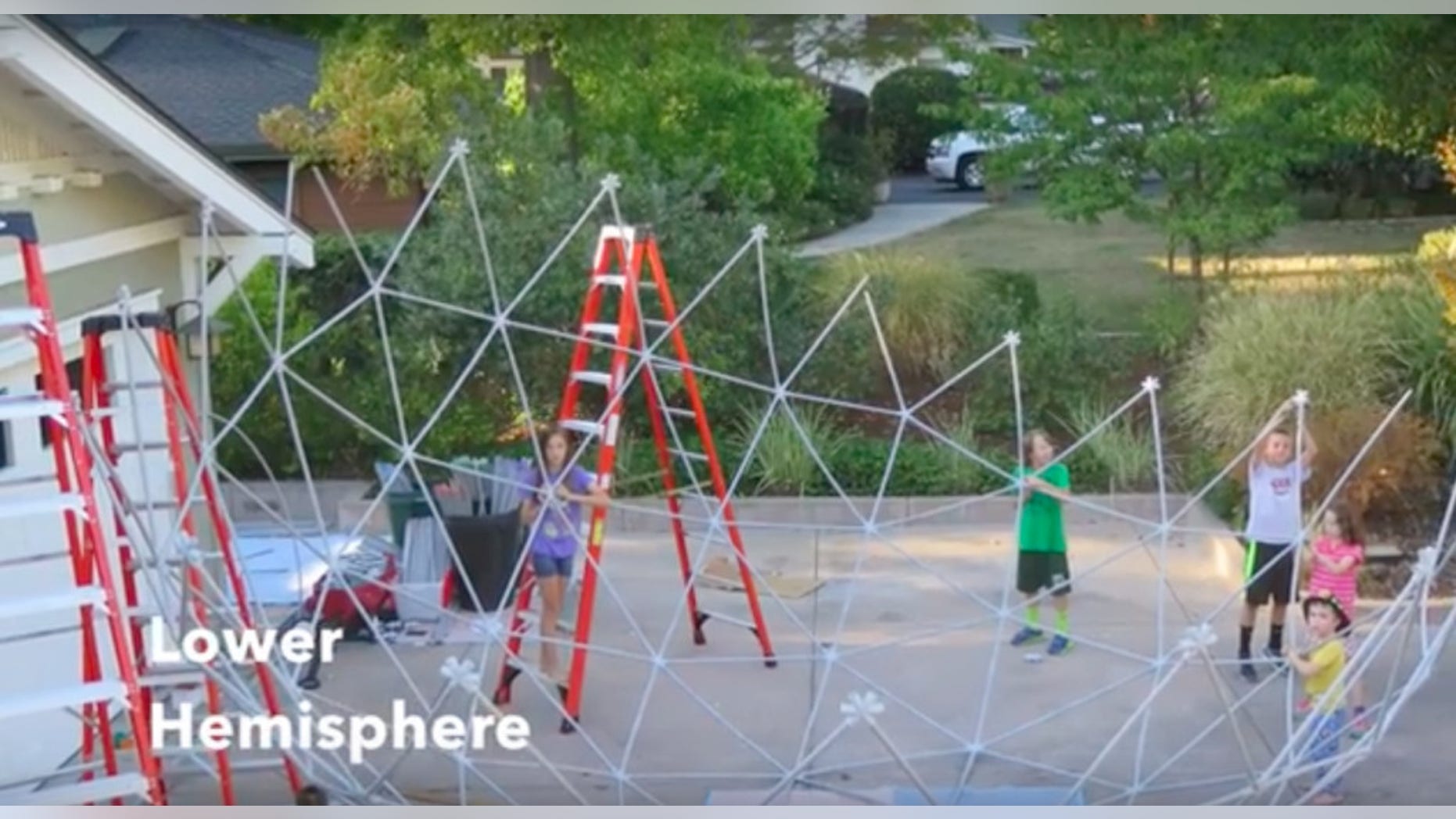 The frenzy for all things Luke and Leia is reaching a fever pitch, as "The Force Awakens," the first new "Star Wars" flick in over a decade, nears its December launch. Exhibit A: the near viral sensation that is a 23-foot Death Star replica built by Colby Powell and his children in Lafayette, CA.
The Powell family taped footage of them building and erecting an elaborate two-story Death Star decoration and uploaded the video to the Internet. And the Internet went wild.
So why in the Alderaan system would you want to build a galactic superweapon in your own yard? To a certain obsessed slice of the populace, the real question might be: Why wouldn't you?
"We had this idea a couple years ago," Powell told Make: magazine. (That was when his kids first became smitten with the "Star Wars" saga.) "Hey, what if we put the Death Star in our back yard, and make it so big that from the front of the house you can see it over the house?" It took a while, however, to get the project underway.
So how'd they do it? With 2,000 feet of PVC piping,18 cans of paint, some parachutes, and strategically placed LED lighting. According to CNET, this thing weighs 400 pounds.
To get the enormous orb atop their abode, the family needed a crane. Luckily, Powell works for a general contractor who helped make the Death Star in the sky a Web sensation and the envy of "Star Wars" geeks everywhere.
"We parked a 70-foot boom truck [crane] in the driveway to complete assembling the top hemispheres on the bottom hemisphere and hoist the Death Star onto the roof," Powell explained to Make: magazine.
The project became such a huge undertaking that about 20 neighbors helped with the construction. The Lafayette Death Star made its appearance at the end of October, surely beating out all the other neighborhood houses in the Halloween decoration department. Powell told Entertainment Weekly that he'd keep the project on top of his home until sometime between Thanksgiving and Christmas, and might eventually donate it to Burning Man.
There's been nothing but positive feedback about the fan feature so far, said Leslie Piper, consumer housing specialist at realtor.com and an agent in Lafayette. "They're saying, 'You won't believe how gigantic this thing is,'" Piper said.

It might even be a selling point for people looking for homes in the neighborhood, she added. "You get more exposure, and you never know who a home buyer might be." On the other hand, popularity has its downside: "Sellers would also have to put in the disclosure that a house nearby has a [Death Star] structure and that there will be high traffic."
As for the Powell house, the Death Star will likely (eventually) leave without a trace.
"If the structure were to cause damage to a home and affected the integrity of the roof, that could affect the home's value in an adverse way," Piper said. "But because he's in construction, I'm sure he did everything top-notch."
Powell is not the first person to convert his home into a "Star Wars" wonderland. There's a $15 million mansion that has an elaborate "Star Wars" room with an "Empire Strikes Back" snowspeeder for a bed, a home in South Korea designed to look like a structure straight from a George Lucas movie set, and a bed-and-breakfast in England decked out with approximately 3,000 pieces of memorabilia. And, intentional or not, this home in Australia looks startlingly like the Millennium Falcon when viewed from above.
May the Force be with these homeowners -- and, preferably, not lower housing prices in their neighborhood.