Housing touchdown: Score a home near your team's stadium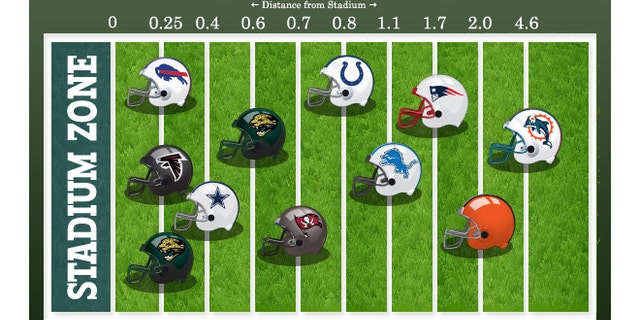 You know a diehard football fan when you see them. Decked out in their teams' colors, these patrons of the pigskin settle in each Sunday to cheer their team. For them, football isn't a season, it's the season; tattoos, vanity plates, and a closet filled with jerseys of former players aren't wishful thinking.
But what does a hash mark hound do to step up the revelry? How about buying a house down the street from your favorite stadium? With your own football flat tailgating and traveling couldn't be easier. And surprisingly, there are deals to be had.
After scouring our database, the Movoto Real Estate team found that in a significant number of cities, you can buy a house within walking distance of your favorite team's home field. Of course, in some places you might have to fight the cold weather.
So get out your warpaint and practice your favorite chant: Here are 10 football-ready homes.
Buy a Home Next to One of These 10 NFL Stadiums
Jacksonville
With a monthly mortgage of $32, this potential crash pad at 1555 Swift Street not only has a football-worthy address, it's also 0.25 miles from EverBank Field. Though it's tagged as a fixer-upper, with a little elbow grease diehard fans could slap on a coat of teal paint and show their true colors.
What you'd get for the house's $8,500 price tag is 928 square feet of tailgating. More importantly, however, the industrious could turn the front yard into parking spaces and rack up a couple months of mortgage payments.
As luck would have it, Jacksonville fans have a second option. The bungalow at 1214 Grant Street isn't much more than four walls and a metal roof. For $14,000 you could purchase a two bedroom, one bath house just 0.6 miles from the stadium. That's a small $53 monthly mortgage.
Buffalo
For just under $60,000, Bills fans can snatch up a Ranch-style home only 0.25 miles from Ralph Wilson Stadium. For $229 a month you'd get a 1,062 square foot party space complete with two bedrooms and one bath.
If the price tag is too steep for a seasonal hangout, gather up 10 other gridiron aficionados to field an investment team. Your 11-man squad will field a $20-a-month mortgage.
The only downside to the home at 60 Fay Street is the Jets-green exterior paint. It'll only take a few coats of paint to get rid of, and with a squad of homeowners, we're sure it'll come down in no time.
Atlanta
Imagine doing the Dirty Bird all the way to the Georgia Dome. When you're 0.25 miles from the stadium it's more than possible. This condo at 425 Chapel Street runs about $48,000. Sure, it's only 860 square feet and has one bed and one bath, but it's also the perfect size for a pre-game hangout.
While it has a $184 a month mortgage, you can cut the price tag by adding on pigskin comrades. A full squad might be too much. Instead, pick four of your best friends and call yourself the Offensive Line. The new cost: $37 a month.
Dallas
It's a seven minute walk from 819 N East Street to Cowboy Stadium. Better yet, it's a seven minute walk back to wait for the milling masses to leave the area after the final score is tallied.
For $59,000 Cowboy fans can lasso up a 1,226 square foot home with four bedrooms and two baths. That comes to $225 a month. All of this is just 0.4 miles from the stadium. If you plan on going in with your team it would cost a small $20 a month -- or about the cost of a drink and popcorn at the stadium.
Tampa Bay
If you're favorite team can march 100 yards for a touchdown, you could march 0.7 miles to Raymond James Stadium.
The house at 3413 W Dewey Street is located just 13 minutes from the Buccaneers' favorite real estate. What you'd get is three bedroom and two baths spread out in 1,390 square feet. However, with a $113,900 price tag, the cost might be like a goal line defense.
With a full squad the $435 monthly mortgage drops to $40 a month. Toss in some parking fees for visiting (dare we say less devoted) fans and we're sure you'll cut the cost even more.
Indianapolis
If you're looking for a short jaunt to Lucas Oil Stadium, you're in luck. This $25,000 house at 215 Wisconsin Street is a quick 10 minute walk from football glory. In other words, this 2,178 square foot house is 0.8 miles from the stadium. Yes this three bedroom home needs some work, but so would you if you were more than 110 years old.
It takes practice to be the perfect fan; start here.
Detroit
We've all heard stories about how a Detroit home will cost you next to nothing. It's true. You can put in a bid for a home near Ford Field for $100. With a price that low we can't help but be a little skeptical. Why not look at 1941 Orleans Street. This condo is a 1.1 mile walk from Ford Field.
For $10,000 you'll purchase a 900 square foot condo with two bedrooms and two baths. So pull out the scarves and gloves and get ready to walk. With any luck there will be vendors selling hot chocolate and coffee on the way. And if not, you can warm yourself by practicing your routes. Just like the good ol' playground days, remember to call "all-time quarterback" before the walk begins.
New England
Are you fan enough to purchase a home across from Gillette Stadium? The house at 114 North Street is within spitting distance of the Patriots' home turf. While even a quick glance at Google Maps shows would-be buyers that the stadium is only a short distance away, sticking to the main roads would put you 1.7 miles from front gates. Maybe the the truly adventurous could find a shortcut?
For $249,900 a lucky Pats fan could buy 1,080 square feet of Patriots-only real estate. The $954 a month mortgage comes with four bedrooms for pre-game weekending and one and a half baths for your legion of family and friends. Field a whole 11-man team and the mortgage drops to $87.
Cleveland
Browns fans are known for their determination. The Browns have had two winning seasons in the past 10 years.Yet every Sunday, Brownie fans bundle up in their best winter gear and cheer on their team. There's something honorable in that.
We mention this because it might take a strong will to live in a house near Cleveland Browns Stadium. For $1,900 members of the Dawg Pound could purchase 2541 Cedar Avenue. The home is in need of some desperate attention, much like the beleaguered Browns, and is 2 miles from the stadium.
Still, if any fans can deal with a mild inconvenience, it's a Browns fan.
Miami
The AFC East is a powerhouse of housing deals. The house at 2320 NW 196 TER is a mere 12 minute drive from the stadium, despite the home being almost directly next to the Dolphins headquarters.
While the trip is 4.6 miles by traditional avenues, we're sure there's a more direct route. Football is about marching down the field, and apparently, so is finding the best route to nearby stadiums
For $125,000 a lucky Fins fan could purchase a three bedroom, two bath house. At 1,630 square feet this block stucco house is ready for gameday tailgating. Bring aboard 10 friends to drop the monthly mortgage from $458 to about $42 a month.
Overtime
If your team didn't make the list, we are truly sorry. There are still deals to be had out there, so do some homework on your own. A word of warning: The following cities are slim pickens when it comes to an affordable home or condo that's really close to a stadium:
Oakland
New Orleans
Chicago
Seattle
Denver
St. Louis
Tennessee
Odds are these stadiums are simply too far away from affordable neighborhoods for diehard fans to consider.
Or are they….?
Related: