Homes of the Founding Fathers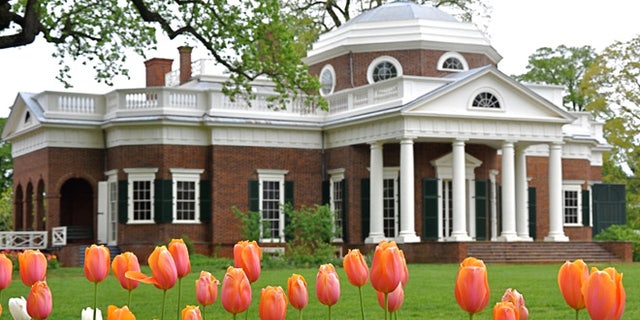 Baseball, barbecues and beer are the classic ways to celebrate freedom, but for those looking for an even more patriotic experience, consider visiting a home of one of our Founding Fathers. We take a look at how some of these great men lived.
Located in the Blue Ridge Mountains, about 90 miles south of Washington, D.C., James Madison's estate recently went through a major renovation that brought it back in line with how it looked when he lived there. The original house, which sits on 2,650 acres, was built by Madison's father in the early 1760s. Madison's mansion would see constant additions and revisions over the years, several completed by Madison himself, and then by the wealthy industrialist William duPont, Sr., who would add dozens of rooms and triple the square footage of the estate after he purchased it in 1901. The new renovations, which cost $24 million and were completed in 2008, removed many of these additions and have restored the home to how it looked in 1820.
Home to two presidents — John Adams and John Quincy Adams — Peacefield sits on a 40 acre estate in Quincy, Mass. Originally a fairly humble dwelling, with portions of the property dating back to 1731, John Adams decided to greatly expand the residence when he returned from England, where his family had grown accustomed to more luxurious living conditions. His son, John Quincy Adams would also put his mark on the property. Looking for a place to preserve his collection of books and papers, the younger Adams requested in his will that a fireproof library be built on the grounds. The result was the stunning gothic revival Stone Library, which was built in 1870, making it the first presidential library in the country. In 1946, the estate was gifted to the U.S. government, which now administers it as part of the Adams National Historic Park.
Mount Vernon | Fairfax County, Va.
With more than a million visitors per year, George Washington's Mount Vernon is the most visited historic home in America. Work began on the main house in 1757, and, after a number of additions and renovations over the next 30 years, Washington would build the house into a 21-room, 7,000-square-foot mansion. Looking out across the Potomac River, the estate is a short 15-minute drive from Washington, D.C., and sits on 500 acres of lush grounds that feature four gardens. In addition to historical reenactments, visitors can also take a look at artifacts from the first president's life, including his famous dentures. In 1858, the Mount Vernon Ladies' Association purchased the home, opening it to the public as a historical site in 1860.
Monticello | Albermarle County, Va.
Perhaps the most magnificent of the founding fathers' homes, Thomas Jefferson's Monticello was a work 40 years in progress. The endlessly inquisitive Jefferson spent a large portion of his life designing and building the home, drawing on architectural ideas and innovations that he encountered on his travels in Europe. Situated on 5,000 acres located just outside of Charlottesville, Va., the original property was inherited from his father. Jefferson began construction on the home in 1769, and eventually built it into a palatial 43-room, 11,000-square-foot estate. In addition to the stunning and inventive architecture, Monticello features a museum's worth of artifacts and curiosities, which Jefferson collected throughout his life. From pre-Colombian statues, to busts of philosophers and poets, the house is a testament to his deep love of history and education. In 1923, the home was sold to the Thomas Jefferson Foundation with the intention of preserving it as memorial to the country's third president.