Home sweet gnome: Take yard décor from tacky to tasteful
What do a gnome and a flamingo have in common?
Both can be fatal to the most beautiful block in the neighborhood.
Bryan Clayton, CEO of GreenPal, has been in the landscaping business for 15 years and he's seen thousands of lawns across the U.S. When it comes to tacky yard décor, he's had to navigate around countless gnomes, flamingos, pinwheels, and above-ground pools. It's why HOAs exist—to police and protect the property values of neighbors who don't want to suffer as a result of one home's kitschy curb appeal.
From "No Dumping" pooping dog signs to glow-in-the-dark faux stones, there's no shortage of dowdy outdoor décor. But for every yard ornament "don't" there is a more socially, and stylishly, acceptable alternative.
1. Say no to gnomes-- unless they're subtle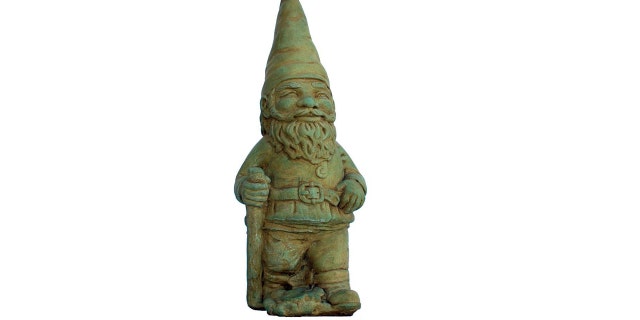 Thank German folklore for the garden gnome phenomenon. Believed to bring good luck, these decorative dwarves date back to the early 1800s. Today, most garden gnomes are mass-produced and are cheap-looking replicas of statues that, when done right, can actually be whimsical. Iinstead of going with a bightly colored, plastic statuette, opt for a subtler statue like this cast stone hiking gnome from The Home Depot. The hand-applied moss green stain makes the gnome look aged and weathered in a color palate that compliments nature instead of competing with it.
Regardless of what they're made of, gnomes are a hard sell if you're going for highbrow. Lucky for us, there are more fashionable ways to bring good luck to your yard. Plant a four-leaf clover or bury a horseshoe under a windowsill.
2. Burn the tiki torch; Invest in modern lighting and mirros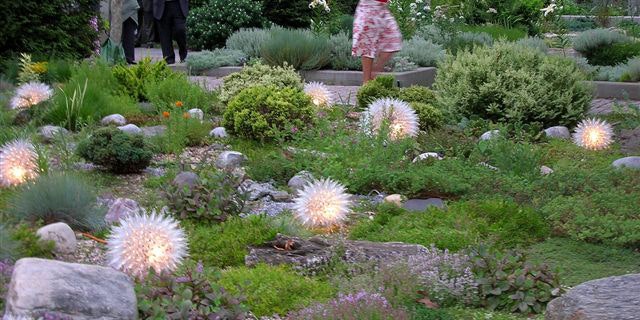 The only sin of illumination as criminal as keeping Christmas lights up past January is using tiki torches outside of the tropics. But that doesn't mean lighting can't enhance your yard. In fact, designer and HelenBilt founder Helen Gifford says the best way to make outdoor space as livable as the doors is through lighting. Her urchin fixture is a contemporary design hung from trees.
"Think of these lights as arbor jewelry," says Gifford whose modern work graces properties everywhere from the Hamptons to Aspen and Greece.
Another way to experiment with exterior light in an alternative way is with mirrors. According to VizX Design Studios, which specializes in custom-designed outdoor living, mirrors are popping up in more garden beds as people push the envelope of design and seek to showcase light from all angles. (Note: do NOT place the mirror in direct sunlight.)
3. Swap plastic pink flamingos for big bronze birds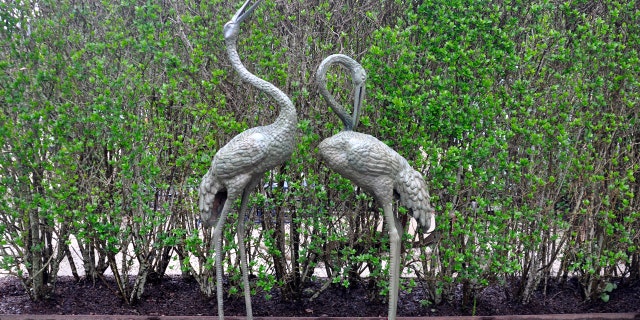 Is there anything tackier than a pink flamingo? This Americana trend started in 1957, much to the chagrin of HOAs who hope to see it banned for life. But not all yard birds are bad. Sean Juneja, founder of Décor Aid, suggests these mid-century Japanese bronze cranes from Mecox Gardens as an aesthetically-pleasing alternative to their classless plastic counterparts.
If your budget isn't quite bronze-friendly, try these teal-patinated metal cranes from Pier 1 Imports or these albesia wood herons handmade in Bali by an artisan for Ten Thousand Villages. "Metals and materials like wood that weather naturally are much easier on the eyes than manufactured synthetics like plastic," notes Brooklyn-based designer William Jude. Plastic may as well be the devil's gift to yard décor.
4. Don't be afraid to go digital but stop the selfies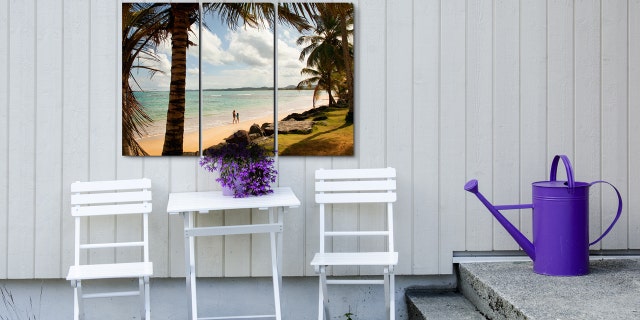 With the invention of the smart phone, everyone and their mothers are photographers these days. So it's not surprising that framed photos are the next form of décor to appear on the yard scene. The key to mounting a photo in an outdoor area is recognizing that outsiders will inevitably see it. When in doubt, always pick the sunset or waterfall shot over the duckface selfie. And don't try to blow up a photo and rely on a do-it-yourself framing job. Most frames can't survive the elements. Work with professionals like WhiteWall Lab who use their unique technology to transfer an image from your phone onto scratchproof HD metal designed to withstand every extreme weather condition ranging from relentless UV rays to layers of snow and ice.