High Tech Home Gadgets for Winter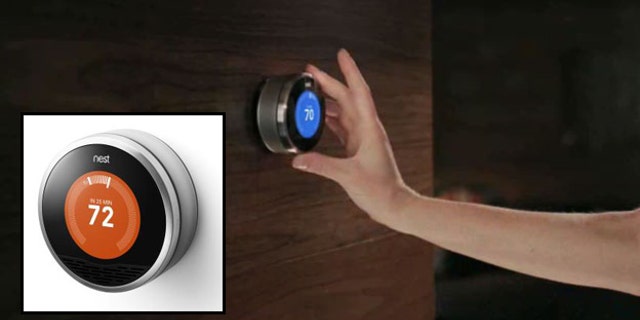 The chill of winter is in full swing across most of the country, and if you're shivering in your boots right now, you're not alone. Fortunately, while the unrelenting cold tries to wear us down, technology offers a warming respite from the ravages of Old Man Winter. There are tons of great gadgets on the market this year that promise not only to keep us warm at home, but even to save us money on the home heating bill — a welcome treat as those holiday credit card bills start to roll in.
Nest Learning Thermostat
As part of the team that designed Apple's iPod, Tony Fadell can brag that he has revolutionized the way we listen to music. Now he's turned his sights on the way we heat our homes. The Nest thermostat ($249) is a fundamental rethinking of this piece of home hardware, a device that hasn't changed all that much in the last 50 years. The Nest is already garnering rave reviews, and it's not hard to see why. You start by setting it like a traditional thermostat, but over time it begins to learn your habits, anticipating when you like a little extra warmth, and when it can drop the temperature in order to save money. While the money-saving features of the Nest make it an attractive buy, the sleek minimalist design has made it a must-have for homeowners.
Honeywell Prestige HD
While the Nest is certainly an innovative piece of technology, it's not the only company looking to change the thermostat. Honeywell's Prestige HD thermostat ($326) features a full color touchscreen, much like an iPhone, making it easier to program than most digital thermostats.
This thermostat comes with a smartphone app, so you can even adjust your home's temperature settings on the fly — a convenient option if you forgot to turn down the temperature before leaving for work, or want a little extra warmth without getting up from the couch.
Dyson Hot
Dyson, a company best known for their vacuums, revolutionized the humble house fan two years ago with the Dyson Air Multiplier. It's design dispensed with the traditional fan blade, which gets dirty, is difficult to clean and produces choppy gusts of air. Dyson's boldly redesigned fan now comes with a winter counterpart: The Dyson Hot, a portable heater, which uses the same technology found in their fans. There are no exposed heating elements, so it safer than some space heaters that put you into contact with red-hot coils. At $400, it's a steep price to pay for a space heater, but if you want to keep the cold at bay in style this winter, this is a great buy.
Stadler Form Humidifier
Winter means cold weather, but it also means dry air. Frigid conditions cause humidity to drop, which can mean dry, itchy skin for you. Humidifiers have long been the solution for a parched home, but traditional models have several drawbacks. Fan-based units are loud, and can be like sleeping next to a jet engine. Hot vapor-based models get rid of noisy fans, but the warm mist makes them far more susceptible to mold and bacteria. Newer, ultrasonic humidifiers avoid both these problems. Using high frequency sound waves that vaporize the water, ultrasonic humidifiers create a fine mist without any heat. If you're looking to return a little moisture to your house this winter, check out the Anton from Stadler Form ($139). These stylish monochromatic cubes offer sleek relief from arid winter air, and can take on a 250 square-foot room.
Columbia Omni-Heat Clothes
At some point you're going to have to leave the house and brave the chilly winter winds. Fortunately, technology can come to your rescue in the great outdoors as well. The Omni-Heat Electric series from Columbia Sportswear, is a line of winter clothing with a built-in heating system. The Omni-Heat sports a lithium-ion battery that gives you five to seven hours of heat on a single charge. And the battery does double-duty as a smartphone charger, keeping you warm and entertained in frigid weather, as you comfortably watch a movie on your cellphone while waiting for the bus.