Here's How to Find the Hometown of Your Dreams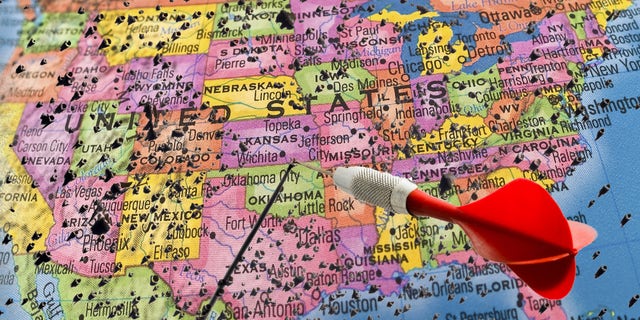 NEWYou can now listen to Fox News articles!
It is the conundrum of Americans everywhere: Where's the best place to live? Whether you're constrained by cash flow or not, the search is complicated and oh so specific. One person may be looking for a " Left-Wing, Redneck, Lesbian Paradise," while others want " Cities for college grads that are NOT snooty, materialistic, cliquey, nor ran by A-Types, but are social and laid back," or " forested, good fishing, red, rivers, lakes, warm weather," or " a semi-rural place in the U.S. with European views."
So where the heck is that, anyway?
As a result of such collective confusion, "Where Should I Live" quizzes are all over the Web these days. I decided to try a few to see if they could actually inspire me to move. I've been in Brooklyn for more than two decades, but I miss when the borough was cheap but still cultured and diverse. Like many others, I want to find the new new Brooklyn.
My search began with the " Find the Best City for You" tool on the personal finance site Kiplinger. It asked me eight questions, including which region I most wanted to live in (the Northeast, near my family, really would be best); preferred size (over 250,000 residents); and the importance of housing costs (very), presence of the creative class (yes), a rocking nightlife (please), affordability of health care, and quality education (high).
I was off to a faulty start. Kiplinger's No. 1 pick for me was Ocean City, NJ, known, according to the town's website, as " America's Greatest Family Resort." Also, last I checked, it had a population of less than 12,000 and was at the tip of a barrier island just south of Atlantic City. Curiously, Atlantic City was also on the list along with York-Hanover, PA, Lebanon, PA, and Vineland-Millville-Bridgeton, NJ -- more Mid-Atlantic than Northeast, to me, and all of them small.
I asked the folks at Kiplinger to elaborate on the tool and its limitations, but got only this response from its public relations folks: "Unfortunately, since this tool is a few years old and outdated, we won't be able to highlight it in an interview."
Next I went to Find Your Spot, which promises to "instantly provide you with a tailored list of the best cities and small towns that fit YOU."
This questionnaire is far more complex, and curious. It asked me everything from whether or not I'm a member of the Kiwanis Club to whether I'd like public transit, a Spanish-speaking population, holistic health services, or if I had Libertarian leanings (no; yes; sounds good; I think so; nah). I decided that I ought to free myself up geographically speaking, so I didn't end up in a tiny beachside town.
Here's where I -- a lefty, nonreligious, nature-deprived writer with two kids and a desperate desire both for a house and a dog -- should live, per Find Your Spot: Little Rock, AR, or "Where America Comes Together."
It's cheap, with an average home price of $91,957 (though Find Your Spot says $163,000 -- it needs to keep track of our data at realtor.com). There's very little snow and, here's the tipping point: "All Maybelline products distributed in the U.S. are made in this fashion-conscious spot." I might have purchased a Maybelline product sometime in the early '90s.
If I wondered why it chose that unlikely spot for me, the explanation was quite simple: The algorithm weighs some answers more heavily than others.
"If you request the ocean and sunny beaches on the Pacific Coast, but you also answer that you don't want to pay more than $150,000 for a home, the database will not be able to offer you homes in California," it writes. As most of us know: "There are no sunny beach towns with average home prices at or below $150,000 in that state."
It also suggested Honolulu ("America's Tropical Paradise"); Baltimore ("The Sparkling Harbor City"); Las Vegas ("Entertainment Capital of the World"); Albuquerque, NM ("The Pulse of New Mexico," although the state might have kind of a slow pulse); and -- and this one does make sense -- Portland, OR ("City of Roses"). I suppose I was hoping it would just tell me to move to Portland already and get it over with.
Granted, the only geographical area I nixed was the Midwest (I'm sorry, Midwesterners, I'm just not ready), but I wasn't ready for the South, either. So I went to Sperling's Best Places Quiz, which was more detailed than Kiplinger's but less so than Find Your Spot's, to see if it could get me -- figuratively -- closer to home. It, too, asked about my geographical desire; the industry in which I work (publishing/media was not an option, so I chose "other"); the importance of affordable housing; whether income, sales, or property taxes are important; and if I wanted culture and nightlife.
With no geographical restrictions, Best Places suggested I move to Ogden-Clearfield, UT. (Boy, do these websites want me to clear out of the Northeast or what?) It has about 550,000 people and a low unemployment rate, and it's described thusly: "Ogden is sort of the unassuming, shy but quietly prosperous little sister of the booming 'SLC' (Salt Lake City) and Provo to the south."
I asked Bert Sperling, founder of BestPlaces.net, how they determine the criteria for the best places and why Ogden was selected for me.
"Utah has been a success story, especially for families," he said. "It has been growing incredibly, it has a lot of technology, the outdoor resources are amazing -- the skiing, the hiking, the mountain biking. It's tremendously beautiful, and it's still affordable." And its status as relatively unknown is a boon. "We're trying to uncover those secret places that people might not have known about," Sperling said.
Best Places funnels in thousands of criteria, from crime rates to home prices to health information from the CDC. And, as with Find Your Spot, not all of those criteria are weighed equally. They may shift with the zeitgeist. Sometimes schools are more important than crime rates or lot size. Today, "people are most interested in affordable housing," Sperling said. And, they love cities once again. "They see them as urban Disneylands for adults, and increasingly for the kids, too."
Once again, I got cold feet about heading west, so I rejiggered the quiz with a more realistic destination in mind. And it picked a place for me that I've often thought of living. My Best Place, the site told me, is Rochester, NY.
Now, Rochester gets a bad rap. It's known as one of the most dangerous places in New York State, but, as with most places, much of that crime is contained. And, man, is it cheap. The average home price is $115,530 at the time of this writing.
"It's one of those cities that we highlighted as an 'opportunity city,'" said Sperling. Meaning: not yet gentrified, but with some of the perks of a fancier spot.
I would move to Rochester, I think, if my husband and I could find gainful employment there, mostly because it has a wonderful Expeditionary Learning charter school, based on the Outward Bound model; we have friends there; the nature around it is beautiful. But, I don't know, Rochester? It feels so far west, like, you know, if I'm already going out that way why not just give in and go to Detroit?
Oh, right -- schools, jobs, infrastructure.
In some ways, the quizzes were eye-openers. Heaven knows I'd never considered Little Rock or, honestly, any place in Utah, but I also realized that, as much as I long to detox from the (addictive) insanity of New York, to have an adventure and live another kind of life, I am afraid of the radical change those cities imply. I asked Sperling where he thought he may roam someday. "With my business, I can live anywhere I want," he said. "But we keep coming back to Portland. It just keeps getting better and better."
Right. Like I said, I wish these quizzes would just tell me to move to Portland already and get it over with.