Greece, We're Thinking About You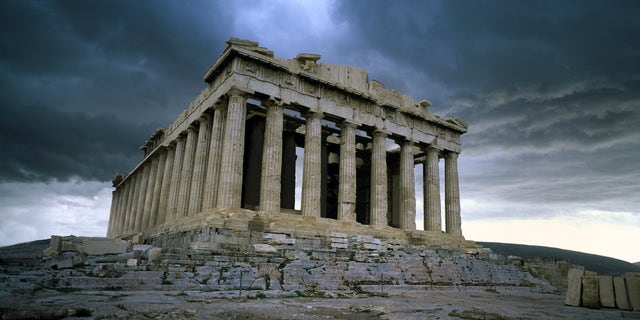 Our hearts go out to Greece. While we watch the country's ongoing financial struggle, we remember America's love for Greece is ancient -- our nation was founded on many of the Greeks' ideas and philosophies.
In the 1830s, when building a nation as separate from England as possible, we didn't just model an aesthetic, we actually copied Greece -- even giving some of our cities names such as Athens, Ithaca, and Sparta.
Greek Revival architecture is as much a part of America as democracy -- also Greek. Stately homes are defined by white stone columns, pilasters and pediments, and moldings and embellishments. Because this is America, we, of course, did it our way. Instead of actually using stone, our Greek Revival homes were built out of wood and covered in white painted plaster, creating an illusion of stone. The style is perhaps most identified with the Gulf Coast's plantation homes, where the large and imposing columns support wrap-around porches that are perfect for Southern hospitality.
For this week's #TBT to the glory of Greece, we compiled a quorum of Greek Revival residences in a tribute to, and in support of, the Hellenic Republic.
Location: 9200 Bentley Park Circle, Orlando, FL 32819
Price: $6.45 million
Ethos: Entrances are everything at this 14,600-square-foot pillared estate. The 40-foot, two-story reception foyer alone staggers the imagination; but the grandiose living extends to such classic features as grand twin staircases, hand-painted murals, a rotunda ceiling, Corinthian columns, and palladium windows.
-- -- --

Location: 108 Peases Point Way N., Edgartown, MA 02539
Price: $15.95 million
Ethos: This stately compound, replete with carriage house and pool, sits on 3 acres that look out toward Ox Pond Meadow and Eel Pond.
-- -- --
Location: Berryville, VA
Price: $7.65 million
Ethos: Referred to as Kentlands, this manor house scores with Virginia's Blue Ridge Mountain vistas.
-- -- --

Location: 668 Lansing Lane, Midway, KY 40347
Price: $4.95 million
Ethos: This legendary spread known as Highland Farm dates back to 1840 and boasts 7,225 square feet of original ash, poplar, and cypress flooring. It is surrounded in wood and brickwork, along with restored chimneys, fireplaces, a butler kitchen, and the requisite barns (three!).
-- -- --
Location: 331 Church St. NE, Marietta, GA 30060
Price: $1.1 million
Ethos: Dating back to 1895, this Robert M. McNeel carriage home was designed by James Wingfield Golucke, Georgia's most prolific architect of county courthouses.
-- -- --
Location: 95 Hawthorn, New Bedford, MA 02740
Price: $649,000
Ethos: This Quaker-meets-Greek-Revival-style home was given the Elm Award by The New Bedford Preservation Society in 2005. Decorative woodwork and picture-frame moldings appear throughout the nearly 5,000-square-foot, six-bedroom home. There's a stamped concrete patio with a granite knee wall, and a natural barrier of Cypress trees and shrubbery for extra privacy, too.