Goth glamour for Halloween and beyond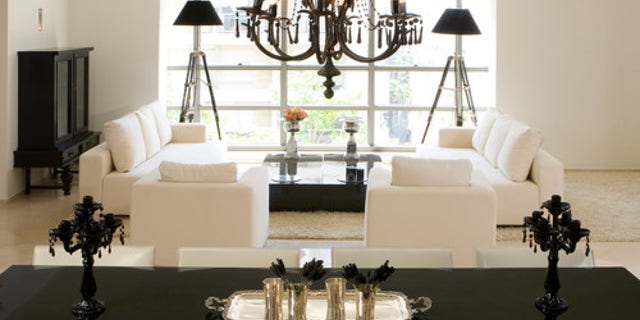 When I think of gothic, three things immediately come to mind: Dickens' Miss Havisham in her tattered wedding gown, Morticia from The Addams Family and The Rocky Horror Picture Show. Goth design is dark and dramatic. It laughs in the face of death by embracing it. Think crows, skulls and specimens in jars. There is definitely something creepy in it.
But it is not all eerie. It is also sophisticated, elegant and artistic. It has a great sense of humor and style. And it doesn't have to be overdone. There's no need to paint everything black and hang red velvet curtains. Just a touch here and there adds a little refined ghoulishness to a space. Perfect for Halloween and beyond.
Skulls, Crows and Other Specimens
To embrace the dark side, you need to embrace the symbols of darkness, foreboding and death. This workspace is perfectly dark and old fashioned (can't you picture Edgar Allan Poe writing here?). And the crow perched on the wall is the cherry on top.
These taxidermy birds give this room a 19th-century conservatory feel. As in, Miss Scarlett with a candlestick in the conservatory.
This wall of specimens floating in jars has a menacing beauty to it. If you are not quite ready to go full-on Dr. Jekyll, you could achieve a similar but less shiver-inducing effect by filling the jars with leaves, acorns, stones and other nonanimal items.
A custom skull pillowcase. It shows you're dark but you still like to get cozy.
A single sketch of a skull among a collection of art. It's dark but not obsessively so.
I love this subtle skull wallpaper from the Wallpaper Collective. It comes in black too.
Seriously elegant eek factor. Maybe just for Halloween.
Gothic Arches
This beautiful salvaged window is a true gothic touch. The ornate chandelier ups the drama factor too.
This room is modern and spacious, but the gothic arches and the antique wooden door give it a little goth darkness. When you can't put your finger on why a room feels a little eerie, look for pointed gothic arches. Works every time.
The high ceilings, taxidermy and arched fireplace give this room a creepy old-manor feeling. It's lovely, but there are most likely ghosts in here.
Dark Drama
This room has major goth credibility: dark old paintings, religious art, a big chandelier, low light and dark furnishings.
The dark wood paneling helps, but the table filled with candles is what really brings on the goth. Seance, anyone?
Big, dramatic draperies in heavy fabrics add mystery (what's hiding behind them?) and an 18th-century lushness to this room.
Blackness and Night
When in doubt, go with black. It's elegant, dramatic and not for the faint of heart. Black is undeniably the color of death.
Even a touch will do. These black-framed windows add a somberness to the space. The dark painting and candelabras don't hurt either. It's not creepy, but it is also not to be trifled with.
This bedroom has modern goth splendor: It's dramatic, it's black and it's covered in heavy drapery. Unless you happen to have a pet bat, it doesn't get any better than this.
Another open, bright modern goth room. It's not only the black accents that give a touch of the dark side, it's also the dramatic shape of those oversize velvet chairs.
Candelabras and Chandeliers
Nothing ups the drama of a room like a big, bold chandelier. The more a chandelier or candelabra looks like it came out of an old gothic church, the better. This stairwell is not particularly menacing, but the huge, spare chandelier adds major drama. Can't you just hear the organ music?
This bathroom has gothic arches in the cabinetry, but it also has those castle-wall candlestick sconces helping its goth flair.
A standing candelabra gives this room just a touch of the dark and dramatic.
A big, black chandelier. Elegant but not cheery. Morticia would l-o-v-e this.
Another black chandelier. Imagine if this light fixture were a white globe -- the room would have a completely different mood.
Related:
Houzz is the leading online platform for home remodeling and design, providing people with everything they need to improve their homes from start to finish - online or from a mobile device. From decorating a room to building a custom home, Houzz connects millions of homeowners, home design enthusiasts and home improvement professionals around the world. Samantha Schoech is a contributor to Houzz.