Go cuckoo for coconut furniture and surfaces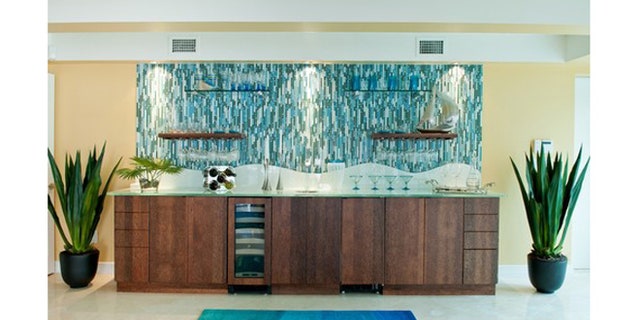 When I first came across coconut as a furniture material several years ago, the idea absolutey intrigued me. Coconut shell and palm wood are normally industry by-products, typically either burned or thrown into landfills. But a number of manufacturers have taken up the challenge to transform these waste materials into usable surfaces. Nusa, Kirei, Omarno and Plyboo are just a few of the companies striving to create ecoconscious products out of coconut shell and palm wood, with adhesives that have low or no added urea formaldehyde and low VOC emissions. Rural farmers have gained a new source of revenue from previously unused waste, and the design-conscious public has gained an ecosmart product with an exotic flair.
Many of the products shown below qualify to achieve LEED points as per the U.S. Green Building Council.
When I was looking for a coffee table for my design studio in 2006, I came upon a company in California called Nusa, which specializes in furniture made from coconut. Seven years later I am still in love with my Nusa table (shown here), made from coconut husks and with a shiny mother-of-pearl inlay in the top. Its sleek Saarinen-inspired shape stands in beautiful contrast to the more unrefined coconut texture.
This beautiful but unexpected design is coconut turned into an unusual sculptural chandelier. It's made from palm wood and ground coconut shell beads.
The combination of shapes, the natural palette with the tactile softness of the white slipcovered chairs, and the oversize artwork on the wall emanate a wonderful sense of calm in this sophisticated dining room.
The cabinetry in this photo is made from palm plywood.
According to Plyboo's website, Durapalm plywood panels are made from reclaimed or retired plantation-grown sugar and coconut palm trees. Around 60 years of age, the trees have passed their fruit-bearing years. These exotic palm plywood panels can be cut and sanded using conventional woodworking equipment and are formaldehyde free.
This bedroom doesn't need a conventional headboard, thanks to the chocolate-colored coconut tile covering the wall in one bold gesture.
Kirei is one company that provides flexible palm panels. You can create a seamless continuous textured surface, go around curves and apply it on round columns. The mosaic tiles come in a wide array of different designs and colors. Coconut tile can incorporate convex and concave surfaces in both matte and glossy finishes.
The individual tiles are mounted on a mesh in a standard size of about 12 by 12 inches. They can be glued to the wall with regular construction adhesive and don't need grouting.
I love the idea of applying a coconut tile product onto the face of a slab cabinet door. If you are interested in this type of application, make sure to discuss it with a knowledgeable cabinetmaker. Although the general idea of gluing the tile to a straight substrate is rather easy, you will need to make sure to select the correct type of door hinge, as the finished door thickness will end up greater than the standard 3/4-inch-thick cabinet door.
The tiles range from $15 to $25 per sheet -- not cheap but relatively affordable.
The tactile qualities and the range of colors of coconut products come in make them a perfect way to introduce a sensual, organic flair to any room.
This home's flooring also showcases a Plyboo product. It is manufactured without added formaldehyde for better indoor air quality.
Palm tree wood is slightly stronger than oak, is dark to medium red mahogany in color, accepts stains and finishes like other woods and can be sanded and refinished. It is suitable for both commercial and residential applications.
The price is about $23 per square foot uninstalled.
Omarno makes smooth palm panels -- a rigid panel product similar to plywood. The downside of working with the product is that the panels can warp quite significantly, so adequate storage and skillful manufacturing are mandatory.
Due to the gaps between the indivudal husk pieces, the material doesn't quite lend itself for use as kitchen cabinetry -- grime could easily accumulate -- but it has a lot of potential for armoires, chairs and tables.
When I needed a custom table made for a rather oddly shaped banquette area in a house where I had used chocolate- and natural-colored bamboo for the kitchen cabinetry, coconut plywood panels -- with their different designs and dark and light brown colors -- came in handy. The panels responded in color and personality to the slightly exotic bamboo but added another layer.
Besides structural use, coconut and palm can also be beautifully decorative. Here a coconut palm leaf is used as a piece of sculpture. Unadorned, it's nature at its best.
Related:
Houzz is the leading online platform for home remodeling and design, providing people with everything they need to improve their homes from start to finish -- online or from a mobile device. From decorating a room to building a custom home, Houzz connects millions of homeowners, home design enthusiasts and home improvement professionals around the world. Ines Hanl is a contributor to Houzz.