Get this look: Inviting entryways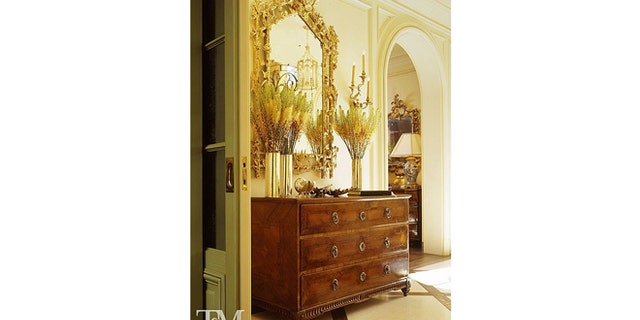 It's easy to overlook the space right inside your front door. It's where you kick off your shoes and drop your coat, but you probably don't spend very much time there -- or think about prioritizing it as a home design project.
But leading interior designers say small touches go a long way in transforming your foyer or entryway into an inviting space.
"The foyer offers the very first impression of a home and its inhabitants, so it's important that it sets the tone, draws you in and says welcome," explained Suzanne Tucker of San Francisco design firm Tucker & Marks.
Tucker offers these tips for sprucing up your entryway.
Find your focus
A focal point is key, according to Tucker, because it "establishes the flow of the house and offers glimpses into the adjoining spaces."
Try incorporating patterns, artwork or mirrors in your foyer to create interest and lead into the rest of your home.
Set the tone
"I am weary of over-designed, over-stuffed, overwhelming foyers," Tucker said.
Much like a good movie trailer that tells you enough about the film to make you want to see it without giving away the entire plot, an entryway should hint at the personality of your home, while inviting guests in to see more.
"There are a few key elements through which the personality of the house can shine through: a gorgeous antique mirror … a console table or chest with vintage trays for keys and coins, or an elegant banquette for pulling off and on shoes," Tucker explained.
Go light and bright
"I love a warm, natural organic palette of creams and straw colors for foyers," Tucker said.
"Lighting is also key," she explained. "Sconces on either side of mirrors or art, and an adequately proportionate ceiling fixture are a must."
And, don't let your floor plan prevent you from having an inviting entry point into your home.
For those without a dedicated foyer or entryway, Tucker says there are ways to designate a separate functional area that flows into a larger space in your house.
"[Try] being clever with furniture placement, a few key plants or a strong piece of art, as well as lighting," she said.
Related: