Get this look: Industrial style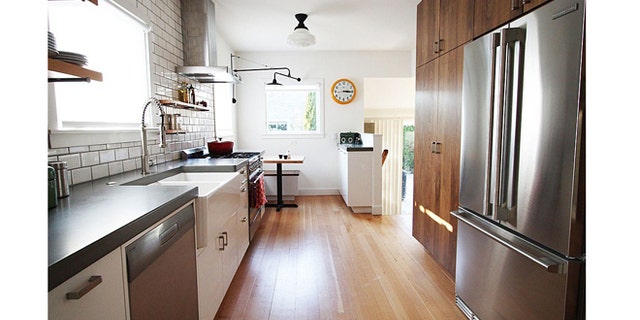 Warehouse conversions and lofts have long embraced an industrial look: exposed pipes, brick walls and leftovers from the home's original state. Whether reminiscent of an old fire station or farm, industrial style brings elements originally designed for the workplace into the home. The rustic look, however, can be embraced in any home, whether a 1930s bungalow or suburban two-story from the '90s.
From total immersion to a few well-placed accessories in your home, the industrial look is right on trend.
Achieve the look:
Alissa Pulcrano, of Portland design firm bright designlab, says as with any design, look to what the style of the building or room is first, then bring in elements like steel, concrete, brick and wood, reclaimed pieces and found items.
Pulcrano and her business partner, Leela Brightenburg, find their pieces by scouting. For example, the shelving featured in the kitchen above was sourced from an old barn; the light fixture is an old boom light.
Try salvage yards and thrift stores to find reclaimed pieces for your home.
As with many accessories, less is more. You want the industrial vibe to feel natural, not forced.
"Create a flow of balancing elements rather than being 'matchy' on everything," Pulcrano says.
Colors
Designed to have a weather-worn or previously-used look, industrial items should come in muted colors.
Metal, rock or any other shade that would be at home in an early 20th-century factory are ideal.
To really bring the industrial palette home, Pulcrano says any color that screams industrial -- think "charcoals, blacks or safety orange" -- is great.
Furniture
Of course with any look, you can mix and match, but the furnishings for an industrial room should remain modern and understated with sharp angles and minimal add-ons.
Why go industrial?
The contrasting and layered look in industrial interiors is intriguing, says Pulcrano.
"[There's] nostalgia for things that are well made. We are inundated with quick and dirty design, but we can still buy and find affordable pieces with a story," she explains. "We don't always want to see the Ikea pieces -- we want to have something more heavy duty that has already stood the test of time."
Find more industrial inspiration on Zillow Digs.
Related: