Gay Marriage: Now That You Can, Should You? Do Home Buyers Have To?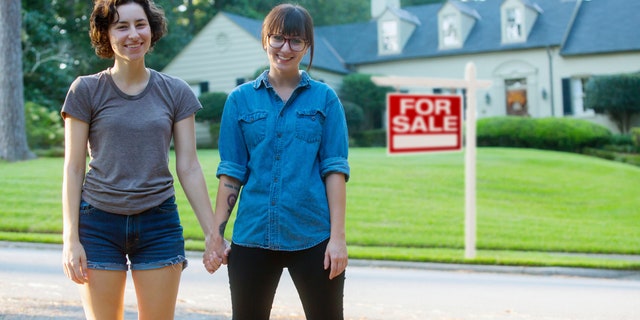 There were tears, cheers and an outburst of rainbow profile photos on Facebook after the U.S. Supreme Court ruled last week that same-sex couples have the legal right to marry, across the country. Here at realtor.com, of course, our first question was, "What does this mean for gay couples who want to buy a home?"
According to Jeff Berger, founder of The National Association of Gay & Lesbian Real Estate Professionals (NAGLREP), the Supreme Court's ruling will make an immediate difference -- in cutting down the daunting amounts of paperwork and legal fees for gay couples, now that they can enjoy the legal benefits of marriage.
"People will waste way less time and money on legal and estate planning," Berger said. "The buying process will be easier where they won't have to spend money on trusts and other estate type plans. Rather, they'll spend that money on buying a home -- and a better one, at that."
"Without a doubt, the ruling makes it easier to buy," agreed David Lampe, a Colorado Realtor and entrepreneur who has been with his partner, Tom, for 20 years. Inspired by the Supreme Court ruling, the pair is now thinking about tying the knot (even though same-sex marriage has been legal in Colorado since 2014).
But some gay couples, while they appreciate having the option, say they don't feel the need to get married, even to buy a home. Michael Hargreaves, a Washington, DC, resident in his 40s , has been with his partner for seven years. Both owned homes separately before they met, which they recently sold so that they could buy a home together.
"We're both successful in our careers and we don't plan on having children, so we don't really feel the need to get married," said Hargreaves, who works at Discovery. Coincidentally, the weekend following the SCOTUS ruling. the couple began to move into their new shared home, in the District's Crestwood neighborhood.
Who needs marriage? Not these guys!
"It wasn't hard for us to buy together without being married," said Hargreaves. "We did a joint tenancy. Nobody batted an eye about a gay couple moving into our neighborhood."
Joint tenancy has long been a fallback for gay couples who wanted to buy a home together, in states where gay marriage was not an option.
"Buying as joint tenants gave you rights to survivorship, but it involved a lot of paperwork, costs, and negotiating," said Lampe. "With marriage, the property is the other person's automatically. No courts, relatives, or probates to get involved."
Unmarried joint tenants must create a will that specifies who gets which assets, to avoid any challenges from family. This is a major issue for couples who absolutely don't want a relative who may be near, but not all that dear, getting what rightfully should go to a life partner.
Lenders want you to put a ring on it -- or do they?
Lenders traditionally prefer to deal with married couples than with two unmarried individuals buying together.
"Lending is where [the right to gay marriage] will likely make the most difference," said Lampe.
But while banks may prefer to do business with duos armed with a marriage certificate, a legally recognized domestic partnership is just as good as far as a mortgage broker or loan officer is concerned.
"There is not one extra step needed for two people in a domestic partnership -- married or not married -- as far as dealing with the process of purchasing or refinancing a home," said Erin Halliday, a Wells Fargo loan officer in Huntington Beach, CA.
"I wish I could say otherwise, that the legalization of same-sex marriage would mean something bigger from my side of things. But it's really the same process whether you're married or in a domestic partnership."
Home is where the heart is, married or not
But let's get real: The emotional component of buying a home as a married couple can't be overlooked.
"It definitely helps when you're buying something together that big," said Lampe. "It helps you emotionally to be married and think of it as yours together."
Hargreaves sees it as changing how young gay couples will envision their future together.
"Being able to marry is like the icing on the cake," he said. "There's a tremendous amount of institutional value in this for young people, the millennials. It's so valuable for young people who want to build a home and start a family."