Embrace a hot trend with a kitchen warming drawer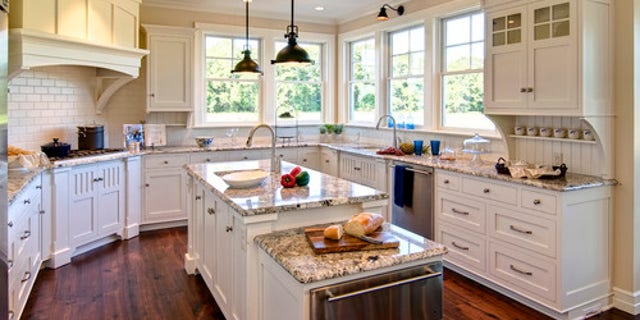 Warming drawers are sweeping kitchens across the United States! These independent appliances allow you to keep prepared meals hot, to warm plates and even to slow cook and to proof bread dough. Often installed with a matching wall oven, a warming drawer can be coordinated with other kitchen appliances to obtain the look and feel of a streamlined, high-functioning kitchen.
As the countdown to my own cookery renovation continues, it looks as if I'll be adding another appliance to my wish list. I love a piping-hot plate of food, so it seems a built-in streamlined warming drawer is the perfect solution for us.
What about you? Take a look at these examples and let me know what you think.
Viking's warming drawer beautifully matches the side-by-side refrigerator and microwave in this San Francisco kitchen.
Rather than eat up wall cabinet space, this warming drawer tucks easily into typically unused space on the kitchen peninsula.
Warming drawers are separate appliances and are often installed to match the wall oven, as shown in this country-style kitchen.
You can disguise your warming drawer with a custom cabinet panel.
The short end of a kitchen's island typically goes unused. A warming drawer is a smart use of that space.
Place a warming drawer next to the oven, so once a dish is finished baking you can immediately tuck it away for warming.
Kitchen warming drawers are designed to offer a low heat that is ideal for keeping meals hot and dishes warm. They can even proof bread dough.
To save space, you can stack wall ovens with a warming drawer in a cooking tower cabinet module.
Related:
Houzz is the leading online platform for home remodeling and design, providing people with everything they need to improve their homes from start to finish - online or from a mobile device. From decorating a room to building a custom home, Houzz connects millions of homeowners, home design enthusiasts and home improvement professionals around the world. Rachel Grace is a contributor to Houzz.