Drake Puts 'YOLO' Mansion in Los Angeles for Sale for Almost $20M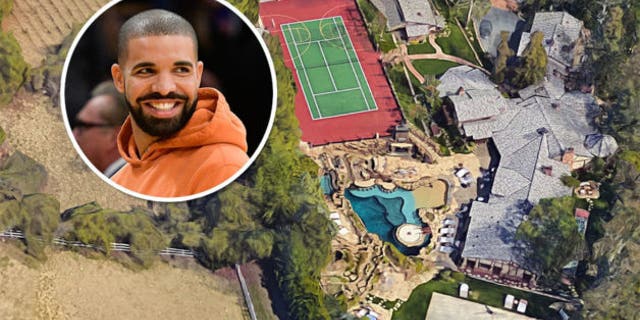 NEWYou can now listen to Fox News articles!
Rapper Drake has put his Hidden Hills "YOLO" estate on the market for almost $20 million.
The 30-year-old Canadian singer, who is widely rumored to be dating Jennifer Lopez after splitting with Rihanna, paid $7.7 million for the 13,000-square-foot home in 2012, according to property records.
The pad, in the exclusive Los Angeles neighborhood, has eight bedrooms, 11 bathrooms, a fitness center, a movie theater, a recording studio, an Olympic-size swimming pool and a man-made grotto with mountain views, according to the listing and various media reports.
Drake (whose real name is Aubrey Drake Graham) told Rolling Stone magazine in 2014 that it was the pool that first attracted him to the property, which he kept a close eye on for years until snapping it up around four years ago.
"I was like, 'What are the world's craziest residential pools?' and when I searched online, this came up … This house was the desktop image on my computer years before I bought it," he told the magazine.
The property has been dubbed the YOLO (You Only Live Once) estate after he told Rolling Stone that he used to have that slogan written on a sign outside.
"Originally, I had a sign outside that said the YOLO estate … but it got stolen three times, and it was getting a bit costly to replace it, so I just changed it to the street number," he told the magazine. "I love that some kid has that sign in his bedroom."
Other interesting features of the home include a bookshelf that "swings open to reveal his bedroom," half a dozen stables, a wet bar, a tennis court and sports court, a stone giraffe statue next to the driveway and two very big statues of voluptuous women by the pool.
The singer scored himself an impressive discount when he bought it; the previous owner, Saddle Ranch owner Larry Pollack, first put it up for sale in 2009 with a whopping $27 million price tag.
"He needed money," Drake told Rolling Stone. "I stole it from him!"
This story was written by Kathryn Hopkins and originally appeared on Mansion Global.
The post Drake Puts 'YOLO' Mansion in Los Angeles for Sale for Almost $20M appeared first on Real Estate News & Advice | realtor.com®.