Don't throw it out! Easy DIY furniture fixes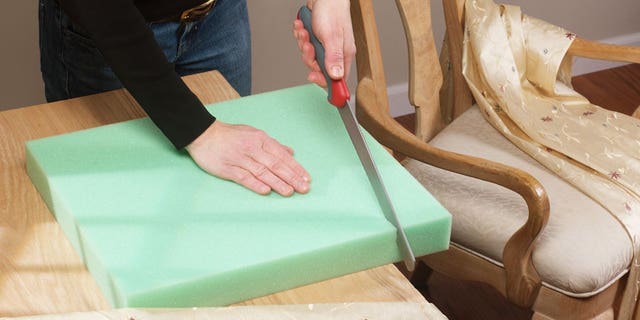 Many of us have old pieces of furniture around the home that have seen better days. Rather than tossing them to the curb, you should first stop to consider whether that stuff can be saved. Here are a few easy DIY projects will breathe new life into old furniture.
Give Your Wood Furniture a New Finish
After years of use and abuse, your precious wood furniture might start to look a little worn out. But the great thing about solid wood furniture is that is can nearly always be repaired. The first task is to assess the extent of the damage. If you're only looking to repair a few water stains, then the job is pretty simple. Spread a clean towel over the stain and use a hot iron over it. Depending on the extent of the stain, this might take a few passes, so just keep checking to see if the stain has disappeared.
If you have a piece of furniture that has more than just a few water marks on it, it might require a complete overhaul. Apply a liberal coat of paint stripper to loosen the old finish and then scrap it off with a plastic scraper. After the wood has had time to dry, get down to bare wood with sandpaper. Start with a coarser 150 grit paper and then finish with a finer 220 grit. Next, you'll need to apply your finish. You could go the natural route with a finish like tung oil or boiled linseed oil. However, these finishes take a long time to dry between coats. For a faster finish, stain the wood with an oil-based stain and then apply a few coats of polyurethane.
Give New Life to a Worn Out Couch
After a few years of heavy use, your beloved sofa can start to lose its shape. But rather than replace a saggy-looking sofa, you can give it a boost with a few quick steps. Start by giving your couch a thorough cleaning. The high heat of a steam cleaner can help restore some of the lift in the couch cushions. If that doesn't work, you can rebuild the couch cushions with material bought from a craft store. Pull the foam out of each cushion and wrap it in couple of layer of quilt batting to help it regain its shape. If you have cushions with loose stuffing, you can refill them with polyester fiberfill.
Reupholster an Old Chair
Your dated or worn out kitchen chairs might have you longing for a weekend trip to Ikea. But if it's just the chair's cushion that needs to be replaced, and the frame is still in good condition, you should try your hand at some upholstery work first. To begin, you need to remove the chair's cushion, which is usually held in place with a few screws. Using a flathead screwdriver and a pair of pliers, carefully remove the staples that hold the fabric in place. Try not to destroy the old upholstery while you're doing this because it's going to serve as a handy template when you cut the new fabric. Iron the old fabric so that it's perfectly flat, and spread it out over the new fabric. Trace an outline in chalk and then trim it down to size. Finally, using a staple gun, affix the new fabric to the chair, pulling it taut as you work your way around the cushion.
Paint Over It
Aging patio furniture can leave you with rust stains on you deck and your clothes. By applying a fresh coat of paint, you can return that furniture to its former glory. You first need to remove the loose paint and some of the rust. On flat and even surfaces, medium grit sandpaper works best. For mesh surfaces or hard to reach places, a stiff wire brush will do the job. Wipe any remaining dust and debris off with a cloth. Once you've stripped the chair, apply a coat of primer, which will help the paint adhere, and let it dry overnight. Finally, apply several thin coats of rust-proof spray paint to the chair, allowing it to dry between each coat.