DJ Khaled debuts furniture line, calls it 'We the Best Home'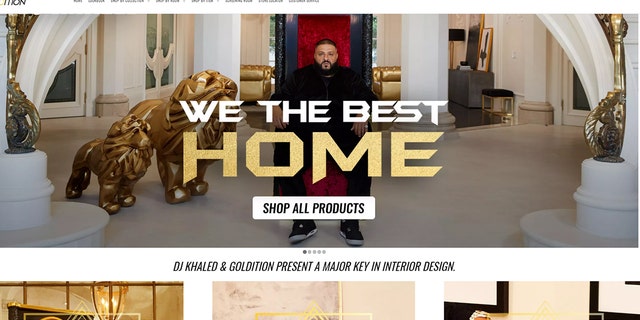 NEWYou can now listen to Fox News articles!
Major key alert: DJ Khaled now produces furniture in addition to pop hits.
Khaled, 42, announced the launch of his We the Best Home furniture line on Wednesday, which will be available for purchase on Goldition.com starting Thursday.
NYC'S RICHEST COUPLE BUY MANSION WITH $40 MILLION IN CASH
The line features "statement pieces designed to elevate your home into a new level of expression, luxury living, and #winning," according to a press release.
Anyone who follows Khaled on social media knows that he prefers gilded home décor and baroque Versace designs, so it's no surprise that his forthcoming homewares are just as extravagant. The line include luxe end tables starting at $399, sofas starting at $1,699 and a special "Kingdom of Khaled Throne Chair" for $2,500.
ARKANSAS OZARKS HOME, LOCATED IN A CAVE, SELLING FOR $2.75 MILLION
"My home is my castle, and it's a sacred place," Khaled told Page Six in a statement. "I wanted to create something that highlighted how important our homes are to our lives — it's where we spend time with family. It's where we make memories. It's where we raise our children."
There will be a total of 15 different We the Best Home collections, with five launching Thursday — and Khaled has designed a whopping 300 different items in total, from furniture to home accessories.
FOLLOW US ON FACEBOOK FOR MORE FOX LIFESTYLE NEWS
This article originally appeared in The New York Post.