Designer picks: Tents and canopies for backyard shade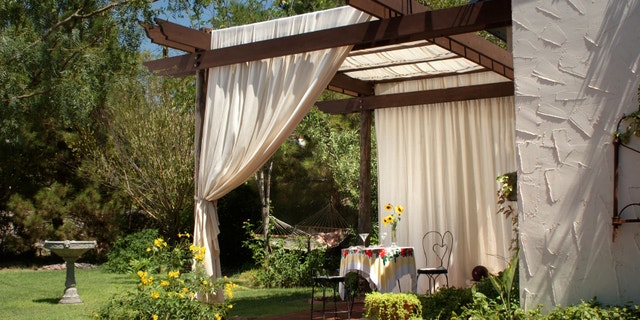 If you're like me, when the summer sun hits its zenith, I go searching for the nearest shade. Between super fair skin and an intense dislike of nature's littlest pests, I'm a big, big fan of tents, pavilions and other backyard, poolside or oceanfront structures. Here are seven such structures that range from cheap and cheerful to luxurious retreat styles:
Screen Walls by Coleman: Instant shelter from mosquitoes is right at hand with the generously sized Screens Walls by Coleman. At 10' x 10', this polyester and mesh tent is big enough for a table and chairs, yet backs up into a small 9" x 14" x 48" bag for easy portability. Mesh walls and vented ceiling allow for unobstructed ventilation while keeping the pests at bay. $46.79
Striped Portable Changing Cabana at Amazon: The classic blue and white striped changing cabana has been a fixture on beaches from the Cote d'Azure to Cape Cod since public beach bathing came into fashion. Whether you need a private space for changing, or merely to get out of the sun, this jaunty tent is portable and easy to assemble.
Basta Sole Aluminum Garden Pavilion from Cool-Summer.com: Mediterranean blue and white stripes are featured on the Basta Sole Garden Pavilion. This free-standing pavilion comes in three sizes – 8', 10' and 12' square and has corner and side curtains for privacy. Great for poolside or backyard fun. $2.981.61
Eureka Vista Peak Top Party Tent from e-Canopy: The Eureka Vista Peak Top Party tent is reminiscent of Renaissance tents with its unique shape and high peak. It's unique cross-cable supports makes for easy set up, strength and unobstructed use of the 10'x10' square space below. Top comes in a large selection of color choices. $1,499.99
Event Dome from Erento: The Event Dome is a futuristic looking geodesic dome that is waterproof, UV protected, fire retardant and portable. The dome is constructed to spread the weight of the structure – and anything hanging from it such as lighting or sound equipment – evenly giving it added support. The unique shape will give users an experience unlike any other tent and at 24" in diameter, it will hold quite a few friends and family. Perfect for outdoor events for personal or business use. $2,500
Caravita® Patio Gazebo from Home Infatuation: The Caravita® Gazebo is modern and sleek enough for any high-end spa or pool venue. The outdoor grade acrylic fabric roof come in valance or non-valence configurations and side panels can also be purchased. The fabric, which comes in a selection of colors, is reflects 90 percent of the sun's UV rays, keeping the colors pure and the space within cooler. The structure can be permanently installed, or the corners simply weighted down with potted plants or some other heavy object. A wind roof vent is standard. $5,000+
Bungalow Residential Pavilion from EZ Up: The Bungalow® Residential pavilion features the classic tented top and draped sides. This is a true "bonus" room out on the back deck or yard. Perfect over a dining table, bar set or even hot tub. The pavilion features an easy to set up mechanism and a range of anchoring options for portability and easy of use. Price on request.
Linda Merrill is a Boston-area interior designer who works with Boston painting contractors.