Designer Picks: Fashion-Forward Beanbag Chairs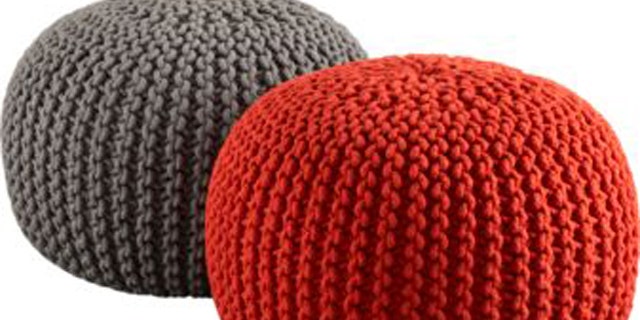 NEWYou can now listen to Fox News articles!
The beanbag chair has been around for quite some time and has become a staple of kids' rooms and dorm rooms. In fact, however, there are many iterations of the standard beanbag and some are entirely suitable to more adult spaces.
Classic Moroccan Pouf, Updated: The classic Moroccan Pouf has been around for a very long time and while not traditionally considered "beanbag" chairs, they do fit the description. Stitched together from leather, the pouf is filled with beans and can be used as extra seating or table space, or as a footstool. Many hip designers, like John Derian, are creating poufs in bright, modern colors.
Simply Shabby Chic Beanbags: Simply Shabby Chic is the lower priced arm of Rachel Atwell's "Shabby Chic" line of furnishings. The pink cotton terry chenille beanbag would be a great addition to a bedroom for cozy lounging.
Target Adult Cocoon Beanbag: Target offers the Adult Cocoon beanbag which is basically a bag built for two. A great choice for relaxing in front of a fire.
The Buggle Up Beanbag from FatBoy: The Buggle Up bean bag from FatBoy is made from a tough material that is resistant to water or UV-ray damage. A stylish chair that looks more like an oversize pillow than a standard beanbag, this would be great for camping trips, bonfires, or other outdoor activities.
Cabelas Camo Beanbag: The Camo bean bag comes in different camouflage patterns from natural elements like grass and leaves to more fanciful pink army camo. It's perfect for a hunting lodge.
The Jaxx Outdoor Marine Bag: The Jaxx Outdoor Marine bag comes with its own footstool and can be used by the pool or ocean. The fabric, which comes in royal blue or taupe, is weather proof and the design features a snappy contrast welt.
CB2 Knitted Pouf: Chunky knits are in this season, for both clothing and furnishings. These poufs are stout and sturdy mini-beanbags stuffed densely with pellets. They do double duty as seating and side tables.
Linda Merrill is a Hometalk - http://www.hometalk.com - writer. Read more articles like this one - http://www.networx.com/article/designer-picks-fashion-forward-beanbag - or get help with your home projects on Hometalk.com.