Design solutions for 11 tricky spaces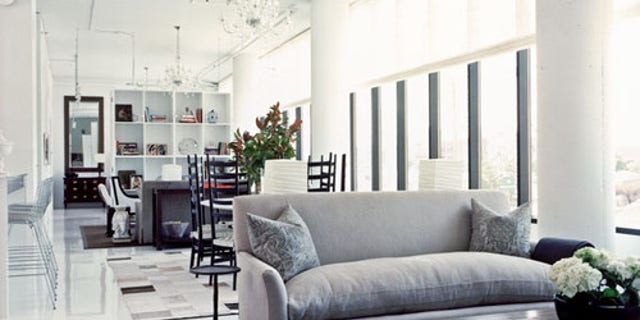 NEWYou can now listen to Fox News articles!
From long and narrow "railroad car" apartments to teensy studios and rooms that seem to be all doors and windows, every home has its own design challenges. If you've hit a roadblock (where in the world can I put that sofa?) or just feel there must be a better way of arranging your space, read on -- we're covering solutions for 11 of the most common space-planning dilemmas.
Getting started. As with the beginning of any design project, it helps to look at your space with fresh eyes. Go out, grab a cup of coffee and come back for another look once you feel refreshed. Better yet, bring a design-savvy friend along with you and ask what he or she would do with the space. Sometimes just hearing others' ideas can help get your own creative juices flowing and lead to your best ideas.
If the room is really giving you trouble, I recommend taking every scrap of furniture out and looking at it completely bare. When layers of stuff are clogging up your view, it can be hard to imagine setting up the room in any other way.
Move the stuff, and you may be able to move the mental roadblocks too.
Tricky space 1: Long, narrow hall
The solution: Think art gallery. Fresh white walls are the classic choice, though textured grasscloth or a coat of rich color would work equally well. Go sleek and simple with all black and white pieces, or create a quirky gallery with eclectic, colorful artwork hung in a line, with some frames left intentionally empty. Finish the space with proper lighting. Try overhead track lighting and/or small wall-mounted lights to illuminate the art.
Tricky space 2: Small home, long hall
The solution: Rather than let precious space go unused, put your hallway to work by installing floating cabinets and shelves. Floating the storage pieces off the floor keeps the area from feeling too heavy or cluttered. Just be sure to measure carefully, choosing cabinets that are narrow enough to allow ample room to walk by. Make a point of keeping the floors clean and surfaces carefully curated -- clutter will become noticeable quickly in a tight space like this.
Tricky space 3: Small space, no entryway
The solution: Don't bother trying to squeeze a teensy table behind the door. It will only bug you, and it won't be big enough to hold much. Instead, look for the first available open wall and place a larger desk or storage piece there, letting it do double duty as an entertainment center or workspace.
If there is literally nowhere to put a table, try using a few small, sleek wall-mounted pieces instead. A few hooks for keys, coats and bags and a floating shelf or sorter for mail are all you really need to manage the essentials.
Tricky space 4: Eat-in kitchen with too many doors and openings
The solution: In places where a square or rectangular table would stick out like a sore thumb, go round instead. Curved shapes generally fit better into awkward spaces, softening the hard edges in a room. Try to pull your round table near a wall, even if it's only as small a section of wall as in the room shown here; it looks more natural than placing the table dead-center.
Tricky space 5: Living room with multiple doors and windows
The solution: If your living room has an element (door, window, fireplace, radiator) that prevents you from placing furniture near the walls, try pulling the arrangement toward the center of the room instead. Use the symmetry of a matching pair of sofas to counteract the chaos of the entries and exits, and add a cozy area rug to anchor the conversation area.
Tricky space 6: Living room with very little available wall space
The solution: If your living room is driving you nuts, take a look at your dining room instead. Could you make a swap? Multiple windows and doors don't really matter in a dining room, as furniture needs are minimal (table, chairs, maybe a sideboard). And what is more romantic than dinners by the fire?
Tricky space 7: Tiny studio apartment
The solution: Small-scale furniture and careful planning are key in a tiny space that must serve many purposes. Round tables and furniture with curvy shapes make navigating tight quarters easier, while glass or Lucite tables create more visual space.
Ample storage will make your life much easier, so look for smart designs that sneak in extra space. You could use storage ottomans instead of a coffee table or an antique dresser instead of an entertainment center, or even hide an entire wall of shelving behind attractive curtains on ceiling-mounted rods.
Tricky space 8: Slanted ceiling the under stairs
The solution: If you can afford to make the investment, custom built-in cabinets, shelving or desk space is a wonderful way to make use of every last square inch. Otherwise, low-profile furniture such as a small daybed (with no headboard or footboard) or chaise can turn an awkward nook into a cozy hideaway.
Tricky space 9: Small living room
The solution: It's a bit counterintuitive, but too many itty-bitty pieces can make a room feel cluttered and cramped. Strike a balance by choosing pieces that look substantial but have sleek lines (no rolled arms!). Substituting an upholstered ottoman for the usual coffee table is an easy way to sneak in extra seating, and a pair of petite armchairs can fit in the space of a single overstuffed version. Finally, be sure to place lighting all the way into the back corners of a space -- nothing shrinks a room faster than poor lighting.
Tricky space 10: Long, narrow room
The solution: When it comes to decorating a long, narrow space, you will want to build in a few breaks in the sight line, which visually divide the space and provide areas for different uses. Rather than push the sofa against the wall, try using a smaller-scale loveseat placed perpendicular to the wall as one of your room breaks. You also can use a low cabinet or table behind the sofa to define the line between two main zones; just be sure that the cabinet is level with, or a few inches shorter than, your sofa.
Tricky space 11: High ceilings, big open space
The solution: Accent pieces with height (such as the arc lamp featured here) will visually fill the vertical space. Supersize rooms can handle larger-scale furniture, so don't be afraid to go big. A massive dining table made from a natural wood slab with an eye-catching pendant light hung over it would make a dramatic focal point for the room. Create a comfy seating area in another spot by using two facing sofas pulled perpendicular to a wall, and finish the arrangement with a big rug (or even two rugs layered together) to add softness.
Related:
You can find Laura Gaskill on her blog Lolalina, where she shares inspiring interiors, design finds, cute baby pictures, and updates on her own progress in decorating her first house.