Design Picks: 8 Hot Hanukkah Menorahs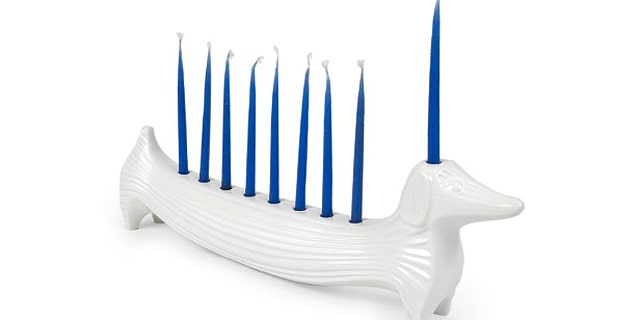 An action-packed story of heroism and miracles, candles burning on dark winter nights, and delicious oil-soaked spuds – Hanukkah is a holiday, in my book, that can't be beat. Accordingly (and I'm sure intuitively), designers are enjoying the potential of the traditional Hanukkah lamp. In honor of the 8 nights of Hanukkah, I chose 8 menorahs that could grace the windows of homes from Brooklyn brownstones to rustic cabins to sleek high rise condominiums to everything in-between. Let there be light!
Jonathan Adler Relief Menorah: This one follows a traditional shape, but in modern ceramic. It's glazed in white, which would look really sharp paired with blue candles.
Jonathan Adler Dachshund Menorah: The dog is not a kosher animal, and likenesses of dogs are not generally found in traditional Jewish homes. Still, the inventiveness and sheer adorableness of this menorah makes it worthy of mention.
Safe-T Oil Menorah: Although candles are acceptable, the most beautiful way to light a menorah is with oil lamps. This is the basic oil menorah, for beginners and long-time celebrants alike.
Ginkgo Contemporary Oil Lamp Hanukkah Menorah: Suitable for use with candles or oil cups, this nickel-plated oblong menorah is a little bit art-deco. If Andy Warhol were Jewish, this would have fit right in with the furnishings of his studio.
Catskill Mountain Crystal Oil Menorah: If you're looking for luxe, this is it. Handblown candle-shaped oil cups top a graceful but sturdy candelabra. This one is handmade and, I think, worth its price tag.
http://auraoil.com/menorah1.html
Ceramic Menorah by Jessica Sporn: This blue and white ceramic menorah is a bit rustic, but is 100% charming. If you like the classic look of blue and white painted Armenian tile, you'll like this menorah.
Candle Votive Menorah: As long as all the cups of oil are in a straight line, they don't need to be attached by a base. This one, made of separate votive cups, reminds me of the year that I DIYed my menorah by lining up shot glasses full of oil.
Nickel Branches Menorah: A hybrid of the straight-arm menorah and the more commonly used curved-arm menorah, this one is classic and masculine. You could pass it on to your children, and then their children, and it ill never go out of style.
The Hanukkah menorah symbolizes truth, justice and Heavenly miracles. Whether you choose a $5 Safe-T Light menorah or if you dress up the ritual with a fancy candelabra, remember to stop for a fe minutes and enjoy the beauty of your Hanukkah lights.
Chaya Kurtz is a Networx - http://www.networx.com - writer. Get home & garden ideas like this - http://www.networx.com/article/8-hot-hanukkah-menorahs - on Networx.