Curb appeal: A great entry lets your style come through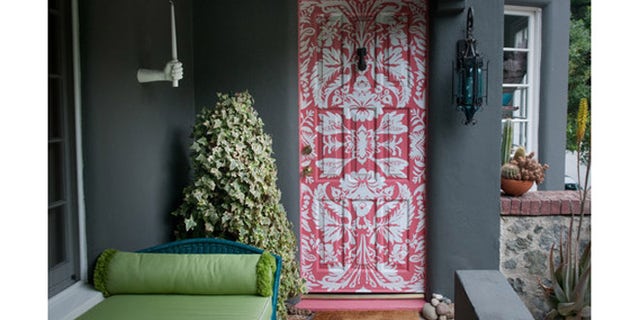 As a designer, one of the first things I'll direct my attention to is the front door. Is it a standard issue model or does it pop? Does it connect the exterior to the interior and tell something about your personality in the process? For little investment, swapping out the front door can make a big impact in overall curb appeal.
An interesting way to make your property pop is a brightly colored front door in contrast to a dark exterior color. This glossy metal fire engine red door instantly gets attention. The frosted glass panels add another layer of interest to this very different and obviously custom designed door.
If you can't afford a custom design, consider grabbing a can of paint and transforming a standard wood front door to a brightly colored sensation.
The orange of this front door relates to the orange accent wall inside. Consider extending a thematic color from the exterior to the interior or vice versa.
A stenciled pattern over a painted door will definitely get your home noticed.
A more subtle alternative to a full stenciled pattern is simply painting the house numbers on the door itself for a classy yet fun approach to adding a little personality.
If you do want to paint your plain wood door but you don't want a bright color, I always like a glossy black. The black is urbane and sophisticated, the high gloss adds glamor.
One of the dreamiest and more modern applications is a pivot swing glass door. It will automatically upgrade your exterior from ho-hum to architectural splendor, but it is also one of the more costly options.
An extra wide door is a nice and expensive touch. Remember the scale of the house is important. An extra wide and tall door would look silly in a small bungalow.
Along the same line of thought, an extra wide opening can house double doors that add a level of grandeur to the home entry, but also would make me feel more secure by controlling how big I allow the opening to get.
Related:
Houzz is the leading online platform for home remodeling and design, providing people with everything they need to improve their homes from start to finish -- online or from a mobile device. From decorating a room to building a custom home, Houzz connects millions of homeowners, home design enthusiasts and home improvement professionals around the world. Natalie Myers is a contributor to Houzz.