Come and Knock on Her Door: Suzanne Somers Desires to Sell Desert Compound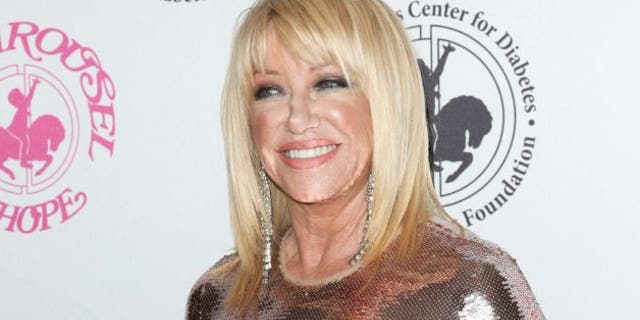 Suzanne Somers, our favorite 1970s sitcom star, is trying again to sell her cool compound in Palm Springs, CA. The multistructure estate is back on the market for $14.5 million, according to Variety.
The 70-acre hillside estate has bounced on and off the market for seven years. Somers and her husband, Alan Hamel, bought the compound in 1977, the same year Somers was cast as airhead Chrissy Snow in ABC's popular "Three's Company." Playing a dumb blonde was a smart move for Somers, as the memorable role launched her to stardom.
Her desert retreat could also be a smart move—for a buyer who can leverage the property's five levels, which can be accessed by a funicular.
realtor.com
The living space, which features a total of eight bedrooms and 9.5 baths, is scattered across five small buildings. The property boasts a building dedicated to a master suite that includes two offices, two dressing rooms (one is outfitted with a safe room), a private terrace, and an outdoor shower.
There's also a dining room that can seat 32, a wine cellar that can hold 5,000 bottles, a waterfall-fed pond, an outdoor amphitheater, and an outdoor bathtub where the actress liked to "share a tequila on ice and watch the moon while I soak in the bath with Epsom salts, surrounded by nature and the waterfall," she told People in a recent profile of the property.
"It's an unusual property," says listing agent Scott Lyle of Palm Springs' Teles Properties. "It hasn't yet found its right owner."
For more photos and details, check out the full listing.
Homes for sale in Palm Springs, CA
Learn more about Palm Springs, CA
https://vimeo.com/202817531
The post Come and Knock on Her Door: Suzanne Somers Desires to Sell Desert Compound appeared first on Real Estate News & Advice | realtor.com®.