Chip Talks About Going Topless in 'Fixer Upper,' and You Won't Believe Why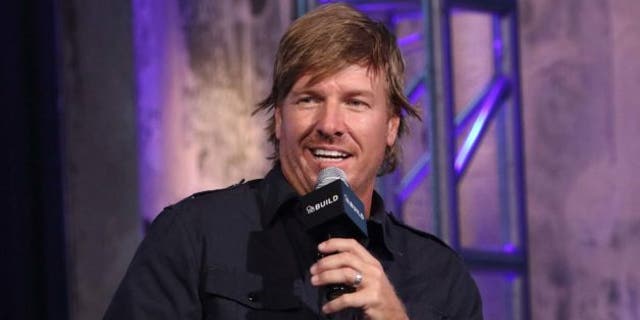 Chip and Joanna Gaines have tackled all kinds of renovation challenges on "Fixer Upper," but in the latest episode of their hit HGTV show, we're thrown for a truly huge loop as they enter one of the gnarliest time warps we've ever seen: a home stuck in the '80s. Grody!
The backstory: Brett and Kristen Bufton are a young couple with a 2-year-old daughter and a baby on the way, and they've just purchased a 2,551-square-foot house with four bedrooms and 2.5 baths for $232,000.
In 1987, when this Tudor-style, two-story home was built, its wet bar and plush carpeting were considered très chic. Today, the home seems outdated, which dawns on Chip the instant he sets foot in the house and notices the color of the walls.
"This color kind of reminds me of me without my shirt on," he remarks. "You can't tell if it's peach, you can't tell if it's pink, you can't tell if it's white…"
"In the '80s, this was kind of the vibe," Joanna reminds him.
At first glance, it seems like the '80s vibe is so entrenched in the house, it might be wiser to bulldoze it and start from scratch. Yet the Gaines estimate that it will cost only about $100,000 to bring this house back to life, and many of their updates would be easy enough for viewers to duplicate in their own homes (we're talkin' to you, homeowners with peach walls). Watch and learn!
Lesson No. 1: Paint red brick white
Rachel White, HGTV
Dark and brooding red brick seemed so stately in the '80s; today, lighter and brighter exteriors rule. To make this switch, Chip and Joanna decide to simply paint the house white, and the trim on the gables a soft dove gray. Talk about massive difference for minimal cost!
Rachel White, HGTV
Lesson No. 2: Replace arched windows with rectangular transoms
While we're fond of arched windows, we have to admit that they look quite old-school. That's why Joanna comes up with a modern spin: rectangular transoms above the windows, which let in more light and make the place look more contemporary.
Rachel White, HGTV
Lesson No. 3: Paint the walls inside white, too
Rachel White, HGTV
In place of the pink tones, Chip and Joanna use soft whites and grays—even on the brick fireplace. To add warmth and make the place feel timeless rather than starkly modern, they incorporate antique doors on either side of the TV in the custom-built wall unit. This also mellows out the big, black flat-screen TV, keeping it from screaming, "Modern technology lives here!"
Rachel White, HGTV
Lesson No. 4: Freshen up the staircase
Rachel Whyte, HGTV
The home's ornate oak staircase is also an '80s relic, so Chip and Joanna replace it with simpler, more modern handrails. They also paint the oak white and replace the carpeted steps with wooden treads and risers for a cleaner look.
Rachel Whyte, HGTV
Lesson No. 5: Bring quartz into the kitchen
Rachel White, HGTV
Do Formica countertops and terra-cotta tiles scream '80s or what? To make up for lost time, Chip and Joanna swap out the Formica for quartz composite, a popular surface that's surprisingly durable. On the floor, they change the terra-cotta tiles to treated wood.
Rachel White, HGTV
Lesson No. 6: Knock down the wall to the dining room
Does anyone use their formal dining room much any more? By taking down the wall between the kitchen and the formal dining room, Chip and Joanna are able to create enough space in the kitchen for two, yes, two islands. The kitchen island is one of the most used spaces in the entire home these days, after all.
Lesson No. 7: Get rid of the wet bar (and wallpaper)
Rachel White, HGTV
Wet bars used to be cool, but now they mostly just waste space. By eliminating the wet bar which was in the foreground of the breakfast nook, Chip and Joanna are able to open up that space and make it into a full dining area with better kitchen access than before. They also removed the awful wallpaper.
Rachel White, HGTV
The renovations are not only cheap, but also quick: Chip and Joanna actually finish ahead of schedule, giving the new homeowners a full month to settle in before the baby is due. But what do the homeowners think?
"It's beyond what I ever could have imagined," says Kristen.
All thanks to Chip and Joanna. Totally rad, right?
The post Chip Talks About Going Topless in 'Fixer Upper,' and You Won't Believe Why appeared first on Real Estate News & Advice | realtor.com®.