Celebrity moving days: A well-coordinated event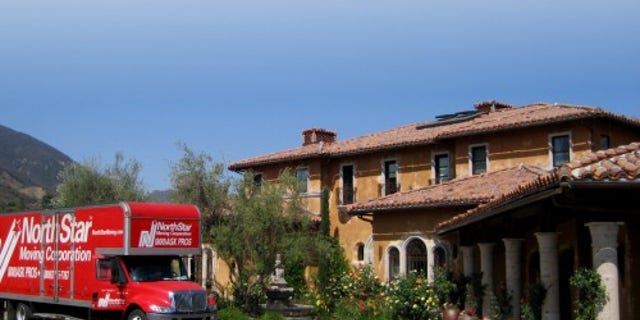 Your moving day probably does not include starting and completing the move in the middle of the night or having your moving company send out a dozen identical decoy moving vans at the same time to keep people from finding out where you live. You likely don't ask your movers to sign nondisclosure agreements promising never to reveal what you own or what they see going on in your household during the moving process.
This, however, can be all in a day's work for a moving company that specializes in fast, top-notch and discreet moves brimming with extra TLC, such as NorthStar Moving Corporation, a favorite among stars and other A-listers who live in or are moving to Los Angeles.
Catch a moving star
"These clients have always worried about protecting their security and privacy from paparazzi and other celebrity stalkers," said Laura McHolm, NorthStar's co-founder and CEO. "And these issues have become of even bigger concern today because people who make money by following celebrities around have become increasingly aggressive, offering thousands of dollars for just a glimpse into a packing box."
Her client list would make "a Hollywood PR person scream with envy," McHolm admits. NorthStar has worked with Angelina Jolie, Eva Longoria, Dennis Hopper, Shirley MacLaine, Jon Voight and the Jonas Brothers, among many others.
McHolm and the company's co-founder, Ram Katalan, established NorthStar in 1994. He brought his relocation experience to the table; she came with an extensive background in marketing at firms such as Intel and Atari.
McHolm had discovered an unfilled niche in the moving industry. She remembers seeing similarities between the service levels of moving companies at that time and those of carpet-cleaning businesses. Carpet cleaners came in, did their job, and left -- while you, the customer, were left tiptoeing around for hours on wet carpet. Likewise, moving companies hauled everything to your new abode, and that was it. There you were, all by yourself, surrounded by cartons that needed to be unpacked and furniture that needed to be moved to its proper place.
McHolm also recognized the inherent anxiety and stress involved with moving, especially when a move is precipitated by a negative life change, such as job loss, foreclosure, divorce or death.
Toto, too?
As a result she and Katalan pioneered what she calls "eco-luxury moving," which consists of partnering with other luxury vendors to provide services that were previously unheard of in the industry. Stars gravitated to this kind of premier, full-service, one-stop-shop moving experience right away.
Clients -- not just celebrities, but average folks, as well -- pick and choose among packages designed to make each individual move as easy and stress-free as possible. NorthStar, for example, offers interior design and staging, professional organization services, temporary nannies, home theater experts to hang flat screens and computer geeks to get all the communication devices up and running. There's a "Toto" package that provides pampered pet care -- and can even include flying your little darling on a pets-only plane to the new locale. The "Julia Child" ensures that your new home will be well-stocked with food (mostly pizza) for your first few days.
"No request is too outrageous," McHolm said. "During celebrity breakup moves, movers have been asked to stop moving midstream and quickly hide boxes, so that the star's ex-significant other would see no evidence of the move occurring." In another case, this one involving a rock star, a woman called NorthStar requesting that a single chair be picked up in the middle of the night and moved to another residence. She called back to say "Oops, we made up! I've changed my mind." This identical scenario went down for the next eight nights in a row.
McHolm smiles about these examples. That's just the way the lives of famous people work, she says.
Related: