Can You Really Live in a Dr. Seuss House?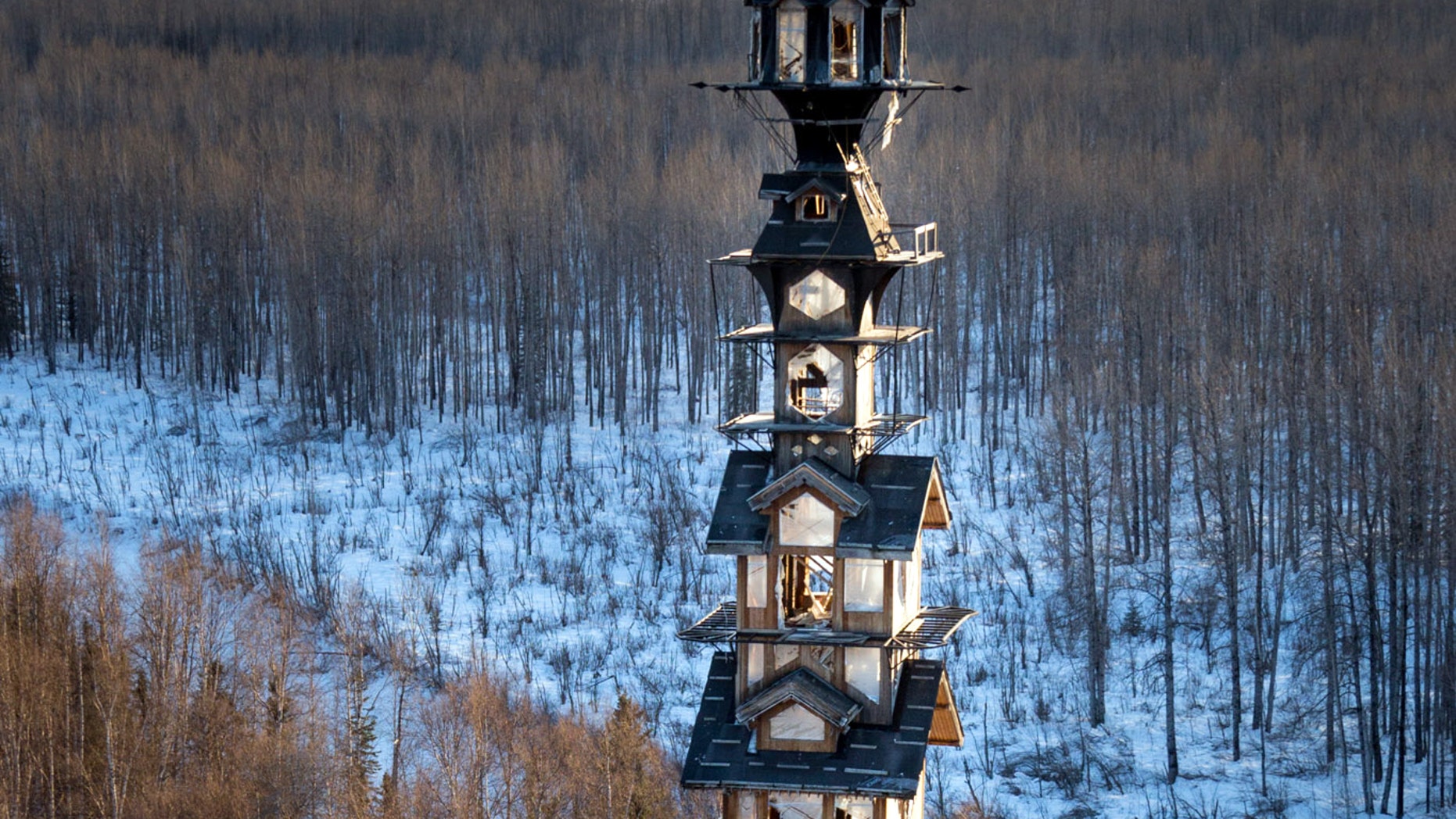 Oh, what places you'll go! Like, straight up.
At least that seems to be the operating philosophy of an Alaskan attorney who has created his very own Dr. Seussian abode by stacking log cabins one on top of another … and another … and another. The result: a wacky-looking wilderness retreat that towers and teeters 185 feet (the equivalent of 18 stories) into the sky.
Sure we all dig those topsy-turvy Whoville-style houses in storybooks, but what compels someone to bring one to life -- and then live in the thing? It seems to come down to a DIY architect with a dream.
Phillip Weidner started out with plans for a just small cottage in Talkeetna, AK, about two hours outside of Anchorage. But, after admiring his work, he decided to keep building and building, according to CNN's " Great Big Story."
The trial attorney, who graduated from Harvard Law School, stopped building up his Goose Creek Tower only because the Federal Aviation Administration has to approve structures taller than 200 feet. For his part, Weidner said he hopes his creation will inspire others "to do worthwhile things, not just in building."
Now for what you really want to know: Is this structure going to come tumbling down? The jury is out on that one, but it's rare to see buildings placed on top of one another, says Doug Hardin, an engineer at Boise, ID -- based Tamarack Grove Engineering. It's even more uncommon for them to be stacked on just one side of the building, like a game of Jenga, instead of the center.
But he cautions that buildings, including log cabin on steroids, should be designed and certified by an engineer to ensure that they're safe.
It is unclear if Weidner consulted with an architect or structural engineer as he did not immediately return calls and emails.
He did, however, tell "Great Big Story" that's he's "kind of a frustrated architect."
"I just designed it out of my head," Weidner said. "We didn't have blueprints. We drew it out on cardboard, plywood."
It's also unclear if the log cabin conforms to state building codes.
All buildings in Alaska are required to comply with the International Code Council, says Vickielee Fenster, a permit technician at the Matanuska-Susitna Borough, which encompasses Talkeetna. But the borough doesn't do any inspections to check on what's going up, she says.
"We allow them to build what they want," she says.
Most of those seeking to construct ambitious buildings require loans, which come with strings in the form of building restrictions and safeguards, she explains.
"An individual structure or home does not require a building permit from the borough as long as it's not within the city limits or building within 75 feet of water or in a flood zone," she says. And only two substandard dwellings, i.e., ones without running water or sewers, are allowed per property.
Meanwhile Weidner is clearly clinging to the wise teachings of The Lorax:
"I meant no harm. I truly did not.
But I had to grow bigger. So bigger I got."