California wave house captures essence of the ocean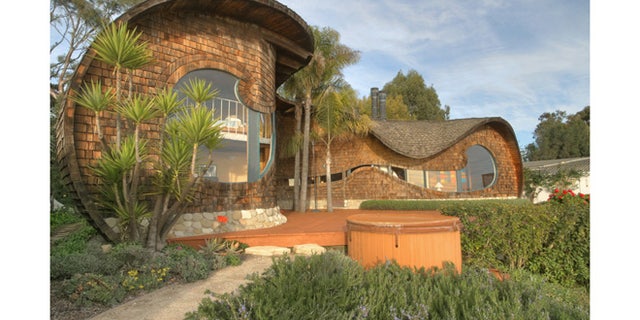 9 Arroyo Quemada Ln, Goleta, CA
For sale: $2.45 million
Normally you wouldn't be able to hear the sound of waves in a home perched 60 feet above the beach, but the Wave House in Goleta was engineered to not only look like a wave but to capture the sound as well.
"You hear the waves pounding even though they are quite a ways away," said Montecito listing agent Steven Richardson of Coldwell Banker. "It's part of the treats offered up."
There are several other design "treats" revealed throughout the home -- from the spectacular views of the ocean to the curved exterior. The residence was reportedly designed by Michael Carmichael, who was given free rein to engineer the one-of-kind home.
The 2-bedroom, 1-bath home includes an office, large kitchen and living room framed by spiraling glass windows facing the water.
"It's hard to put into words the sensation that you get when you're inside the property and around the grounds," said Richardson. "Most of the inside of the house draws the outside in. From the sounds and the views -- [they] all blend and mix around you."
A guest tower provides additional whimsy. Measuring 30-feet high, the tower is topped by an ocean-facing observation deck. At the edge of the property, another deck and hot tub also provide an unobstructed view of the water.
Newly constructed stairs lead to the beach below. The California home is also situated beyond a gated street, ensuring privacy.
And, as you could guess, Richardson said the sunsets are incredible.
Related: