Buy a Vacation Home With All the Amenities for $4,000? Yes, You Can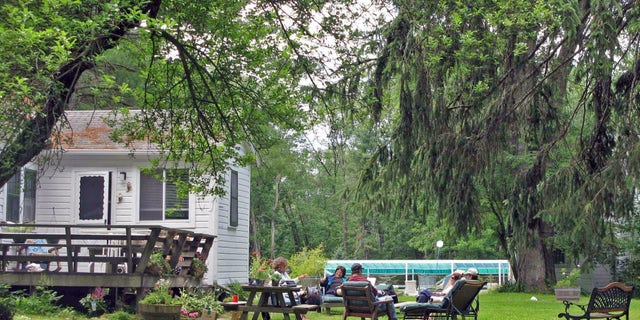 NEWYou can now listen to Fox News articles!
It's that time of year again when many of us dream of buying a vacation home -- maybe a little cabin in the woods or even a shack on the beach. But then reality hits: We might be leery of a second mortgage (or a first one, if you rent your primary residence). That's why the prospect of buying a place for less than a month's rent (granted, in an expensive city) sounds pretty good -- especially when it comes with a shared pool, tennis courts, and 100 acres on which to roam.
The catch? You'd be in one of 12 to 85 tiny units in an idyllic, but potentially claustrophobic, setup called a bungalow colony.
This East Coast phenomenon began in the 1920s when farmers set up guesthouses on their land for seasonal laborers or visitors. By midcentury these houses turned into collective vacation homes for middle-class, mostly Jewish, New Yorkers, who retreated to their miniature paradises for the summer.
Remember "Dirty 'nobody puts baby in a corner' Dancing"? That took place in a (fictional) Catskills bungalow colony.
At these places vacationers would share amenities such as a pool or lake, and often a communal dining and entertainment area known as a "casino," where they'd have Saturday evening guests like comedians or singers. They were mostly in upstate New York's Sullivan County -- the heart of the borscht belt, or, as some called the area, "the Jewish Alps."
Most bungalow colonies boomed in the 1950s and petered out by the early '70s, as New Yorkers' vacation tastes changed to include more international destinations with airfare costs declining. A few communities transformed themselves into co-ops for people of all backgrounds, where residents buy their units outright for as little as $4,000 (but usually more) and pay yearly maintenance, often in the $1,500 range. The bungalows can be humble one-bedrooms or, in a select few communities, have up to three bedrooms and rival the square footage of a traditional home.
Life in the co-ops is partly communal. Laundry is in a shared building in almost all colonies, and there are annual meetings where strong opinions are aired. These are usually three-season homes (most are closed in winter).
You can test-drive the concept at Rosmarins, which remains as it did in its original incarnation. One- or two-bedroom units there rent for the summer for $4,000, and it's described as "old-fashioned, low-key and unpretentious. The Hamptons it's not," says its website. Kids roam freely, flitting from bungalow to bungalow, or they go to the Rosmarins Summer Camp across the street.
By far the cheapest place, where you can buy a unit for the price of a summer rental, is Lansman's Bungalow Colony. Established in 1942 as a traditional rental colony, it had enough hangers-on to go co-op in 1985. It, too, has a summer camp, a rarity among extant colonies. There you'll find units for sale for as little as $4,000. You can rent them more cheaply, by the summer or by the week.
But that price isn't representative. Bungalows in most colonies go for $25,000 to $100,000, and they're almost always cash-only -- no mortgage for a seasonal vacation home. At Spring Glen Woods, a 21-unit colony in the eponymous town, a two-bedroom unit is on the market for $50,000. At Lake Huntington Summer Community, there are no existing units on sale; they're selling plots with approved plans. The price tag: $110,000 to $150,000. At Buffalo Colony in Woodbourne, NY, one unit is currently for sale for $45,000.
You're not likely to make money on your bungalow in the future. They don't appreciate much; however, it's hard to imagine the $4,000 price not going up at some point over the years.
If a single unit isn't enough for you, sometimes entire bungalow colonies are for sale. A serious fixer-upper with 10 units in Monticello, NY, runs $179,900. Round up the extended family! But an intact bungalow colony with 34 beds, 34 baths, a 40,000-gallon swimming pool, an exercise room, a playground, and a library? That'll be $1.3 million.
Here's the good news: If you're within spitting distance of a bungalow colony (aka New York City), chances are that down payment you've been squirreling away won't buy a parking spot in today's market. If you're willing to go a little north, and a little communal, you can become a homeowner -- or at least a bungalow owner -- after all.