'Boy Meets World' House in Studio City Has Price Cut to $1.3M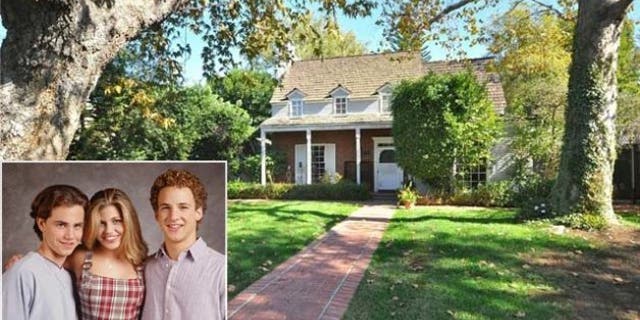 If you were fortunate enough to grow up in the '90s, you'd know the cultural phenomenon of "TGIF" on ABC. On Friday nights during these magical years, we got "Full House," "Family Matters," "Sabrina, the Teenage Witch," and the long-running "Boy Meets World." It was a magical era before the internet.
Late last year, the house that was featured in every episode of "Boy Meets World" was listed for $1.6 million. The owners recently reduced the price to $1.3 million—an absolute steal in Studio City, CA.
The home's exterior was used for establishing shots on the show (everything else was shot on a soundstage). Luckily, the house looks nearly the same as it did in the '90s.
Built in 1940, this 2,500-square-foot, Cape Cod–style house sits on a little over a quarter-acre lot. It has two bedrooms and two baths. It's about a 10-minute walk from CBS Studio Center, where the latter seasons of the show were shot.
The show was set in Philadelphia, and the home's exterior has a decidedly East Coast look, with large trees, wide front lawn, brick walkway, partial brick exterior, front porch, and three dormer windows. There's also a tall hedge for privacy, so nostalgic 30-somethings can't easily take a selfie in front of the house.
From here, the house diverges from the show, which shot its iconic backyard scenes (most of which involved Mr. Feeny giving sage life advice) on a soundstage, too.
realtor.com
realtor.com
The home's living room features hardwood flooring, a fireplace, french doors, built-in bookcases, and plenty of space for a piano. The dining room has wainscoting, a chandelier, and large windows. The large kitchen has a double oven and ample space for a center island. The attached family room has several floor-to-ceiling french windows.
realtor.com
The master bedroom is carpeted and has a fireplace and built-ins. The large sunroom was built for entertaining, as was the covered patio in the backyard. There's a two-story guesthouse, with its own entrance, kitchenette, and loft-style bedroom.
The house, which was once owned by prolific TV actor Joe Campanella, 92, was last sold in 2006 for $1.29 million.
"Boy Meets World" originally ran from 1993 to 2000 on ABC, with the two main characters getting married during the show's final season. Disney rebooted the show in 2014, calling it "Girl Meets World." The reboot follows characters Cory and Topanga as they raise their teenage daughter.
The post 'Boy Meets World' House in Studio City Has Price Cut to $1.3M appeared first on Real Estate News & Advice | realtor.com®.