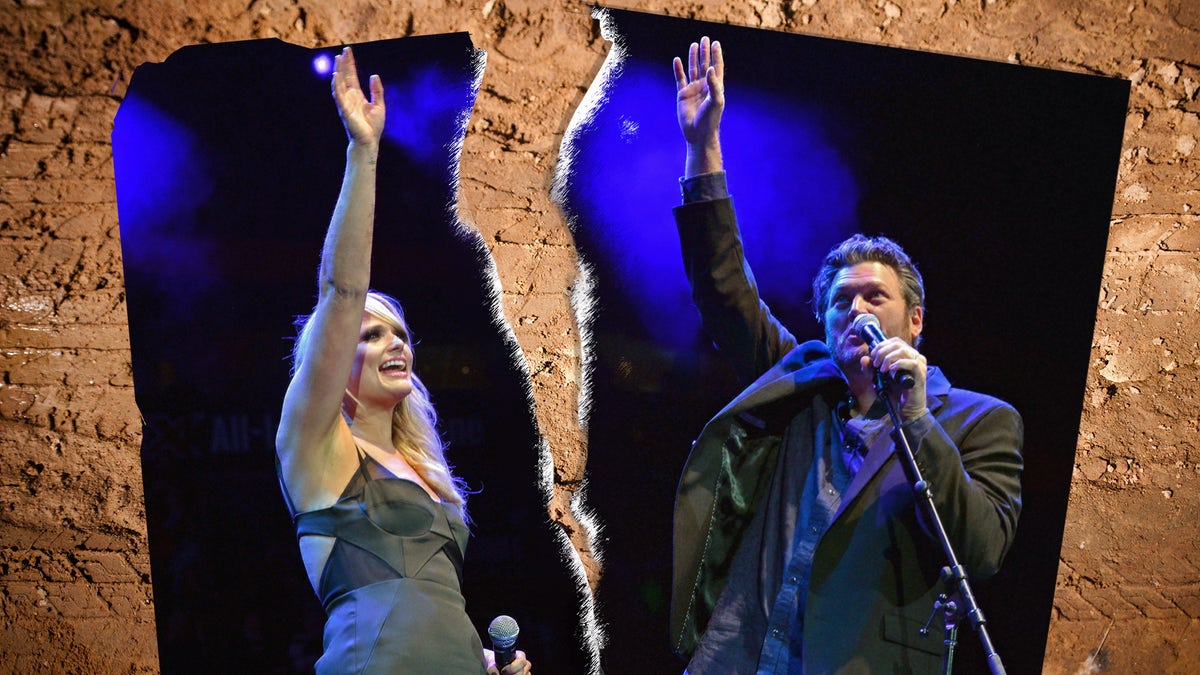 The word is out: Country music darlings Blake Shelton and Miranda Lambert, who just last year bought a palatial Brentwood, TN, home for $2.26 million, are divorcing after four years of marriage.
According to TMZ, Shelton will keep the couple's 1,200-acre ranch in Tishomingo, OK (just outside Oklahoma City). Lambert will keep the Tennessee house, which sits on an Arnold Palmer Signature golf course.
Still, the newly single stars may want to find different digs for this new phase in their lives -- those five bedrooms and eight bathrooms within 11,079 square feet in Brentwood might start to feel quite empty for Lambert on her own. Plus, Shelton will surely need a place to crash in Nashville, the " Home of Country Music" -- and Brentwood is considered one of its most desirable suburban neighborhoods. Meanwhile, perhaps Lambert isn't ready to fully say goodbye to Oklahoma City either.
How should divorcing couples handle their real estate? We went to Manhattan top broker Dolly Lenz, who has relocated broken hearts quite a few times, for advice new singles such as Lambert and Shelton could follow.
"Feeling safe is very important to moving on," says Lenz, adding that most recently separated people "haven't dated in a while and need to be comfortable in their new homes and communities."
If it's within budget, seek out a home with a doorman or other security features, or a gated community. We imagine security is definitely a concern for Nashville's Jay Z and Beyonc as they were often dubbed.
Lenz also suggests sticking to small, manageable spaces. "Often the newly divorced can be a bit overwhelmed, and a smaller space is easier to handle," she says.
In terms of location, Lenz advises staying close to your social support network: friends, family, yoga, et cetera.
All that said, here are some thoughts for Shelton and Lambert. Naturally, we took their estimated net worth -- $60 million for Shelton, $185 million for Lambert -- into consideration.
In Tennessee
If she decides to downsize…
Location: 1575 Wilson Pike, Brentwood, TN 37027
Price: $2.95 million
Heart-mending details: This property features a dramatic entrance worthy of a diva, huge closets for all of Lambert's designer duds, and trees to shield her from paparazzi. Lambert just might have to remix and sing " This Is the House That Rebuilt Me."
If he wants a pied--terre…
Location: 1751 Charity Drive, Brentwood, TN 37027
Price: $2.75 million
Heart-mending details: With an epic pool, adjoining cottage, indoor basketball court, and finished basement that can double as a recording studio, this place is ready for lovelorn jam sessions when Adam Levine drops by.
-- -- --
In Oklahoma
If he decides to downsize…
Location: 9401 Morning View Rd., Oklahoma City, OK 73131
Price: $2.3 million
Heart-mending details: This custom-built home sits on more than 11 acres and has two ponds -- perfect for privacy and quiet time. The home gym will be critical to Shelton keeping a clear mind and tight abs -- and the game room, safe room, media room, and workshop are just the right distractions for healing a bruised heart.
If she wants a pied--terre…
Location: 3775 E. Hefner Road, Oklahoma City, OK 73131
Price: $2.99 million
Heart-mending details: We're being generous when we call this spread a pied--terre. The six-bedroom, seven-bathroom estate sits on 20 acres and rocks a stunning pool replete with waterfalls so Lambert can relax and recharge before opening up her heart again.