Big things you can build for Mom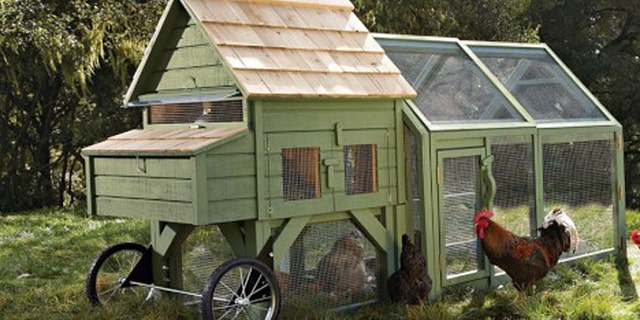 When you were a kid, just about any gift would cut it for Mother's Day. Whether you gave her a picture frame clad in dried macaroni and finger paints, or "helped" make a mother's day breakfast that was more eggshell than omelet, your mom probably smiled and said she loved it.
In the intervening years, you've probably steered well clear of the DIY gift, settling for the safe option of flowers and chocolates. But if you'd like to try your hand at something handmade and from the heart — yet not something that she'd just have to pretend to like — check out these great ideas for useful DIY gifts you can make for your mom this Mother's Day.
Set Up a Simple Garden
Mother's Day falls right at the beginning of peak gardening season, so what better gift to give your mom than her very own patch of greenery. Raised beds are a quick and easy way to get a garden growing, ensuring your mom has a steady supply of fresh food and flowers all summer long.
Start by tilling the soil beneath your raised bed, which will help your mom's plants put down better roots. Then, using four 1x12 inch boards, lay out the shape of your raised bed. Put down 4x4 inch posts in each corner and fix the boards to the steaks with wood screws. Simply fill with soil and seedlings and you're ready to go. For best results, use a rot-resistant wood like cedar, and if you're growing something edible, you want to avoid wood that has been treated.
For those that doubt their woodworking skills, Williams-Sonoma offers you a foolproof plan to get a raised bed set up in no time. The Williams-Sonoma raised bed kit includes pre-cut cedar sides, all you need to do is screw in the bolts and fill with soil.
If your mom is a more adventurous backyard farmer, the company also sells pre-fabricated chicken coops. The coops, which run from $400 to $880, will enable your mom to get the freshest eggs available, though you should probably check your municipality's laws on keeping live chickens first.
Make a Terrarium
Not everyone has the space or time to maintain a full garden. If you'd like to give your mom a little bit of greenery that requires nearly zero effort to maintain, you can make her a terrarium. These miniature ecosystems are encased in glass enclosures, which trap in moisture, and often feature low-maintenance plants like cacti. Building a terrarium is pretty simple. Grab a glass container, fill it with a little bit of gravel to promote drainage, a layer of charcoal to filter the air, and then your soil. After that, pop in some of your mom's favorite plants — ferns, moss, succulents and cacti work particularly well — and water occasionally.
Build a Fire Pit
Whether your mom likes to entertain, or just kick back and relax on a warm summer night, a fire pit is a great addition to the backyard. You can buy a basic metal fire pit for less than $100, but if you'd like something a little better built and a lot more heartfelt, you can make your own in an afternoon.
Dig a round pit about six inches deep, which you'll then want to fill in with a layer of gravel and a layer of sand. Once your base is set up, arrange three to four rows of bricks around the base. Leave a half-inch gap between the bricks to promote good air flow, and stagger the seams for maximum stability. Use block adhesive between each row to ensure that the bricks stay in place. And just like that, your mom has a new, homemade fire pit.