Add curb appeal with year round planters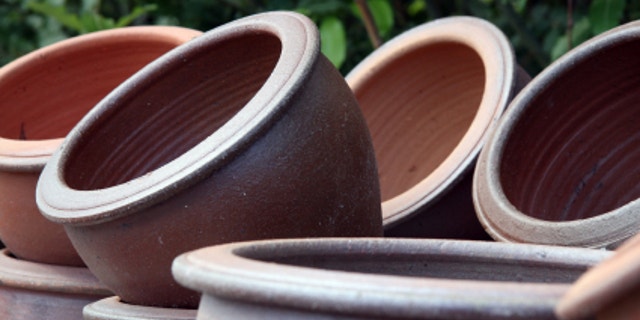 NEWYou can now listen to Fox News articles!
If you're thinking about adding curb appeal to your house, you're probably thinking about gussying up your front stoop or porch. And if you're thinking about adding curb appeal to your front stoop or porch, you're probably considering adding some planters.
Plant stands and decorative planters are often used by professional home stagers to artfully accentuate architectural details of a house. Since the first impression of your house that buyers get is the view of your front door, hire a professional painter to repaint your front door and then accent the door with carefully chosen planters. It is a move that could increase the chance of a buyer falling in love with your property.
Picking out planters sounds simple, but in northern climates with alternating periods of freezing and thawing most stand-alone planters eventually crack with the expansion of the dirt, unless it's emptied out and stored each winter. The good news is that new materials have made it possible to leave planters out all year long, which certainly cuts down on the work of putting them out in summer and then emptying them out and storing them in winter. And, of course, you still need curb appeal in winter!
I am an interior designer with an eye for long-wearing decorative elements. Here are seven all-season, all-weather planters that are durable and stylish:
The Round Fiberglass Roman Planter from Simply Planters will bring a decidedly classic and formal touch to your outdoor environment. Made from natural crushed stones that are reinforced with fiberglass, the pots are then coated with UV resistant sealants for outdoor use in any climate.
The all weather Graset Plant Pot from Ikea is made from galvanized steel to prevent rust and is coated with a pigmented polyester powder coating which is UV protected. The clean lines of this black pot are modern and would make a strong statement on a patio, poolside or flanking the front door. At $39.99, it's a small investment that could offer a great return in curb appeal.
Box Planter from Grandin Road is available in black or cream and is made of powder coated iron construction and will resist rain, snow and bright sunlight. This well-reviewed piece comes fully constructed and is heavy enough to hold its ground against a strong wind. With its classic detailing, the planter would look good as a single unit, or in a grouping along a wall or porch.
You Planter from Yard Art is an impressive 34" in diameter by 19". Made in the US from recycled steel, this substantial looking planter is powder coated and comes in eight standard colors and finishes. The 14 gauge steel is durable through freeze and thaw cycles, yet is half the weight of standard steel. The planter qualifies for LEED points for its use of recycled materials and low-VOC sealants, paints and coatings.
The 14" square Josef Weathered Willow Planter from Jamali Garden is a lightweight, all weather planter, made from resistant resin. It will never crack in the winter or fade in the summer. The pale green color is that of newly formed leaves. In winter, it will remind of the spring to come and in summer, it will blend nicely with the foliage.
Although the round Madison Planter from Simply Planters looks like terra cotta, it's actually made from a commercial grade poly resin plastic which is lightweight and portable. This durable material is weather-resistant and won't crack, split or warp. The planter comes in a selection of sizes for great mix 'n match options.
The classically styled garden pots from Pennoyer Newman are made in New York from lightweight resign and pummeled marble and rock and then cast. They are amazingly lightweight, yet won't age or crack if left outside in the winter. There is a wide variety of classic shapes and sizes available from simple lipped garden pots to large stone "walls."
Linda Merrill is a Boston-area interior designer who works with Boston-area tile contractors.