Accessorize a traditional kitchen the beautiful, practical way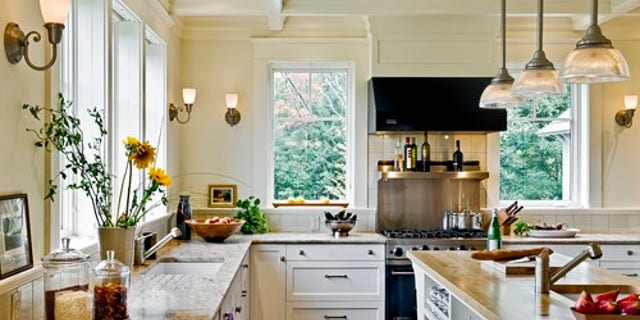 If your family is anything like ours, much of your time at home seems to revolve around the kitchen. We are a modern, busy family and love to entertain in our open-plan kitchen, but just because we need all the modern conveniences doesn't mean we can't opt for traditional styling. When choosing everyday gadgets such as toasters and food mixers for your own traditional kitchen, look into the huge array of retro styles, which are ideal for a traditional kitchen.
Accessorizing a kitchen is an art form in itself -- worktops need to be kept free from ornamental clutter, and accessories need to be practical. William Morris famously said, "Have nothing in your houses that you do not know to be useful, or believe to be beautiful." I completely agree with him -- but in the kitchen they should be both!
I have one chopping board for each food type. Collect some wooden chopping boards and hang them as a display. They look fabulous, it gets them off the work surfaces, and they'll always be on hand.
In old Victorian kitchens, pots and pans were hung, probably around an open fire. Today we want to do this only if they look good. Copper pans are a real investment -- try collecting vintage ones for a stunning yet practical display.
I know that all modern ovens have a clock and a timer, but there is nothing like a large clock that you can see from anywhere in the kitchen. There are some fantastic replica railway clocks around, or scour those car-boot sales (if you live in the U.K., like me) and vintage shops. This clock is a gorgeous feature -- it's the first thing I noticed when I saw this lovely kitchen.
In old Victorian kitchens the tea towels were hung on the stove door, but they usually weren't as pretty as these. Treat your tea towel as an attractive accessory -- it's nearly always on show.
If you love to cook, then you'll need ready access to herbs, and a sunny kitchen window ledge is the perfect spot for a splash of green. Herbs are a great way to get the kids involved in eating what they grow too! Browse the huge array of plant pots on the market and accessorize to your heart's content.
There are so many newfangled weighing scales on the market and, for practical purposes, they're great. But for a traditional kitchen, try to get your hands on a beautiful antique set -- it looks amazing, and you can always use it to display fruit or brightly wrapped sweets if you don't want to use it for weighing. Go large for a real statement.
Be really practical and create accessories from your pantry's daily essentials. Decant them into attractive jars and bottles, like in this lovely kitchen.
Use high shelves or the top of eye-level cupboards to display your best decorative serving plates, which may not be used every day. In this kitchen the plates are well away from the food prep area, so they'll escape the food and grease splashes.
Finally, a little bit of fun. A blackboard isn't necessarily a traditional feature, but if you can get the right style, it is a very practical one. Pop family messages and shopping lists on there or create a mini bistro and announce the menu to your guests.
Related:
Houzz is the leading online platform for home remodeling and design, providing people with everything they need to improve their homes from start to finish -- online or from a mobile device. From decorating a room to building a custom home, Houzz connects millions of homeowners, home design enthusiasts and home improvement professionals around the world. Julia Pockett is a contributor to Houzz.