A Study in Circles: We Examine the Logic of Round Homes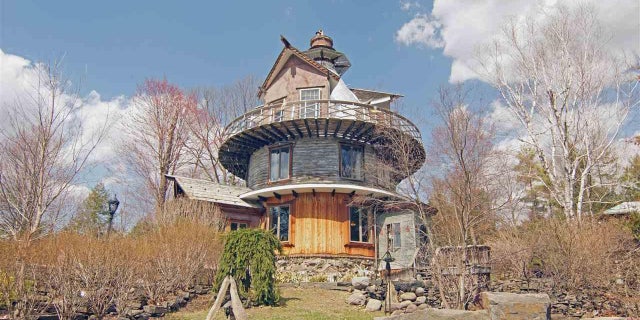 The world is round, and yet most houses are square. It really makes you think.
Given our propensity for deep thought, we stared for hours and hours at listings of homes and wondered if there were houses that didn't fit the square home stereotype. The universe responded with a resounding yes! We found round homes for sale, because not everyone can conform to living in a box, man.
We now offer our roundup (pun intended) of these 10 edgeless domiciles on the market across the country.
Address: 41915 Tonopah Rd, Rancho Mirage CA
Price: $4,500,000
Circular thinking: The aliens have landed. This white structure in the California desert is an example of futuristic design that makes the Palm Springs metro a mecca for Mid-Century Modern homes.
-- -- --
Address: 31091 Monterey St, Laguna Beach, CA
Price: $4,950,000
Circular thinking: Pick up a round house and you can also bag 360-degree views -- if there are windows in almost every room in the house. The "Round House of Laguna Beach" offers spectacular views of the ocean from the kitchen, pantry, wet bar, and living room. Bonus: It'll seem like you're on the set of " Laguna Beach."
-- -- --
Address: 629-B Lakeland Ln, Nellysford, VA
Price: $755,000
Circular thinking: On the other side of the country, a residence in Virginia brings you into a Far East state of mind. The feng shui country retreat presents both ancient philosophy and modern style.
-- -- --
Address: 107 Fishcreek Rd, Saugerties, NY
Price: $675,000
Circular thinking: A sculpture in the round? Not surprisingly, the "Tower House" was designed by an artist. The carousel-like space is full of fun and funky details. The spiral staircase makes absolute sense in this space, and the artist's sculptures pop up on the property, too.
-- -- --
Address: 1215 Pr Sargent, TX
Price: $589,000
Circular thinking: What's round and sits on stilts? This ultracool beach house just five miles northwest of the Gulf of Mexico. The shape allows for views of wildlife and the water from all sides.
-- -- --
Address: 9042 54th Rd, Molina, CO
Price: $439,000
Circular thinking: This curvy cottage sits on 40 acres of diverse wilderness. The home's earth tones and organic shape blend in seamlessly with the surroundings.
-- -- --
Address: 1691 Buffs Blf, Skaneateles, NY
Price: $400,000
Circular thinking: What's better than a lakehouse? A round lakehouse. Because views, views, views. Decks. And more views.
-- -- --
Address: 5525 SW Boulder Ln Culver, OR
Price: $299,900
Circular thinking: Even in a tiny, rural town, you can find a home in the round. This custom-built home was designed to showcase the mountain and lake vistas.
-- -- --
Address: 2579 W Roughrider Rd New River, AZ
Price: $285,000
Circular thinking: A desert sanctuary, this cozy home sent us spinning with its standout design, including an adaptable floor plan, huge deck, and vaulted beamed ceiling.
-- -- --
Address: 222 Fremont Ave, Huron, OH
Price: $124,900
Circular thinking: Hope you like math. This residence bills itself as a dodecagon, or a 12-sided building! The unique shape is supposed to promote energy efficiency.
The post A Study in Circles: We Examine the Logic of Round Homes appeared first on Real Estate News and Advice - realtor.com.