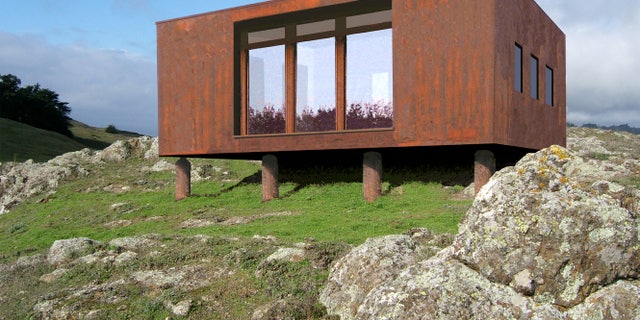 NEWYou can now listen to Fox News articles!
Tiny homes are becoming big business these days. Originally started as an eco-friendly pushback against urban sprawl and over-consumption, the tiny home movement is starting to attract a growing number of people who are interested in using them as an addition to their full-sized homes.
In addition to those looking to live a more minimalist life, many people are turning to these diminutive homes -- which usually run around 100 square feet or less -- for a home office, a quiet retreat or a place to pursue their hobbies freed from the noise and stress of family life.
Maybe you've longed for a lake house, but have never been able to afford the cost of a full-sized cottage. A tiny home is more comfortable than camping, and is just big enough to give you a place to sleep while you spend long days at the beach.
So if you've always wanted a little getaway to call your own, check out some of these diminutive structures.
Tumbleweed Tiny House Company
The Tumbleweed Tiny House Company kicked off the small home movement about 15 years ago when the company's founder, Jay Shafer, was looking for a way to reduce his environmental impact. Giving up his regular-sized home, Shafer began to inhabit just 89 square feet of space, a move that certainly proved challenging at first. As word of his downscaled living habits spread, people began to express interest in Shafer's custom constructions. While Shafer opted for a tiny home for ecological reasons, he found that many of the company's customers had other purposes when they purchased plans for a tiny home.
"How each house gets used depends on the occupant's particular needs," he writes on his website. "What one person would enjoy as a quiet studio in their backyard, another couple might choose to inhabit as a full-time residence. What some people see as the perfect weekend hideaway in the country, others will use as a beautiful free-standing addition to their existing home for accommodating an elderly parent, an adult child, guests, or as office space."
While the company doesn't sell prefabricated houses, they do sell blueprints starting at $49. The company offers more than 20 different styles of small houses, including cottages, bungalows and even portable houses on wheels for those in need of a retreat on the go.
The Crib
Tumbleweed isn't the only company in the tiny house business. The Crib's version of a tiny home, which they dub "an enviresponsible shelter," packs a lot into its small frame. Compared with Tumbleweed's basic bungalows, The Crib's structures are far more spacious, with models ranging from 175 square feet to 390 square feet. The houses are all prefabricated, and the company will ship them to you, so there's no need to mess around with blueprints (however, if you're not terribly handy, you'll want to hire a contractor to put the structure and foundation together for you).
While the homes might be small, they don't skimp on luxury. The company's deluxe model includes a 140 square foot deck, an added 120 square foot loft and a lower level that can accommodate a bathroom and storage space, giving you up to 875 square feet of total living space.
Tiny House Listings
If you're interested in a tiny home but don't want to build one from scratch, tinyhouselistings.com operates as an online realtor for people selling their own custom small structures. Featuring everything from a converted school bus to remote mountain cabins, the site showcases homes perfect for any number of tastes. And while many of these homes come with not-so-tiny price tags, there are still quite a few that sell for less than $10,000 -- so you don't necessarily have to take out a second mortgage to add a quiet retreat to your property.
The site also provides a thorough listing of the growing number of construction companies and contractors that specialize in building and designing small homes. Looking for a backyard geodesic dome? There's a guy for that. Or how about a miniature eco-farm? The site has you covered for that, too. The diversity of these small home specialists show how flexible these tiny structures can be.
The Fine Print
While these tiny houses are not much bigger than a shed, some municipalities do choose to restrict the construction of small homes, requiring permits to put such a structure on your property. So before you invest in your own bite-sized bungalow, check to make sure you can do so without getting caught up in a lot of red tape.