9 gifts for new homeowners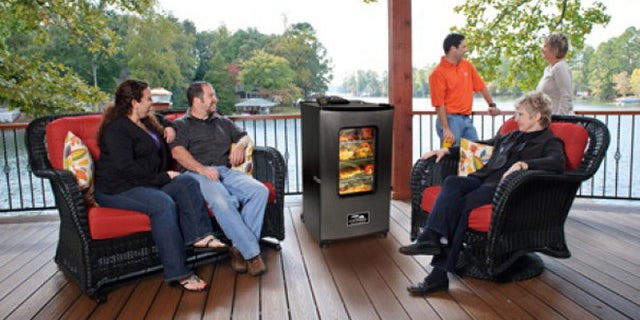 Home ownership is a right of passage for many Americans. However, moving out of the parental abode or upgrading from a rental can be a daunting task. If there are some loved ones in your life who have bought their first, or a new home this year, here are some gift ideas to help them get started and put their mark on the place.
Outside the Home
Upgraded Mailbox: If your loved ones' new home came with a half-rusted mailbox that has seen better days, help them out by giving them a mailbox upgrade this year. With styles to match any home or personality type, you could give them a sleek mid-century design, an iconic rural design or a playful and colorful one.
Backyard Smoker: Inviting your friends and family over for a barbecue is one of the true pleasures of home ownership. While the temperatures are frosty across much of the country right now, you can still help a new homeowner ring in the first spring in the new house with a proper backyard barbecue. Masterbuilt's electric smokehouse is easy enough for novice barbecuers to use and has enough space on its four racks to feed the entire neighborhood.
New House Numbers: Retire those bland, dated house numbers that came with the property by buying a loved one some new, classy house numbers. For the modernist home, you can get house numbers cut from the iconic Neutraface font. Or if you know someone that likes to host company in the evenings, how about a set of solar powered, illuminated house numbers to help guests find the place in the dark.
Around the Home
USB Outlets: Help retrofit your loved ones' new home for the digital age with USB-charging wall outlets. Rather than constantly having to hunt for a USB charger for phones and tablets, these wall outlets add built-in USB ports alongside the traditional wall sockets.
Upgraded Shower Head: People buy homes for many reasons — good schools, a nice neighborhood, a spacious backyard — but no one buys a home for its bathroom fixtures and faucets. Help a new homeowner out this Christmas by replacing that calcium encrusted low-flow shower head with a top-notch model like the Moen Halo.
Personalized Quilt: Make that new house feel like home with a personalized quilt. Haptic Labs city quilts weave a map of cities like New York, Chicago and Philadelphia into a thick blanket. If you don't see your city there, don't worry. The company also has a quilt featuring the Great Lakes region, and one of the stars in the night's sky.
In the Kitchen
Le Creuset Dutch Oven: No kitchen is complete without a solid piece of cookware displayed lovingly on the stove. A favorite of Julia Child, Le Creuset cookware is built to last and comes with a lifetime warranty. The company recently dug up some of their retro designs and released them under the Heritage line, the perfect gift for the chef in your life with a taste for retro styles.
Chef knife: While you can spend a small fortune on a top-of-the-line chef knife, those prestige pieces are often more of a work of art than a kitchen workhorse. For the loved on that loves to cook, check out the Friedr. Dick 1905, which is one of the best knives you can get for less than $100. If the $80 price tag on this 8-inch chef knife is still too steep, try the Victorinox Fibrox knife, which was picked by America's Test Kitchen as its top knife and retails for around $40.
Vitamix Blender: The top choice of many professional chefs, the Vitamix is a blender that's built to last. Sure they are expensive, but your smoothie-slurping loved one will be powering through finely pureed fruit and veg for years to come.